Developing a startup isn't easy.
You got an amazing idea and you were confident it would work. But you had to take it through a business plan, investment-seeking, loans, and business development. Now that you're done with those stages, you're ready for the fun part: launching and maintaining the startup.
Oh; wait! You're not ready yet. You need a fully-functional website first! The process of creating a website for your business is not as challenging as the steps you already went through. But it still requires a lot of focus… and some investment.
We'll take you through the essential tips to help you create a business website.
Easy Tips: How to Make a Website for a Business
1. Set Up the Domain Name
The site's domain name has to fit the name of your brand. That's the only way for people to find it easily when they need it. If you started a perfume shop with a very particular name, such as Magnolia, naming the site perfumesoftheworld.com won't work. That's a good domain name, but it doesn't include the brand in any way. Magnolia.com would be perfect, but it's already taken. Now what?
You can use Kparser – a tool that generates domain names for your site. You'll include few keywords, and it will launch a list of domain names you could use. When you find a name that works and hasn't been taken, you'll register it.
2. Choose Your Host
What service will host your website? You need a reliable host, so you won't face any issues with the site's speed and functionality. If you want the most affordable option, you can go for shared hosting. Although you'll get limited data storage and bandwidth, it might be enough for a startup's website. As you keep gaining more visitors, you can progress to a dedicated server.
But if you're willing to invest some more money in reliable hosting, you should go for the dedicated server right from the start.
3. Use a Content Management System
WordPress. That's the universal CMS that most startup owners opt for. Do you know why? It's simple to use, and it's very versatile, so you can develop an entirely unique site without any knowledge in coding.
But to develop a brilliant site in WordPress, you have to understand how it works. You'll need to invest in a Premium theme and benefit from its entire potential. Otherwise, your website startup will look dull and lifeless.
You know nothing about WordPress website development? It's okay. You can take a free online course that teaches you the basics. It will be enough to get you started.
4. Understand the Need for Analytics
Before you start developing content for the site, you should learn a thing or two about analytics.
Few tools will help you analyze the results your website achieves in terms of conversions:
Site crawler, which will detect and fix all technical issues. It will check the internal and external links, meta tags, website structure, page speed, and more. It's a simple tool that works in the background and gives you valuable reports on how to improve the website.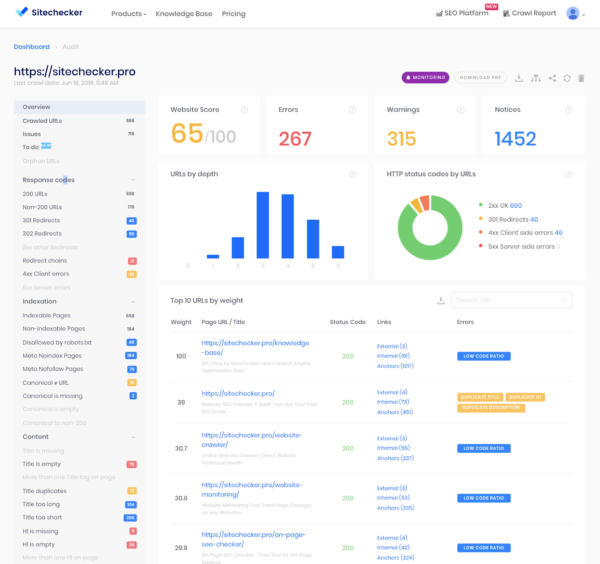 5. Design It
Investing in a premium WordPress theme is the best thing you can do for your site if you're a complete beginner. Talented webmasters develop these templates and maintain them to perfection. You can alter them in many ways (visual details, patterns, fonts, colors, and everything else). When you're done altering the template, it will be unrecognizable and your site will appear absolutely unique.
The images, colors, and font are the essential elements that convey the brand's vibe. You should infuse the startup's logo and colors on the website. Rely on your instincts! Experiment with the design and create several pages before you choose the one to publish.
Don't complicate things! Remember: minimalism is a proven recipe for a successful website. Check Apple's official site; it proves that point!
6. Content Is Everything
You have a basic website. But it's nothing without content! Content is the element that sells. You'll need outstanding articles that bring value to your readers. We're not talking about salesy content all over the place. Instead of convincing them to buy something, the content should show the visitor how they would benefit from a certain product or service.
If you came up with awesome startup ideas, website content shouldn't be too much of an issue. You're already creative. You just need to express the idea behind your brand in words, videos, infographics, and images. When the content is original and completely relevant to your brand, it will attract enough audience.
Develop a content marketing plan! Your site needs a blog section, which will regularly feature useful articles for the visitors. It will attract more traffic, which you can redirect to product/service pages.
7. Invest in Marketing
You won't have thousands of people visiting the site and buying things just because you launched some online content. Without proper marketing, you won't get any visitors. Hiring a marketing agency is a smart thing to do. They will take care of the SEO campaign, but they will also promote your brand across social media.
If you have some experience in marketing, you don't have to delegate the campaign to an agency. You'll just hire writers and social media managers, who will follow your instructions to develop a successful strategy.
Either way, you need to set up a marketing budget.
Are You Ready?
If you still don't feel ready to start designing a website, enroll in an online course and start taking some lessons ASAP. The good news is that these courses are brief and efficient. You can learn a lot in less than a week.
Your startup needs a brilliant website! Your audience perceives the vibe of the business through its website, so it should be perfect.
Take your time to learn the things you need to know and start building the site! It will be fun!