Pizza and cheese. Burger and fries. Chocolates and ice creams.
A few things combine so well.
Here is one more: The Internet and Google Chrome.
Google Chrome is the best web browser for anyone who loves a superfast, highly productive, hassle-free browsing experience.  Ranging from the search-using-the-address bar option that allows users to give a whack at any search term to the 'New Incognito Mode' which makes it possible for people to browse the web privately, Chrome is packed with an array of features designed to make web surfing and shopping an enjoyable experience for everyone. If you are a blogger or social media marketer, you would love something highly productive. And Google chrome extensions are just the perfect icing on the cake to get that productivity nitro boost for your marketing activities.
There are 60,000+ Chrome extensions; some are extremely powerful while some others are like water rolling of a swan's back. In this post, we will discuss the top 9 Google chrome extensions that can help make some free hours for you.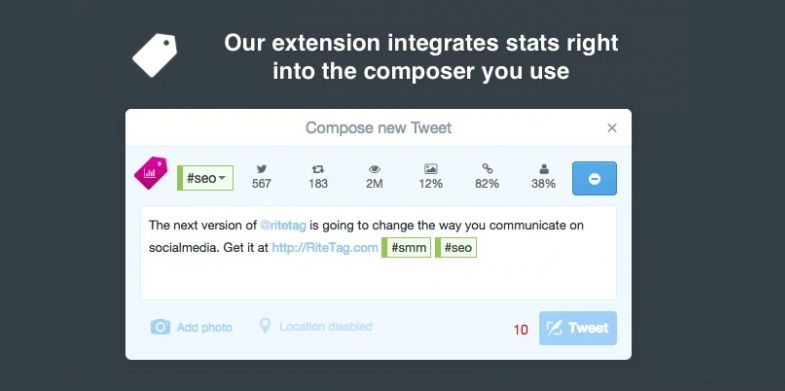 Choosing the best hashtags for your posts can be highly time-consuming especially if you are sending out 10-15 Tweets every day.  Start using RiteTag Social Media Optimizer to save your time and add precious value to your hashtag marketing. This extension lets you compare and choose the best of hashtags for your Tweets. You will see that the best hashtags are highlighted in green and the not-so-good ones in red. Also, it will even display a list of top influencers who are using these hashtags, so you can even connect with them.

Do you have a great blog that offers an unusual spin on the usual stuff? If so, then sharing is the best way to get your blog read by millions of users worldwide. Shareholic is an award-winning bookmarking and sharing extension that lets you share great content on multiple traffic-loaded platforms on the Internet. Use this tool and share your blog posts on Facebook, Twitter, LinkedIn, Pinterest, Google+, StumbleUpon, and 200+ other sites. What's more, you can also access popular URL shorteners such as tinyurl.com, bit.ly at a mere click of the button. On the whole, Shareholic is a great time-saver and a productivity-booster, and a must-have extension for bloggers.
Also See: 9 Free Chrome Extensions for WordPress Owners

Are you still limit your blog to the usual text-and-image content? Why not give a visual treat to your audience with some fun GIFs? Top bloggers use moving animated pictures to improve their blog's user engagement and click-through rates, there is no reason why you shouldn't be using them.
Now that Twitter and Pinterest are allowing GIFs, you would sure love to put them up on your social media timeline and get more Tweets and Shares for your posts, won't you? Giphy is a handy Chrome extension that lets you search and choose from a growing library of GIFs. Do check it out.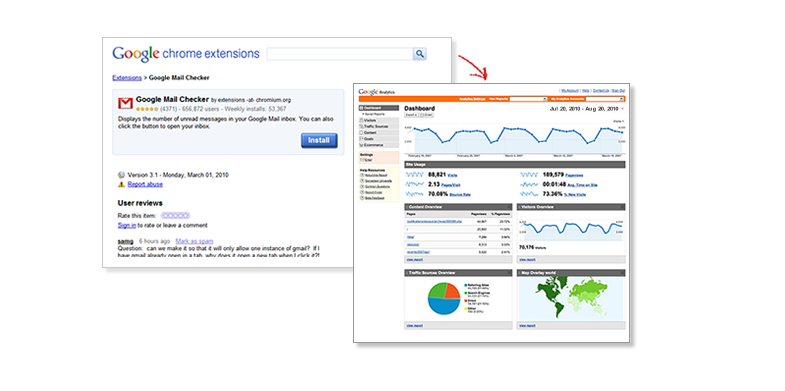 Page Analytics (by Google) is a blogger's best friend for many reasons. It lets you know which link is getting more clicks and which isn't, and accordingly shape your content strategy to get more page views. On any page in your blog, this extension lets you view vital SEO metric such as total number of page views, unique visitors, real time users, average time on page, bounce rate, and much more (remember MozBar?). It's one extension seriously worth checking out.
Also Look: 11 Useful Chrome Extensions for GitHub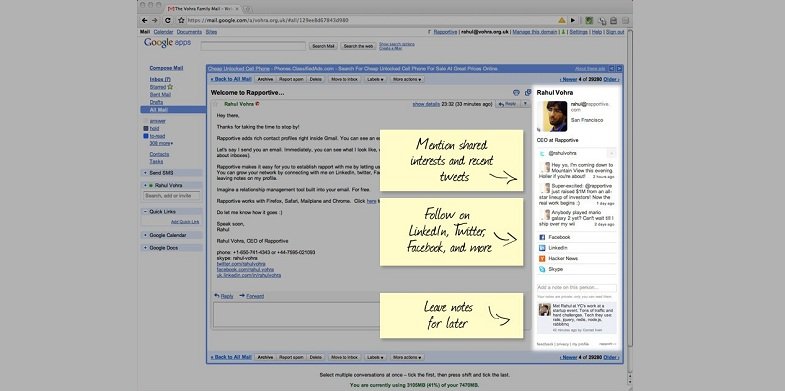 Despite the fact that we spend most of our time on Facebook, Twitter and Pinterest, it's worth mentioning that the most productive conversations, the ones with the clients, happen on Gmail. You'd sure love to have some cool conversations with them on social media as well. This is where Rapportive can prove to be handy. It displays detailed information of your new and old email contacts such as their social media profile links and lets you connect with them on Twitter, LinkedIn and the likes. Don't miss the fun, folks.
6) AddThis

Every blogger loves two things – 1) Bookmarking and 2) Social media sharing. AddThis is an awesome extension that lets you share your articles in over 200 sites including Facebook, Twitter, and Digg. Also, you can email your page to your marketing leads and existing readers so that they come back in case they missed a news or story in your blog. Do all that at the push of a button and get that all-important traffic for your blog without spending too much time – it's that simple and incredibly good.
Also Read: 9 Free Chrome Extensions for WordPress Owners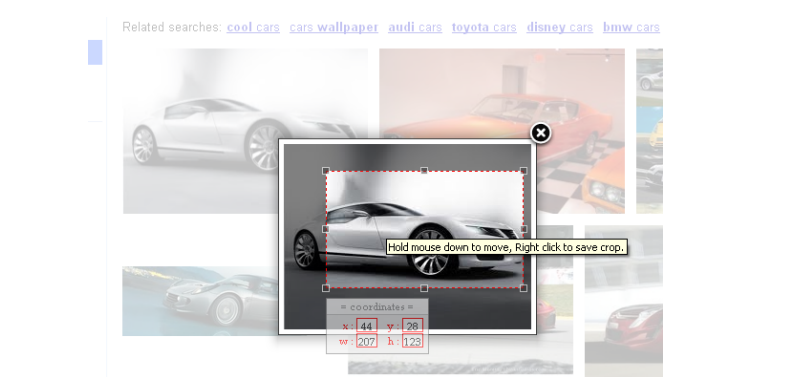 Sometimes when looking for worthy content ideas, you might accidently stumble upon inspiring images and you're like "Man, I need to put this in my blog". In that case, Croppr is just the one for you. Use this extension to crop images from other blogs, save them in PNG format, and put them up on your blog. What better way to decorate your blog than engaging visual content? Use this, and make your blog all the more awesome.

We all love reminders. Wouldn't it be nice if there was someone to remind you of your to-do things when you are lost in the virtual world of Internet? Well, fortunately that's what Remindme does. Use this extension and never miss an important task or an assignment again. Whether it's an NBA match or a friend's meeting, you'll be reminded on time so your wife will never complain of you being forgetful.
Also Check: How to Make Google the Default Search Engine on Chrome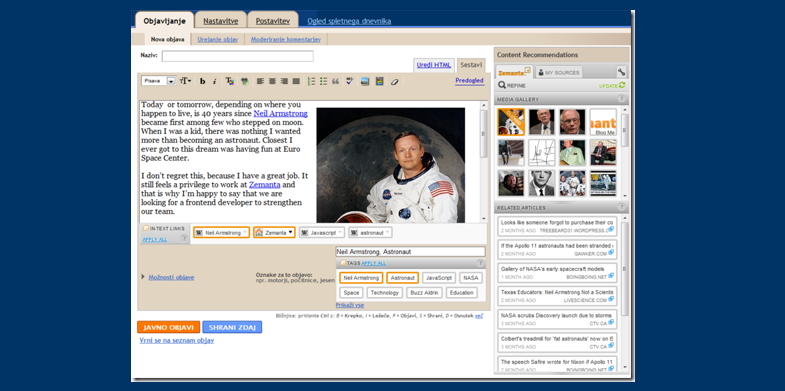 Remember the pizza and cheese example at the start of this article? Good. Zemanta is one such extension for bloggers. It helps improve the user engagement on your page and better your SEO score by recommending the best related content, links, images, and tags while you are penning the content for your blog. Most of the images are sourced from Flickr, Getty and similar sites, and you can see some great articles coming from CNN, BBC, and thousands of other authoritative blogs. What better way to become a smarter and better blogger than use Zemanta?
That's it from us folks. If we missed something or you have alternate suggestions, please feel free to list them below. We'll be glad to check them out and put them up in our next post. Thanks for reading! Have a great day.