To enhance your Mac's productivity and your personal efficiency you might want to download and install a few useful apps. They will help you organize your workspace, clean the disk memory, save online traffic, cut costs, and protect your device from viruses and malware.
---
Your Mac is a quick and powerful computer. Yet to get the most out of it, you need to download and install a few applications. Here is the list of the 9 reliable apps that come in handy with nearly any user.
Transmission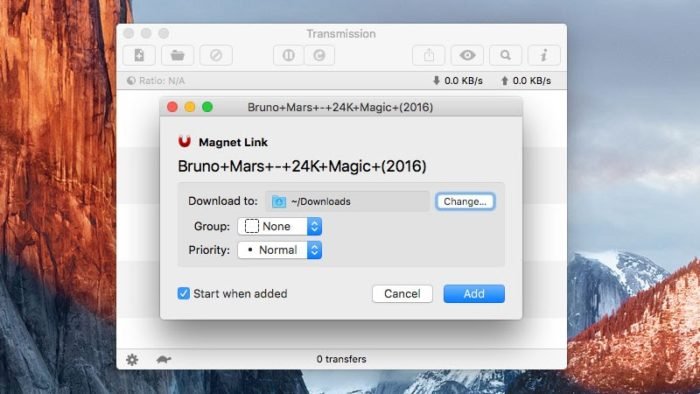 This app allows you to share files via BitTorrent. Contrary to a stereotype, it doesn't necessarily have to be illegal! If you don't violate anyone's copyright and share your own intellectual property, you can distribute large files cheaply and efficiently, regardless of the bandwidth or server costs. The app is lightweight and has the lowest memory footprint among all the major BitTorrent clients.
Transmission has the following in-built features:
a remarkably user-friendly web interface;

a convenient scheduler;

handy watch directories;

properly orchestrated tracker editing;

safe encryption;

reliable webseed support;

well-designed peer exchange;

and many others.
Transmission integrates seamlessly with your operating system and is ready to use immediately after downloading. You simply need to spend a couple of minutes configuring its watch directories and other advanced features.
It's an open-source project, so it's free for the entire period of use. It won't distract you with flash ads or pop-up ads. No personal data of yours will be collected for third-party analytics. The Transmission was designed especially for Macs and can't be installed on other computers. This BitTorrent client was chosen as a default one for the Ubuntu operating system.
The Unarchiver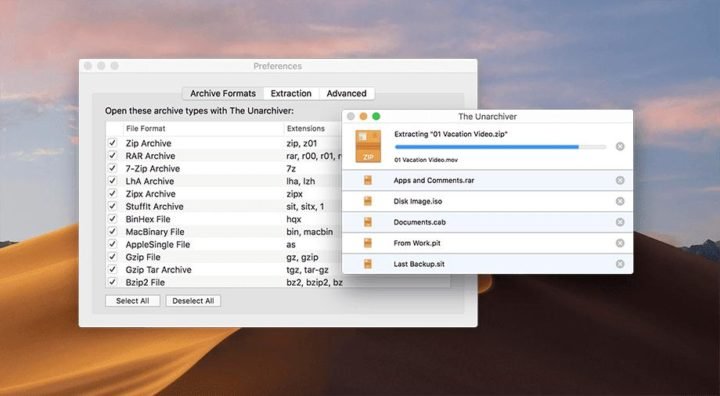 macOS sadly doesn't support RAR archives, which are still widely used today. The Unarchiver will fix the problem for free, and it will never ask you to pay for any feature.
In addition to RAR, The Uncarchiver supports a vast range of archive formats:
popular (Zip, Zipx, MSI, EXE, NSIS);

unusual (PDF. XAR, SWF, NDS, Ar);

outdated (LZX, Stuffit, Cpio, Crunch, LBR).
All of its features are available immediately after downloading, you just need to install it as the default app for all types of archives. The Unarchiver copes equally efficiently with Latin and non-Latin characters. With this app you'll forget about extraction errors and the annoying "Unknown format" alerts. It's marketed as an app that is "times more powerful than the native macOS utility".
MPV
QuickTime is the default media player on macOS, but it won't support some popular formats. For playing both audio and video files you should install MPV (an open-source fork of MPlayer and mplayer2). It's available for free and it's undergoing a constant development that consists of adding features, making cleanups, and code refactoring.
MPV is compatible with a vast variety of file formats, subtitle types, audio, and video codecs. Even though there is no fully-fledged GUI, you can comfortably use the controller located on top of the video. You can scale the videos with high-quality algorithms, manage colors, frame timing, enjoy HDR, and interpolation. MPV can be easily integrated into other applications or used as a library.
MacKeeper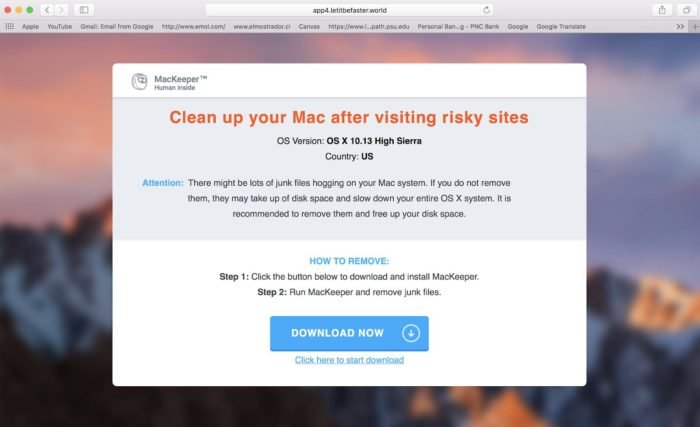 This app provides multi-layered protection for your Mac with the following features:
It guards all of your accounts with 24/7 data breach monitoring, protecting you from identity theft.

It lets you browse on public Wi-Fi risk-free.

It encrypts the data you send online.

It blocks spying trackers and unsolicited ads.

It removes viruses and malware automatically.
Also, this app optimizes your Mac's performance by cleaning its memory, updating the apps, removing login items. You should install it if you ran out of disk space if your Mac runs slow and you were thinking of maybe buying a new one. No need to spend that much — you'd better try installing MacKeeper.
This app is unavailable free of charge but offers flexible plans to choose from. Here is its price range:
1-month plan — €14.95 per month, billed every month;

6-month plan — €9.94 per month, billed every 6 months;

12-month plan — €4.21 per month, billed every year;

24-months plan — €4.95 per month, billed every 2 years.
Useful bonus: in case you lose your Mac or it's stolen, MacKeeper will take a picture of anyone who tries to enter the wrong password.
Alfred
An indispensable tool for those who seek maximum productivity. Using keywords, hotkeys, text extensions, and similar tools, this app will help you optimize the following actions:
finding files;

launching apps;

performing quick math calculations;

searching sites with custom and default search keywords;

checking spelling;

copying and pasting content;

many other functions.
This app will help you save time and increase your efficiency while working either online or offline. You'll be able either to download prebuilt workflows shared by the online community or create custom ones. Alfred 4, the basic version of the app, can be downloaded for free. The full Powerpack will cost you £25, and for £45 you can purchase the Mega Supporter version with free lifetime upgrades.
Magnet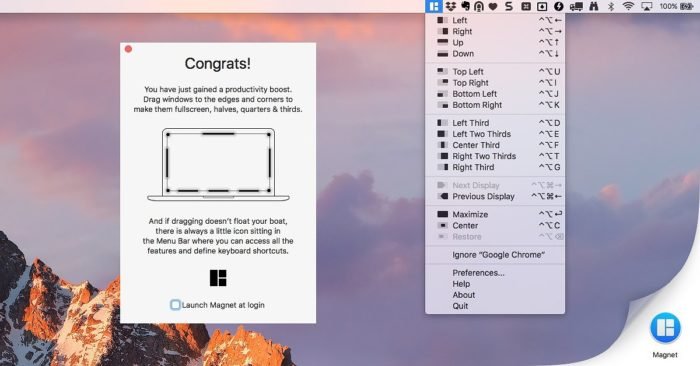 This app can be compared to the "Aero-snap" feature in Windows. It helps you organize your workspace by snapping windows into organized tiles. This can be done either via the menu bar, by dragging or by creating customizable keyboard shortcuts. You are free to choose between fullscreen, halves, quarters, or thirds. The app supports up to 6 external displays simultaneously. Even when you log out of your Mac, your windows will remember their place. To download Magnet, you'll have to pay $1.99.
AppCleaner
To remove any app, you just need to drag it into the AppCleaner window. Not only the icon but all the files of the app will be deleted from the disk in a few seconds. Otherwise, simply open the list of all removable apps in the AppCleaner and select the ones you won't need anymore. You can use AppCleaner free of charge.
Amphetamine
Maybe you remember Caffeine, the popular app which prevented your Mac from automatically going to sleep. Its development was ceased in 2013, and it was substituted by Amphetamine. This app is available for free and can be found in the menu bar after downloading. In just 2 clicks you can make your Mac awake for a set period or indefinitely and effortlessly override your energy saver settings.
TripMode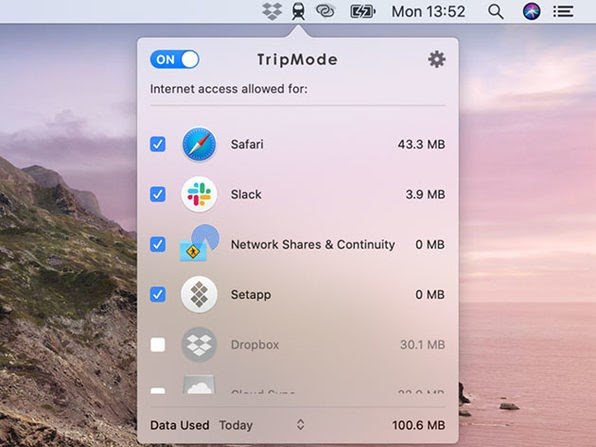 This app will come in handy if you tether your Mac to a mobile hotspot. It automatically detects when you use a mobile hotspot and restricts internet access on a per-app basis. It prevents heavy downloads, blocks apps like Steam and macOS services. As a result, you save you a lot of money in data fees and speed up your browsing session (because bandwidth is limited to only the apps you need).
The app tracks your data usage and sets daily, weekly or monthly limits. When you reach the limit, all traffic stops. At the same time, the app won't spy on you and won't be interested even in anonymous usage analytics. The free trial period for TripMode lasts 7 days, then you'll need to buy the app for $7.
Conclusion
The above-listed apps will make your Mac user experience more productive and exciting. Thousands of Mac owners use them on a daily basis and can confirm their efficiency. You can obtain all of these apps either free of charge or for a very reasonable price. Also, you won't need to seek professional help to get a handle on them — just download and start using.
Read More