Content marketing is still on the rise, despite what many might say about the way we consume content and the way content is presented to us. Content marketing in its purest form remains as a reliable way to build momentum for your startup, as well as to increase singups, sales and general exposure. The question we want to ask ourselves is this: which blogging platform should we use for our startup?
We have been quite actively sharing content about blogging, even a separate post that discussed a list of general blogging platforms, a number of tips that can help us kickstart our blogging career, and of course a concise guide on how to become an authority blogger — all of which are remarkably important to know and learn about.
The roundup today will be different in a way that it will feature mostly blogging platforms that you will find startups using most frequently. WordPress of course, remains a solid leader in this market, but what about other lesser-known platforms? Have we really explored all of the possible options? And can we do content marketing from any blogging platform we choose?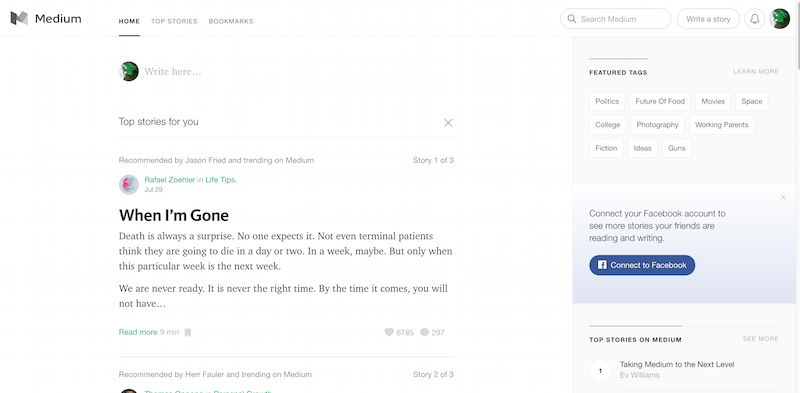 The world has reacted. Medium has become an ideas exchange, where thinkers, creators, and those with a story to share come to find their audience, move people, and move us all forward. — Ev
Medium has seen exponential growth in the recent years, the blogging platform has grown from a few thousand users to several million, and has become incredibly popular in the technology startup scene. One of the reasons so many startups go for Medium is because it integrates seamlessly with Twitter. As you connect your Twitter account to Medium and create a blogging account, all of your Twitter followers who use Medium are automatically added to your Medium followers list, making it very easy to start blogging with an already established audience. This can truly revolutionize the way social media complements blogging, and many have already enjoyed the success of it.
On top of such an amazing feature, Medium is also commended for being a straight blogging platform that doesn't push for fancy plugins and functionality, and instead focuses solely on good storytelling.

Who doesn't know WordPress? Any internet user has accessed a WordPress blog at least once in their life, and many of us access WordPress based sites on daily basis, we might even use it as our back-end for a platform we're running, in the recent years it has certainly become possible to do just that.
WordPress and it's 30,000+ plugins (except premium) and 10,000+ themes have (not including premium ones) changed the way we built websites that are more than just blogs, but since this roundup is solely about blogging platforms, we have to give credit to WordPress for remaining true to its roots, and constantly pushing for new and exciting updates that help content creators create better and greater content on daily basis.
This is one of the best blogging platforms a startup could wish for. Why? Google just announced the AMP project, a revolutionary framework that will help optimize content for mobile devices. What was the official WordPress response to the news? They're already working on an integration of this new technology and are as excited as Google itself.

Different startups will have different ambitions, that's always the case. Rewordly is for those startups who are looking to promote the work of their team through the means of what kind of content this team is consuming, and what kind of content this team is publishing. Rewordly allows you to create a sort of landing page for all of the content that your employees are working with on daily basis, and lets the community to tap into that pool of knowledge. You might have to experiment a bit with this platform to fully grasp its potential.

LinkedIn is the oldest and most-known business social network on the web, and it has changed miracoulously over the years. LinkedIn Pulse used to be a premium feature that only reputable publishers, business people and writers would get access to, but last year we saw the opening of Pulse to all LinkedIn network users, and now anyone with something to say can do so by sharing on Pulse. It's a great way to stay in touch with your LinkedIn Connections, as well as to be able to publish content in front of an live audience, and who knows — one of your stories might be picked up for the front-page, all that publicity would certainly help to boost your startup in the right direction.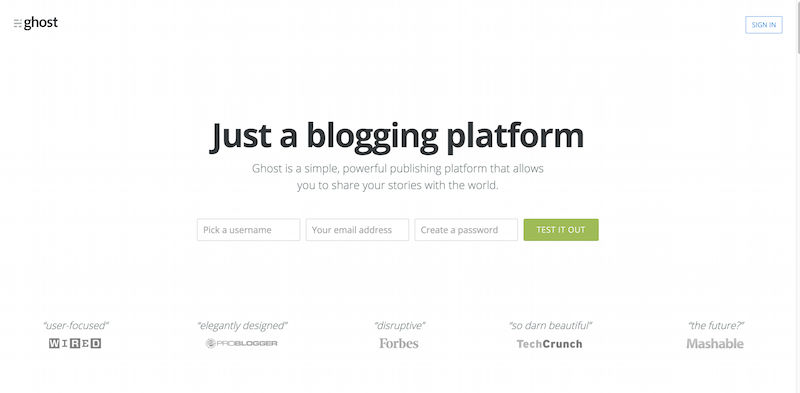 Ghost is a newcomer to the blogging scene, but has turned out to be one of the most transparent companies around, and isn't afraid to publish their monthly financial as well as performance data to the public. Ghost is somewhat of a technical blogging platform, and you will find many web developers and programming enthusiasts taking advantage of this minimalist copy of WordPress; although they probably wouldn't call themselves that any longer. Ghost offers simplicity; something that all blogging platforms should strive for. Leave the focus for content.
Blogging Platforms for Startups
Other than having some sense of understanding of which blogging platforms perform the best in any particular situation, a startup strategist — the person in charge of this task — should make a list of the most important features that will be necessary to publish the type of content your startup wants to publish. As the list grows, start to examine your options from our roundup of blogging platforms, but remember to keep in mind that simplicity sometimes is the best way to go.