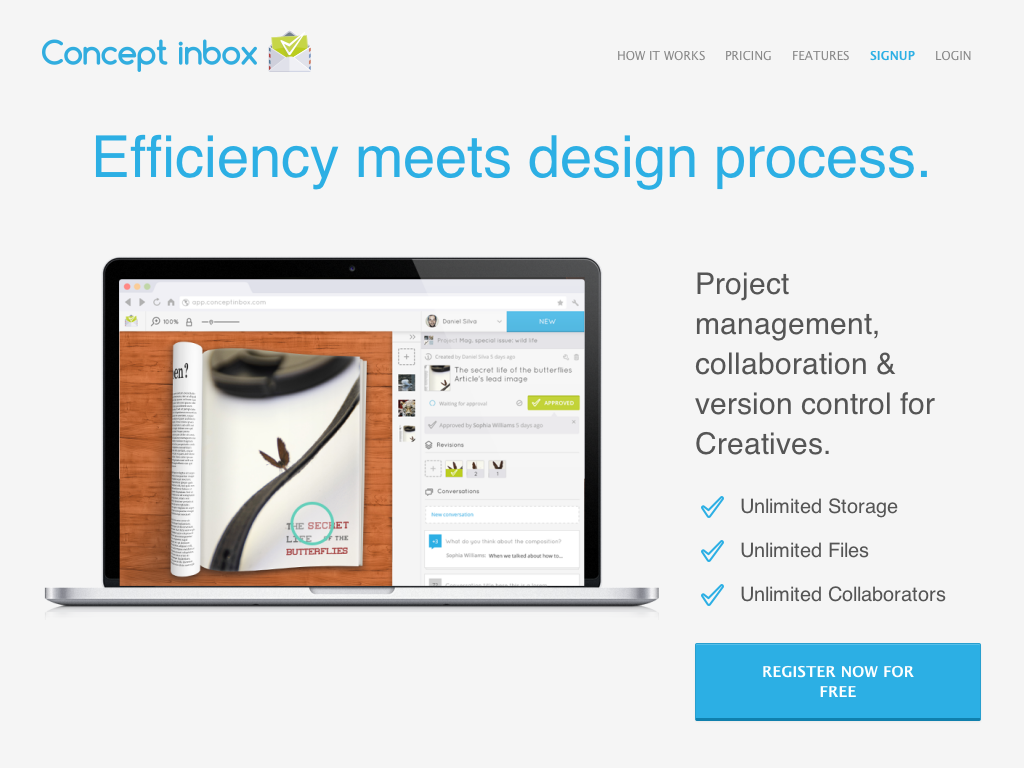 I hope I was able to define the whole startup with my title well. I mean it's such an amazingly easy to grasp concept for a startup, but I struggled to find the perfect title for it. Concept Inbox is a company run by a couple of creative web designers and developers who want to help you with saving time when it comes to selling your services to the client.
You signup and you're given a dashboard from which you can begin creating projects – the first one is for free – and submitting your work to your client. That's it. The next step is for both you and your client to end up on the dashboard and start reviewing what the work is missing, or has too much of something.
The video above should explain it a little bit more in detail, but I think you get the picture. I've just found Concept Inbox, so I'm not a long-time user. It doesn't matter as far as understanding the service goes. I'm really pleased to see that someone had thought of this (is there anything else like this?), and I think it will help a lot of small businesses and design agencies to improve their work and save a lot of time while doing so.
The pricing costs are incredibly appealing, and you can check the service out by signing up for one free project.
The beauty is in the process of creating a new project. It's incredibly simple and is literally as easy as sending an email out. I think the whole process is where a lot of time is being saved, and combined with notifications of new projects uploaded and submitted – I think there is a gap that will get filled along the way.
The file formats supported are JPG, PNG, BMP, GIF, PSD, TIFF, PDF, AI and plenty more to come. What do you think? Does Concept Inbox have its spot in the market? I think it does. :)