I think that after a while, when you've read enough blog posts about how important it is to have great and compelling content, you start questioning your own ability to write something good, and why is that?
Why do we get influenced by other peoples opinions so much? Are you the type who depends on himself when making important decisions?
The internet is not going anywhere, nor is blogging and content creation. If anything, it's growing faster than we've ever seen. It also means just one thing: people will want more and more quality content.
Visual content is becoming extremely appealing, and as of now – 50% of the website traffic that Pinterest receives comes directly from mobile devices. It's obvious that people – consumers – want to view laid back content that also explains a part of the solution visually.
Why did I mention that? Well, simply because 'normal' content needs to stand out from the rest in order to be noticed, or even read completely. It does need images, and it needs to solve a problem.
I've created enough content to understand the importance of having organized and well constructed blog posts, let me show you what I think has become the standard of a good blog post.
It All Begins With An Idea
The idea then defines what we're going to write about. This post was put together by having a look at my recently written notes from other blog posts and my own exploration. It was literally a summary of how I think my blog posts should look like, and because they've been performing so good – I've decided to share that knowledge with you.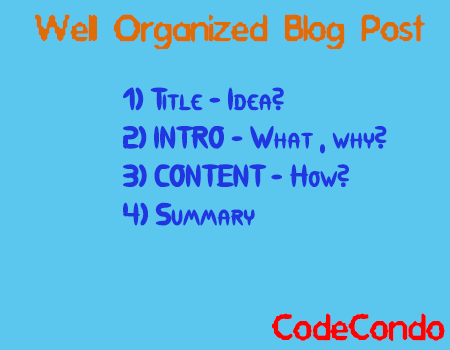 You might say, that looks like ass, right? Well, you have to start somewhere, and believe me – there are people who will learn a lot more from that very image than there are those who will bother reading through the whole post to capture your vision and the idea itself.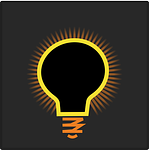 The point is that it has to begin with an idea. I'm not going to turn this post into a full-scale guide on how-to generate good content ideas – (I'll create my own post some time in the future, and as you can see that is a content idea in itself) – and so I would like to redirect you to Mark from WriteToDone, he explains and gives you great 15 tips on how to generate content ideas.
The Post Title
The next thing in the list is going to be the post title. You might think that coming up with unique post titles is hard and difficult, but in reality it's extremely easy – even fun to do, because it gives you more content ideas.
By the time you're halfway done, you've got at least 5 other post ideas that can be expanded upon.
The post title will often be the one that makes it or breaks it. You've got to capture the attention of the reader in order to make him believe that the exact post title that leads to a blog post is somehow going to add value to his life, and that is not easy at all.
I'm not fond of linking to other websites about things that I could very well explain myself, but here is a link to HubSpot from Corey, she'll guide you through the process of creating attracting titles for your blog posts.
tip: Simply try to get the point across in the title, those who want to find out more – will.
The Introduction
You can go all the way back to the top of this post, to see my introduction to this post. It began with me explaining the importance of having great blog posts that are structured and organized for the best possible experience, how are you liking this post so far? Have you learned anything new?
You've got a couple of words, two sentences at most to capture the attention of a potential new subscriber – did you know that? Kimberly from SteamFeed might help you with understanding the concept more.
The above diagram is the perfect anatomy of how most the online bloggers and marketing firms operate, and not because everyone else is doing it – simply because it works and it works well. The content is never the same, and it's up to us how we present it to the user. I've tried to include a few images in this post, and I hope they help to understand the idea better, do they?
Content, The King
After all that is done, we arrive at the middle of the post which is generally used to explain a problem or solve an issue. This doesn't necessarily mean that you've just now arrived at the content part of this post, if anything this is almost the end of it!
Everything that you see above this sentence is content, and the three points that I've touched already are the middle of the post. It applies to all content types, be it lists or be it roundups – there is always the middle that has got all of the juicy bits.
Try not to give away too much in the beginning, and keep the end for only summarizing.
The Summary, End of a Blog Post
What have we learned from this post and the images it provided?
Visual content is becoming increasingly popular
Visual content appeals to a lot of people
There is no post without an idea
From an idea there is a post title
The introduction defines the idea
The content in the middle explains or solves a problem
Summary is used to sum everything up in a couple of sentences
That might seem like a lot, but it's actually not. The best part is that it does explain most of what we have just learned. How many times do you skip or scan the content in order to find the answers you need? I've tried to break this habit and instead try and read blog posts completely – even if it features something I've read before.
How do you structure and organize your blog posts? What is your favorite type of content?