Design is never just design, right? If there are any Mad Man fans out there, then you'll probably remember the very meaningful design related "Make it simple, but significant" quote.  The very handsome and very fictional Don Draper was absolutely positively correct – it all comes down to simple, but significant design. Nowadays we can identify a brand by distinct color, shape or logo. You can wake half of the planet up in the middle of the night and within seconds all of them will be able to identify that iconic Tiffany & Co. color (by the way, it is now called the  "Tiffany blue"), Chanel logo or McDonald's arch. Seriously, last year McD's did a "Follow the Arches" OOH campaign that included just a red billboard with only a curve of the arch in one of the corners. That was it – a red billboard and a small part of the arch, and no one had one question about what's the brand, what are they advertising or what exit to take to order McFlurry. Design matters. Now, let's see why you should pay attention to your digital signage content design.    
Bad design = bad business
If you are not a professional designer but are designing your digital signage chances are customers are going to ignore your screens. And if it seems that lack of attention to your digital signage isn't that big of a deal, let me just stop you right then and there: it is. Statistics show that half of the customers will judge your company fully on design only basis, and nothing else. 46.1% of people have stated that the brand's design is the No. 1 criteria for discerning their credibility. Thus bad DS design will definitely drain cash from your business. Bad design equals missed sales opportunities, no impulse purchases, unengaged customers, and a drop in sales.  Bad design can and will negatively affect your business. So, let's see how a non-professional designer can create original beautiful signage.
Now, you can start by enrolling in the "Parsons the New School for Design" or maybe the "Royal College of Art" and in merely three to five years you will slowly equip yourself with the practical knowledge, develop flair and originality and find your own creative and unique design style. Or, there's another route that can be taken: just find great digital signage software! There are awesome DS companies out there that have invested a lot of time and even more money into their DS visual content. Look for a company that offers professional designs and has actually employed some of those designers that spend from three to five years and somewhere around $50 000 on their education.
We've picked our DS soft provider just for their stunning visuals alone, they have awesome eye-catching designs, beautiful modern fonts, and their templates were designed by using data analysis. If you find a company that actually takes design to the level of looking into how people react to different content – you've found your digital signage designer. If you want to check out ours, you can find them here: https://kitcast.tv.
What matters in design?
No matter how great your digital signage soft is, there are still a few things you'll need to take care of and one or two trends you need to follow if you want to engage customers in 2019.
Use authentic photos
You should never use stock photography in your digital signage. Of course, a professional photographer will be an investment, though the benefits of not using photo stock images will become quickly apparent. Your original photography can be also used on your website, on your social media. Original photography is for sure something interesting if only for the reason that you have unique, never before seen visuals. Plus, your photos, especially if there are of your staff, will build immediate connection and trust with the brand. Customers don't respond well to a photo of a "Customer Service rep" that they've seen used thousands of times by other companies.
Don't overcomplicate things
Digital signage should always be designed with very short playtime in mind. You mustn't forget, that you are designing for those on-the-go, or rather on-the-run, so your best hope is a glance and the way to catch it and hold it long enough to read the signage is with beautiful clear uncomplicated design. Don't overload your designs, keep it clean, easy to understand and remember. Always focus only on important information: your digital signage should include beautiful memorable visuals, clear and concise call-to-action, logo, QR codes and, if necessary: dates and places. Clean designs are way better than complex ones; buzzy design will always take away attention from your main message. Carefully asses the text – it absolutely has to be readable and viewable from afar.
Be mindful of digital signage ready-made templates!
When you choose a digital signage template, there is always the option to change it as you see fit. Though, before you make any changes – carefully look at the template and use it as a suggestion to get a better understanding of how a photo should look, the way text stands out on the chosen background, the form and the size of the used font, colors, etc. Take note of these important things while customizing the templates. Your templates were made by professional designers specifically to grab someone's attention and engage them.
Make your Calls-to-Action shout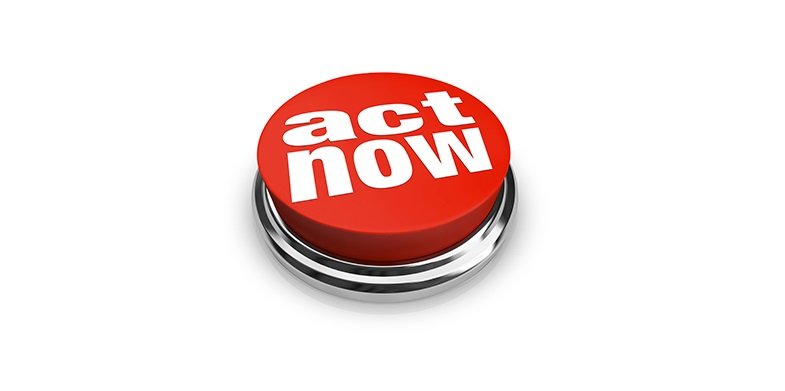 I cannot stress this enough, but the design and place of your digital signage "call to action" is very important. You have just a few seconds of someone's attention. Make it count. Remember, that your CTA entices a prospect or a customer to take action, triggers people to act immediately.  Make your CTA stand out, use bold colors, preferably a color that is in contrast to all of your DS design and leave plenty of space surrounding your CTA. Additionally, there is one rule that always works with CTA'a: less is more!
Know the trends
There are numerous visual trends that you should be focusing on while designing your digital signage. And, I always like to remind myself and those around: if you aren't a professional artist, designer, photographer or videographer than your job is to follow the trends, and never to lead. Design trends are always changing and professional designers have enough knowledge, practical experience and talent to keep up with the current trends and implement them in a new exciting way. Our job is to take notes and follow the lead.