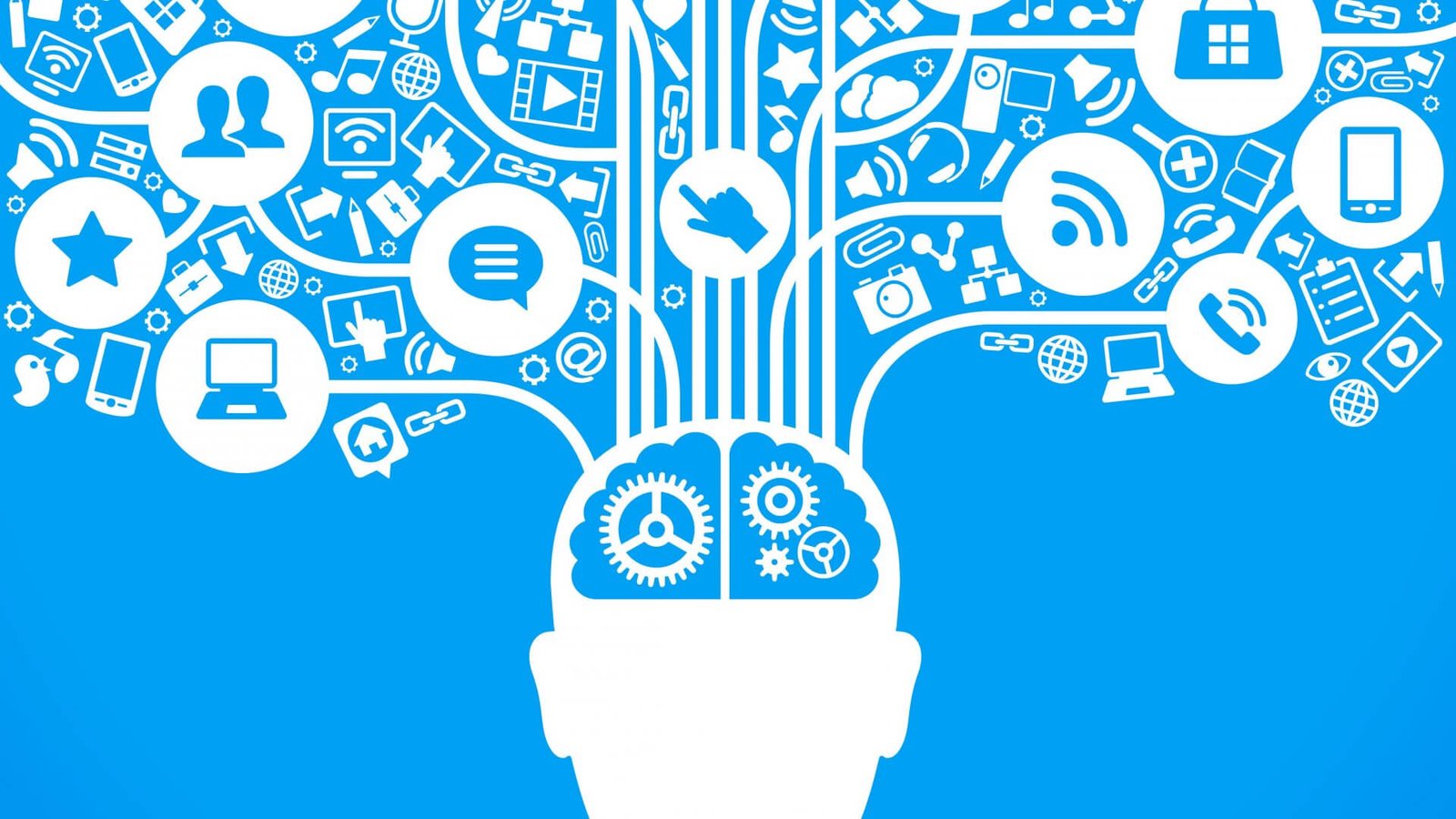 When it comes to building for the web, a domain name acts as the very foundation of whatever it is that you're trying to create. A domain address is what allows others to visit your website, interact with it, and ultimately pass it forward. And the best part is, you can have your own custom domain name, there literally are no limits, and in the last few years we have seen a gradual increase in custom domain extensions that have swept the domain market off of its feet, although many would say that these funky extensions are nothing but a waste of time. I wholeheartedly agree.
As for finding the right domain name, well, that's a different story. The first domain name was registered 30 years ago, and as you might imagine — many, many more domains have been registered ever since. This has created a huge gap in the market of domain availability, and these days buying/selling domains is a huge market in itself, with very popular domain names snagging prices of up to 1 million and up.
A good domain name is the starting place for any online business and/or blogger, and is the crucial part of establishing a solid online presence, you can also try and look into domain name generators, which are sites that help to choose from domains that haven't yet been registered, based on different factors of your choosing, and if you're really up for it, you can always buy a website that comes with an already established domain name.
In a recent 'essay', Paul Graham was trying to advise startup owners to invest in their own .com domain name for the sake of credibility, since a lot of the internet users today are still very adapted to the idea of .com being the one true domain extension there is, which definitely isn't far from the truth. As you can tell, our own website CodeCondo also uses a .com extension, and I didn't want to settle for anything less.

Sedo is the leading domain marketplace in the world, with so many reputable brokers and sellers, it's no wonder that these guys have become the industry standard on how a domain name should be managed, and sold. The advanced domain filter can really narrow down exactly what you're looking for, and surprisingly the prices aren't as bad as one might think, it seems that people are eager to have their domains moved on to new owners.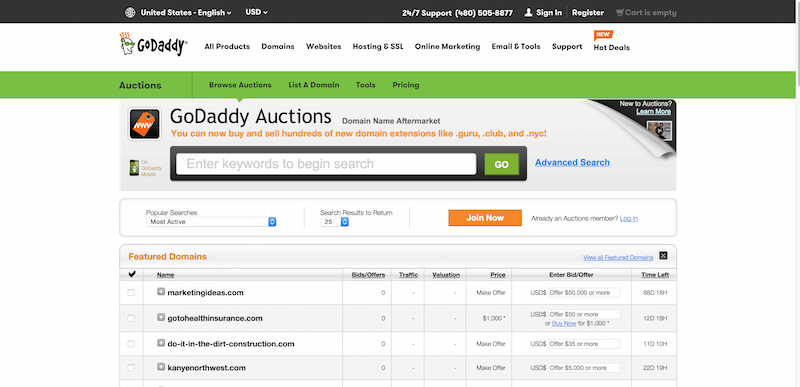 I'm all against GoDaddy when it comes to hosting, but when it comes to buying domains, there are several gems that can be found, and with that in mind — GoDaddy deserves to be on this list. Many domain registrars offer such marketplaces, so you might want to look into that as well, majority of sales happen through bidding, so you might be able to snag some good deals.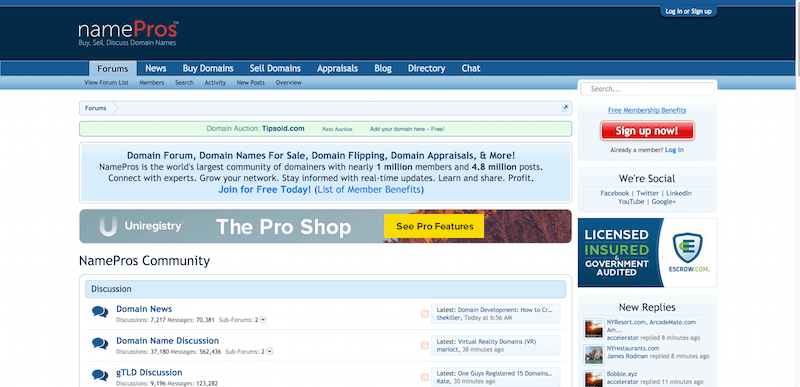 NamePros is an online forum community that has been around since early 2000's, and is one of the most well-known domain marketplaces within the industry. You can not only find many experts and reputable sellers/buyers on this site, you can find some really good domain names and even connections that might lead you to some juicy names for a reasonable price. Always remember to tip the guy before you!
Domaining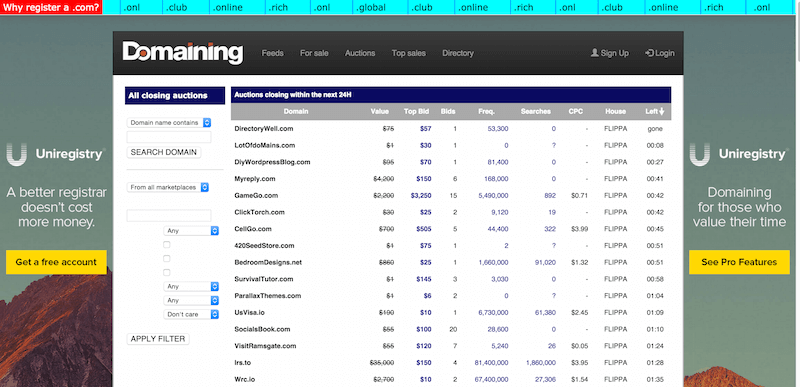 Domaining has a bit of everything, it's a marketplace, it's a domain industry news aggregator, and they're also not shy to promote other marketplaces that provide quality domains at affordable prices. Explore the Feeds section to get a glimpse of what are the most popular domain sites in the world.

Catchy has a different approach, these guys are offering you to 'rent a domain' on a contract basis, which means you can rent a catchy domain name for your next business/startup idea for around $1000/month on average. It's not a bad deal, considering that some domain names can end up costing hundreds of thousands of dollars, and it's safer to just invest in something that's reliable, but also significantly cheaper. Lots of interesting domain names from these guys, definitely check them out.

A very professional domain marketplace, Cax stands out that it provides evaluations for all of the domains it enlists, which can give you a better idea of how much something costs in the real world, and how much you can buy it from the Cax sellers. Sophisticated search function allows to find exactly what you're looking for.
Miss Domain should be the obvious platform for all in the domain industry, you should be able to manage all your domains in an easy and convenient way. Everything from registering, selling, buying new and auction your domain name. We will provide the market with the best service and the highest expertise in the field of domain names. With innovative solutions and a focus on only the domain services, we guarantee you a service that you will not find in any other supplier.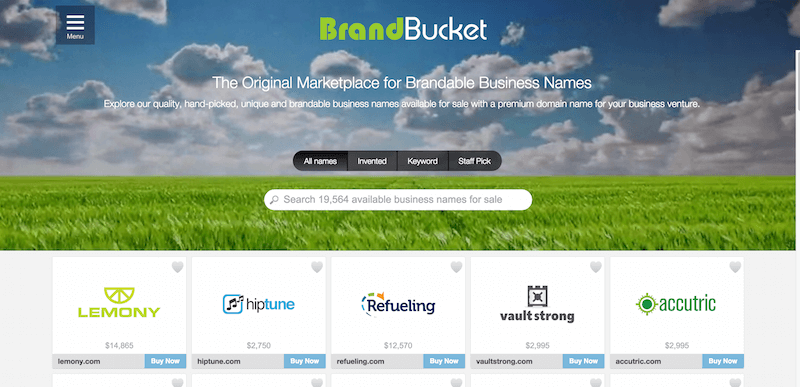 When BrandBucket says that they're the largest online domain directory of brandable domain names, they're not telling lies. Even from the first impressions as you visit the site, there are a number of catchy/interesting domains names available for straight purchase, and the prices really aren't all that bad, given the fact that a lot of domain names consists of 5/6 letters, which is amazing for any domain name. Some 20,000 domain names are available from these guys, grab a cup of coffee and start checking them out!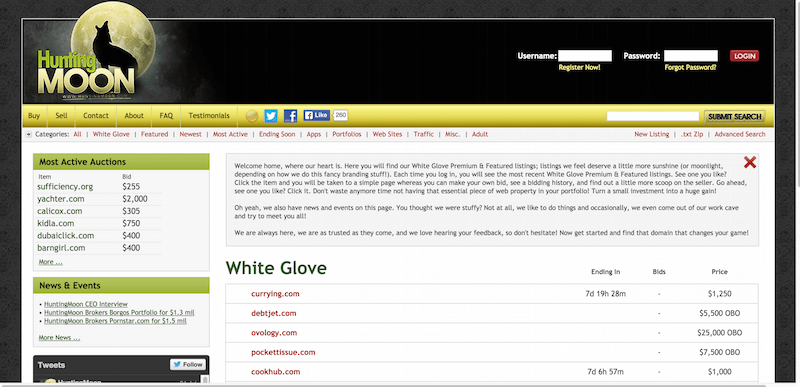 Hunting Moon is a classic domain marketplace with sellers and buyers who go way back with their domain experiences, so you never know who might decide to put up what for sale. Definitely keep this one in your domain marketplace bookmarks and check it once in a while to see what's up for grabs!

Flippa is generally known for selling and buying websites, but there's no denying that half of the inventory on Flippa is strictly domain names, and not all of them are as bad as others try to make them to be. If you're a newsletter member of Flippa, you will often get emails that list some really amazing domain names that you won't find elsewhere, although the prices are set accordingly. Regardless, worth checking out on frequent basis, as new domains flow in on hourly basis.