The existence of an online market further proves the power of technology in our daily lives.
A market is a place of physical transactions between a buyer and a seller. Both parties agree upon a price for a certain commodity. But, it has become more efficient and accessible due to the creation of electronic commerce or e-commerce.
The game of e-commerce is no longer for big companies only. Today, anyone can create an online shop and sell products, technical skills are no longer required.
The market of e-commerce platforms is very competitive, constant updates bring new technological ideas to life.
Just imagine how the whole landscape will look in the future. Will artificial intelligence help us to create online shops and run them?
What Is E-commerce?
E-commerce involves transactions such as buying and selling of products and services over the Internet. The first-ever record of e-commerce was when a man was able to sell a Sting CD to his friend through NetMarket, an American retail platform.
What Is an E-commerce Platform?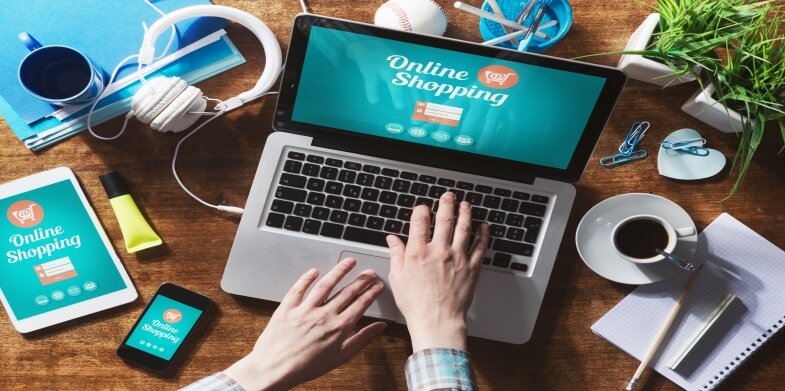 A platform is an essential part of e-commerce. It houses the products and services offered. Sellers can choose over a wide variety of online platforms for their businesses. These platforms are designed to complement the products or services they offer, to attract buyers from all over the world, and to close a deal.
These platforms vary in features, interface and target audience. Sellers will choose an online platform that fits their vision and target for their business. There are platforms that are already molded to attract a certain type of audience or buyers, depending on the majority of businesses it houses.
Why should you use an e-commerce platform?
An e-commerce platform is synonymous with a physical store. But, it costs less and takes minimal effort to establish. E-commerce platforms come with tools you might need while setting up your online business. These platforms may include backgrounds, fonts, image uploader, social networking sites connection, and more.
They also, have a stable connection with a large number of people that you may take as your first audience. The interests of these people are already in a database. All you have to do is present what you have to offer in an enticing and unique manner.
Best E-commerce Platforms You Need to Check Out
E-commerce involves different kinds of transactional relationships that can affect the type of platform you would like to choose. Features and graphical user interface should also be considered, most especially for people who are not tech-savvy. Pricing and budget are important factors. Some platforms cost more than the others as their popularity among the community increases. There are also quite a few hidden charges that you need to be aware of, for example – transaction fees.
Shopify
Shopify is one of the most popular e-commerce platforms in the community. It is beginner-friendly and provides easy set-up. Sign up using an e-mail address and you can start building your shop and proceed to sell immediately. It also includes SEO features that can help your business be found by a larger audience. Shopify also has a wide variety of themes that you can choose from, depending on the core of your shop. There are free themes, but better and professional-looking themes are available for purchase.
Due to its immense popularity and influence, Shopify supports many third-party payment methods and is accessible through a mobile application. You can modify your shop through your phone. Shopify offers different plans with different pricing tiers. It hosts thousands of users that can help boost your business in its early stages.
Volusion
Volusion has been around for quite a while now (since 1999), yet the growth of this platform remained stable. The best thing about this platform is probably their selection of themes & templates, the number of available themes can easily surpass any other platform, however, quantity is not everything.
Even though Volusion has been around for much longer than Shopify, it is not as popular as Shopify. I've managed to locate a fantastic Shopify vs Volusion comparison that explains everything you need to know about these platforms. According to this comparison, the main difference between Volusion and Shopify is that Shopify has a much better-rated customer support team.
BigCommerce
BigCommerce, as its name suggests, is a big e-commerce platform housing more than 55,000 online stores as their software provider. It is one of the most popular e-commerce platforms today. It has helped business giants and SMEs launch their presence online.
BigCommerce offers tools that can help you set up your shop even without any knowledge of web development and programming. It is as easy as drag and drop. It attracts a lot of entrepreneurs who are focused on marketing and wants someone to handle the technicalities of programming and interfacing plugins for them.
Magento
Magento is an e-commerce platform made for technopreneurs. It is an open-source. It has made its way to be one of the most popular e-commerce platforms in the industry. Business giants such as Huawei, Liverpool F.C. and Burger King built their websites on Magento. Its complex, costly and highly technical setup is specially designed for businesses with a designated programming team that maintains the website.
If you are not an e-commerce developer, then we advise choosing something easier, more beginner-friendly, for example – Shopify.
Conclusion
There is no e-commerce platform that can cater to everyone's needs. There is a platform that suits your needs and can help you better expand your business. It is important to consider your skills and knowledge when it comes to technology if you want to start venturing on e-commerce. It is not difficult. But it is not easy as well.
Consider the features that will complement your business. Write them down and for each platform, check if each feature is offered. If it is, check the prices. Make a calculated decision and understand the risks. A certain type of business may work well for a certain platform, but it may not work for another type. Choose a platform based on your needs and not on its popularity.