Trying to open up a successful physical store in the real world is no longer something that everyone is capable of doing, many people are shifting their attention away from physical, and instead are focusing their energy on things like digital online stores. They're less difficult to build, save money, and give access to billions of consumers.
You don't need any special qualifications or deep knowledge in order to open up an online eCommerce store, everyone is doing it. I wrote a blog post a few weeks ago, discussing the things that one needs to know when it comes to opening his first eCommerce store.
I also wrote extensively on tips for new vendors to help them maximize their earning and conversion potential. eCommerce and the marketing around it isn't much more different from traditional marketing, but the emphasis is being put more on the customer, rather than what you've got for sale.
So, which one of these open-source eCommerce shopping carts are we going to use to open our first online store?

Spree is the storefront of over 50,000 stores all around the world. It's the home for stores that have been invested into by many famous business people, such as Richard Branson – who recently invested in a 3D Robotics related project. The 3D Robotics homepage is actually powered by Spree! How cool is that.
Spree Commerce is an automated enterprise solution built specifically for eCommerce. The team behind the project want you to build amazing and interactive stores, while also giving you all of the necessary freedom to carry on development on your own, or with a group of friends if you like.
They've got an amazing API, documentation, guides, community groups, and much more to keep you and your developers busy. Spree stands out with latest technology standards, while also being incredibly easy to use. Give the Spree documentation page a spin, see what you can dig up!
2. Ubercart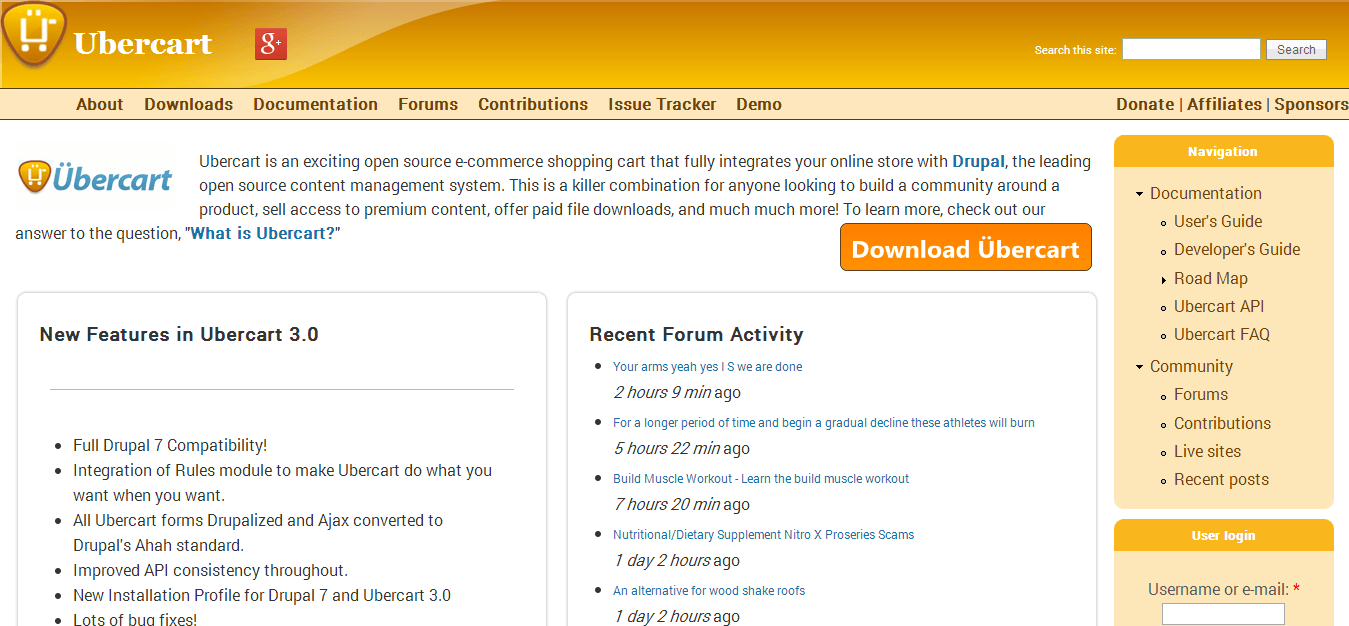 Drupal is one of the rare content management systems that can compete with the mighty WordPress, and because Ubercart is so flexible and provides great features; many people opt to try out Drupal, the only CMS that Ubercart will work with.
This is a killer combination for anyone looking to build a community around a product, sell access to premium content, offer paid file downloads, and much more, all while maintaining a seamless connection to your users. Ubercart leverages the advantages of Drupal's major core and contributed systems, providing your users with shopping cart functionality that integrates with other parts of your company or community website.
It's not the most frequent updated shopping cart software, that's for sure, but it definitely hasn't lost the community spirit, with many members still being very active on both the development, and production side of things. Ubercart is capable of catering to large corporate online stores, just as well as it can cater to a small website selling a few eBooks, or something of similar nature.

These guys have been around for over a decade, serving as many as 70,000 active customers. Think of all the earnings potential spread across all of those stores. CubeCart is very powerful in its own way, but it's also very user-friendly which is one of the reasons why it has attracted so many eyes on it. It comes in both free and paid versions.
Once your store is installed with a few clicks it is possible to enable all kinds of plugins and modules. These include all major payment and courier systems, 3rd party affiliate software, social sharing tools and Facebook integration.
You can integrate CubeCart with nearly every major player out there, be it PayPal; Disqus; AddThis; or anything else that comes to your mind, there is a likely chance that you'll find the integration of two a very easy process. CubeCart is also famous for its easy to modify code, and marketers love the built-in SEO features.

osCommerce is one of those rare open-source projects that heavily depends on the activity of its community members. The osCommerce homepage states that as of right now, the software has got well over 7,000 working, and fully functional addons that can be integrated within your own eCommerce store! Think about the flexibility and choices there.
The idea is that community itself is capable of driving forward the development of osCommerce, thus making it versatile and highly accessible to those who would otherwise pay money for special features and extensions. Well, in some ways more than others.
You get everything you need to start a legitimate catalog of products to sell, at any given time – there are roughly 500 to 800 users online at the osCommerce community forums. You'll find answers to questions that many people share, while also gather insight for your specific problems.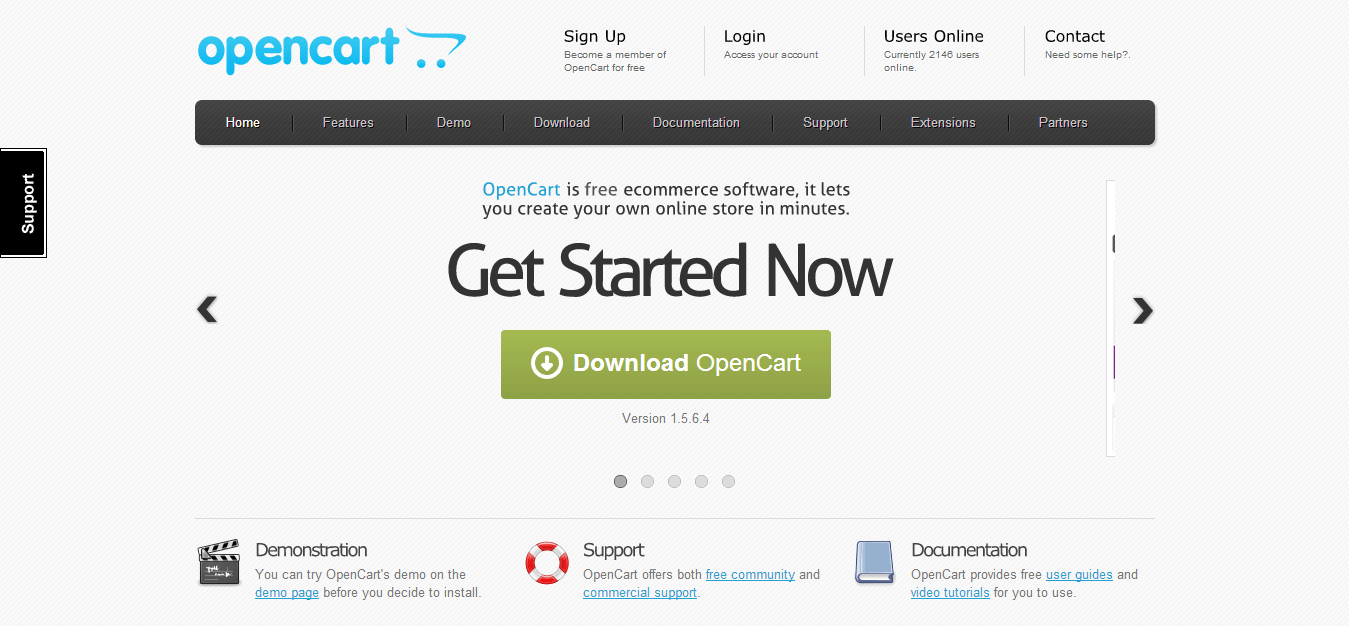 OpenCart is an open source PHP-based online shopping cart system. A robust e-commerce solution for Internet merchants with the ability to create their own online business and participate in e-commerce at a minimal cost. OpenCart is designed feature rich, easy to use, search engine friendly and with a visually appealing interface.
I really like how many payment gateways OpenCart has got enabled by default. Truth to be told, setting up a payment gateway can be a really boring and time consuming process, so it's nice to see someone take the initial steps towards making the payment integration a less of a hassle.
By itself, the shopping cart is quite popular among individual stores, charity gift shops, business stores, private online stores for selling individual items, and other of similar nature built stores. But, anything can be adjusted to our own specific needs.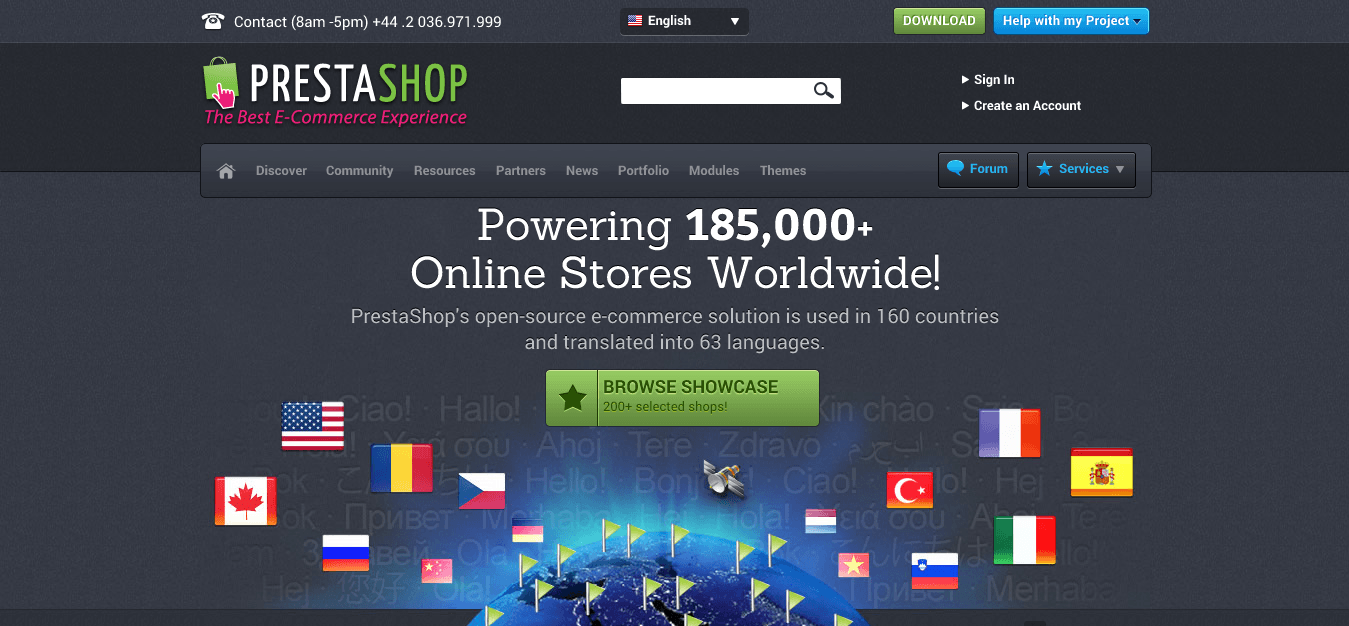 It's quite possible that PrestaShop is the company with the largest employee count, at least on our list of eCommerce shopping cart systems. They've got over 70 employees making sure that everything works according to the plan, and many of those employees are also your guides and support assistants when it comes to building your own PrestaShop based store.
PrestaShop comes complete with over 310 features that have been carefully developed to assist business owners in increasing sales with virtually little effort. All features are integrated in the software and are 100% free.
The company provides their software in more than 60 languages, of which more than 200,000 online stores have taken advantage of. Thousands of webmasters and potential online store owners are downloading PrestaShop every day. These guys stand out with their ability to build specific features, thoroughly analyzed for any additional possibilities.

WooCommerce has been around for ages now, and although the company has seen better days – it's still one of the leading eCommerce softwares to use, thanks to its wide variety of features, simplicity, and for some – the built-in payment processors.
The company has been building plugins, themes and other WordPress gadgets for many years now, and is in a very good spot when it comes to eCommerce market share for WordPress. The product by itself is very simple, but as soon as you begin to explore the specific plugins and themes built for the WooCommerce plugin – you realize how much flexibility there is.
I recommend using WooCommerce for both beginners, experts and professionals alike. Yes, you'll be depending on WordPress, but optimizing that for speed has become very simple. The only thing that's left to do is load up some products and send over those links to friends and family.
eCommerce Shopping Carts for Small Businesses
You get the picture, while they all share the same purpose – many of these shopping cart systems are unique in their own way. Perhaps one is less technical, while the other is more about drag and drop design style. They all have their own special nuggets that make them stand out from the rest. Know your needs, choose wisely.
I guess it's too late to mention the fact that these are open-source systems, and you may be able to find more of this type of software, though for a much higher price than free. For example, those who're looking to sell some web hosting – shouldn't look at any of the carts here, instead – try using WHMCS and see how specifically tailored such software can be.