The proliferation of smartphones and the rise of innovative technologies set off a surge of mobile fitness solutions. According to Globe News Wire, the global fitness application market is projected to hit over $14.6 billion by 2027. 
The coronavirus pandemic has expedited things even further. Thus, in 2020, the Nike Training Club app reported a 100% increase in active weekly users. This shows that the demand for stay-fit applications is at an all-time high. 
If you are looking to ride this wave and grab a piece of a hot pie, this article will tell you all about building a fitness app of your own and what budget you will need for this undertaking. Let's get started!
Types of Fitness App
If you already have a crystal clear vision of your fitness solution, keep going. But in case you're just unfolding this journey, you need to choose a type of your application first. Fitness app developers highlight the following types of mobile wellness apps:
1. Fitness-tracking apps
This is by far the broadest category among fitness mobile apps. Keeping track of ingested calories and the number of steps is simple yet important even for people who don't go to the gym. Such applications make sure that a person moves enough and consumes the recommended number of calories every day. 
MyFitnessPal is a great calorie counter that allows you to take control of your fitness goals. This app will help you to track calories, nutritional value and record your activity for later analysis.
2.
Nutrition apps
Diet and nutrition apps help control users' weight by counting calories. The calorie intake is calculated according to users' height, weight, sex, and age. These fitness applications allow users to set personal goals, create grocery lists, control water balance, and even track coffee intake. 
Calorie Counter – MyNetDiary is an excellent example in this category. This mobile application provides a calorie counter, food log, and macronutrient tracker followed by a diet plan.
3. Workout and exercise apps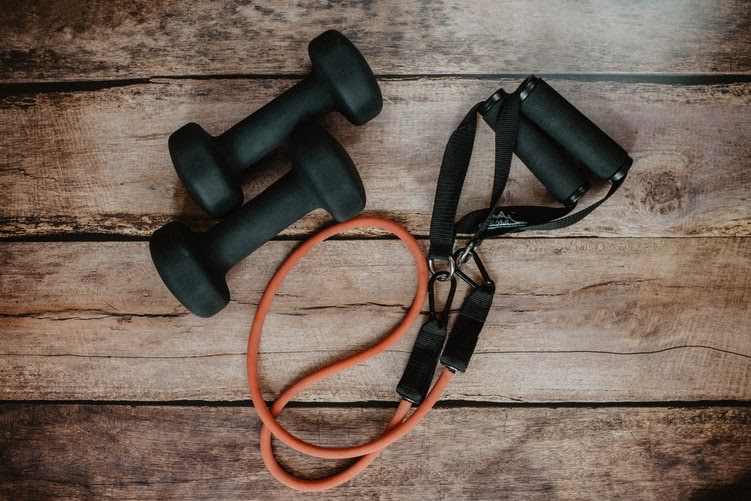 As the name implies, these applications help users to whip their bodies into shape. Their main objective is to demonstrate what exercises to do and how to swoll beast.
This category can be further divided into personal trainer apps, logbook apps, and workout fitness apps that pair with devices. As for the examples, FitnessBuddy is a gym workout and weight lifting tracker that teaches novices everything they need to know about exercising and workouts.
Now that you've defined the type of fitness app you need, let's go over the process of developing a mobile solution for gymaholics.
How to build a fitness app: A comprehensive guide?
If you want to tap into this profitable niche, follow the steps described below:
1. Pick your monetization model
Besides providing value to users, it all comes down to generating profit, right? Here's how you can rake in money with your fitness application: 
Paid apps. Although this business model is not widely applied, you can leverage this source of revenue. In this case, users pay a one-time fee to download the app from the Google Play Store or iTunes App Store.

In-app purchases. This monetization model allows users to download an app for free. Users get access to the majority of features. As a source of money, you can offer users some useful add-ons from exclusive content to recipes.

Freemium. This is a portmanteau created by using a combo of two business models: free and premium. In this case, users are offered a set of basic features in order to promote the application. Advanced fitness plans or personal nutrition are offered on a subscription basis.

Ads-based model. Within the advertising revenue model, app owners can collaborate with other wellness businesses and offer them a promotion space in the fitness application. Interest charges are based on a cost-per-click or a cost-per-mile basis.

Partnership content. Like the previous model, you can liaise with fitness experts and gym owners. However, in this case, your collaboration extends beyond placing paid ads. Your partners can provide useful content to the app users and bring their expertise to your space.
2. Create a list of the core functionality
Although there are no identical applications (at least, there shouldn't be), we've compiled a list of must-have features that should be presented in all fitness apps. Here are some of them:
Sign-up and profile creation. Personal accounts are very important since they allow app users to update and maintain their personal data even if they switch phones. This feature also enables users to enter their physical characteristics, including weight, height, age, and others. Make sure to opt for social log-in, since it helps avoid lengthy and complex registration processes.
Notifications. This feature encourages users to stick to their fitness exercise regimen. The application pings a user whenever they have something scheduled and rewards them for their stamina by sending a notification with the burned calories.

Track physical activity. Use Apple's HealthKit and Google Fit via APIs to track the speed, pace, distance, elevation gained, and calories burned during and after exercise.

Social sharing. Motivate your users to achieve their fitness goals by showing off the results to their friends. This feature also contributes to organic marketing and raises your brand awareness.

Geolocation. This feature allows users to map their walking routes, track speed, or and record workouts. Geolocation functionality can also be used to find the nearest fitness studios or personal trainers.
3. Hire a development team
Fitness solution is a complex multi-functional application. Therefore, you need a group of experts to transform your business idea into a viable product. At this stage, you can reach various software development agencies located in different countries. Requesting several quotes from multiple contractors will allow you to score the best value-price ratio. Thus, US-based programmers price their services at around $100 per hour, whereas Europe-based developers charge significantly less for the same amount of time. 
i. Inception phase
At this stage, your development team lays the foundation for a successful development process. They establish a shared understanding of the project, including agreeing on project objectives, scope, and planning with all stakeholders. By the end of this phase, you'll get:
A clear scope of work needed for your product

Project roadmap

Accurate project estimate 
ii. Technical documentation
Technical documentation is what keeps the project from falling apart. The main aim of this element is to keep everyone on the same page. 
Technical documentation may include:
Specs, such as how a developer is going to handle a technical problem by designing and creating a solution for it.

API calls and responses are important since they help developers navigate the development terrain.

End-user documentation – the type of documentation provided specifically for the user that dwells on the product and its inner workings.
iii. Design
The task of this development phase is to define the User Experience (UX) of the application, such as the overall layout of the application, how it works, etc., and to turn this UX into a suitable User Interface (UI) design, usually with the help of a graphic designer.
iv. Fitness application development
Finally, your application takes shape, with software engineers powering the back end. If you are releasing an app on both platforms, you will need at least three coders. 
v. Quality Assurance
Quality assurance and testing are some of the most crucial processes during software creation. This stage ensures that the product or service meets specific requirements and is bug-free.
How much will it take you to build a wellness application?
There is no clear answer to this question until the Inception phase. The cost to create a fitness app depends on a gamut of factors, such as app complexity and the number of platforms.
To give you a general idea of future investments, we've estimated the number of hours each stage takes and added an average rate for a software developer.
| | | |
| --- | --- | --- |
| Stages | Estimation in hrs | Average rate |
| Technical documentation | 70+ hours | $20/hour |
| Design | 150+ hours | $20/hour |
| Development | 950+ hours | $40/hour |
| Project management | 230+ hours | $20/hour |
| Quality assurance | 280+ hours | $25/hour |
Let's draw a final line in terms of software development costs:
Apart from app complexity and the number of platforms, the total for fitness app development depends on the number of hours and the size of a development team accountable for the product

On average, it will take your team 4+ months to deliver a full-fledged fitness application 

The time frame is built around various factors, such as the number of platforms, core functionality, and the type of app
Afterword
The fitness app market has been gaining momentum over the last few years. And pandemic-caused lockdowns and social isolation have brought a new milestone in this niche with lots of entrepreneurs embracing this opportunity. 
If you want to become a part of this game, it will take you 4+ months to build a robust mobile fitness application. As for the development costs, it may take you around $30k to $50k for one platform. However, the total depends heavily on your unique business requirements.
Also Read: 8 Trending Mobile App Development Ideas You Must Look Into