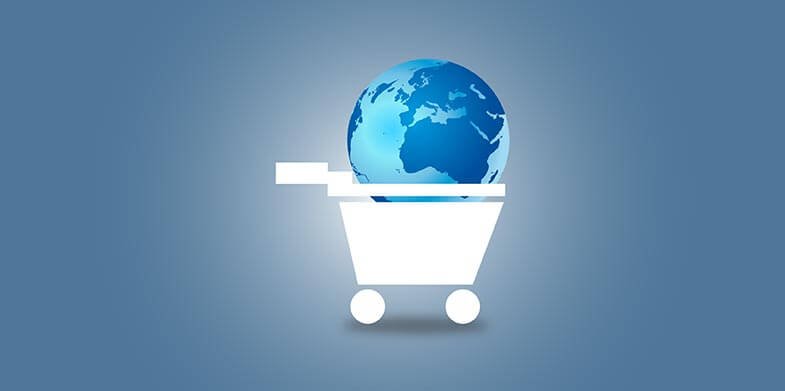 The e-commerce world is growing, but the global trends differ. Not all geographies are experiencing the same trends. Here's a look at what is going on throughout the world with regards to e-commerce.
1. Mobile Continues to Grow
In the U.S. mobile purchases will continue to grow. In fact purchases on mobile now account for 22% of all e-commerce sales and mobile will influence millions of e-commerce websites. The mobile influence on the consumer is so great that it goes way beyond a simple purchase. Buyers now research more products, by checking reviews, finding sales locations and checking availability from a mobile device.
In the U.S. e-commerce specialists expect to see more integration between mobile internet and the physical world. In fact, surveys suggest that many consumers would like the option of being able to check stock availability and reserving a product to be picked up at a physical location.
2. Better Return Policies
Some countries, especially those in Latin America, have been growing at astounding levels. But even this increase only accounts for a small percentage of the retail market.  Regardless of the small size there are noticeable trends that influence shoppers in making their final decision to shop online. This study found that shoppers would like a "No Questions Asked," return policy.
3. Better Payment Options
Shoppers also cited that in some geographic locations, payment systems were not optimal. Shoppers want more flexibility and easier online payment options.
4. More Flexibility

Despite variations in needs from country to country there are some trends that transcend borders. Across all geographic locations, shoppers want flexibility, and this is a result of the way people are using their mobile devices. Customers across the board are using mobile to pay and receive products and they want more options when it comes to selections, paying and receiving products. Online retailers need to cater to their customers to prevent their loss.
5. Speed is also Essential

Shoppers in Europe are becoming quite accustomed to the e-store, and Europe accounts for about 25% of all Internet users, which has caused an increased in online sales of about 20%.
But what is essential to this customer is the ability to quickly compare products, and to make their purchase fast. This requires fast website speeds. Recent statistics by Comscore have found that 41% of all Europeans say they would like faster check out times, and 52% said they would prefer to buy online and pick up in a physical store.
6. Individualized Targeting
E-commerce sites can now learn more about a buyer's shopping habits and this allows you to target shoppers based on their habits. This customization is happening worldwide and bringing in more overall sales.
7. Automation
E-commerce owners have known for a long time that shoppers are lazy. They want to take shortcuts to get to the products they might need. Luckily there are software programs that simplify your putting products in front of your shopper. Email Marketing services like Mail Chimp have made email marketing, getting leads and making the most of website traffic much easier for both the e-commerce website based in any country and the shopper who wants to view the products he may be interested in. Tools like this make it easy to organize and implement all marketing campaigns across many different platforms.
8. Increased Use of Social Media
Across the globe, we've seen a huge increase in the use of social media by e-commerce websites. Social networks have made a huge impact on the e-commerce industry across all borders. After all this is nothing more than word of mouth except on a grand scale. Successful e-commerce sites across the globe are taking advantage of these huge word of mouth platforms, using features that allow shoppers to view popular and trending items for sale.
Because this is a global trend, we are going to see an increase in e-commerce sites that have social media buttons on their sites and product pages. If your content fits their needs you can bet your audience will share and watch your offers on the social platforms.
9. Geotargeting
Although not a new feature in the world of e-commerce, it is one that continues to grow. This is the process of gathering information on an audience with the primary factor being location. This then allows e-commerce businesses to design and target their campaign to better reach the audience where they live.
10. Removal of Coupon Code Box
World-wide statistics now show that the coupon code box some e-commerce sites use is too confusing for shoppers. This can be a big stumbling block for conversions. So many e-commerce sites are opting to remove the box in favor of a button that says "Click here if you have a coupon." Not only is it more straight forward but it also helps customers from feeling like they are missing out.
Huge Potential
Although there are different trends in different countries, and some of these points are more important in some geographic locations than they are in others, still there remains a single belief among all successful e-commerce website owners, that of huge potential. Worldwide there is a lot of potential and lot of growth in the e-commerce field. Make sure you implement these tips wherever you live and you'll have a very successful online business, no matter where you live.