Regardless of the type of business you're doing, having the right software for your business is crucial these days. But many business owners underestimate the importance of the right software and try to save money. They use pre-built cheap software to run your business and don't understand that the right software can turn out to be the foundation of their business. It can make or break your business. Hence, as a business owner, you need your own software that is exclusively designed to meet your business needs. Click here to know about a reliable offshore software development company. Among many services, they cover mobile app development, website development & of course custom software development for all types of companies & organizations.
Now that you have decided to design your custom software, you will come across a debate regarding whether companies should recruit a team of their own software developers or hire offshore software development companies. Though many companies hire their in-house team of software developers, we recommend you to hire an offshore software development company. To know why we are recommending a third-party, keep reading. In this guide, we are going to tell why hiring a company that offers offshore software development services will prove to be the best decision for your business.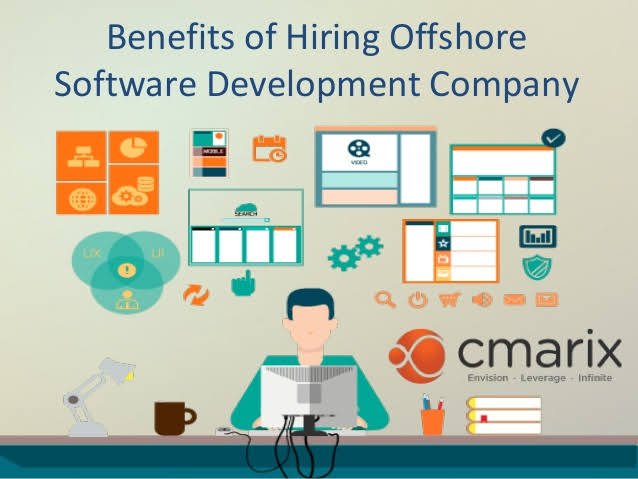 The benefits of hiring offshore software development companies
#1. You can focus on your business
If you are not into IT business, building up a separate software development team can really be a tedious task. In order to implement a given feature into your business, you might get totally deviated from your main business area, thus affecting the overall business. So, by hiring offshore software development services, you can actually enjoy your peace of mind and stay focused on business operations and leave the software development part entirely on the third-party. Their expert team will take care of how to successfully implement the new features into your existing business model without hampering your present operation.
#2. You get to share the responsibility
Most non-IT companies are not able to exactly estimate the risk management involved in software development. If you decide to outsource a project, both parties need to agree on what has to be done. In this process, the company you are hiring will be responsible for risk management and impact. It helps in removing a lot of burden from your shoulder.
#3. You can save the cost of new infrastructure
One biggest advantage of hiring an offshore software development company is that you don't need to build and manage a development team at all. Not only it saves you from investing in additional infrastructure but also saves the time that you may use in setting up your own development center. As a result, the project also takes off more quickly.
#4. Round-the-clock business operation
By hiring an offshore software development company, your business will remain operational round the clock. In your working hours, you can do your business-related chores & after that, you can check the work of third-party and work on them outside your business hours. Not only it enhances your work productivity but it also allows you to stay focused on your business, which will further automatically increase the sales conversion rate.
#5. Eases the recruitment process
Recruiting and staffing is definitely a tough process. If you decide to outsource it to a reliable offshore software development company, you can overcome this problem completely and also get to enjoy the service of some of the best professionals worldwide.
#6. You get innovation and quality
When you outsource the task to any offshore software development company, you get the service of some of the highly qualified professionals who follow the highest standards in software development. But to enjoy a similar level of quality with your own team, either you have to recruit very expensive resources or hire young professionals and invest a lot in training them to reach your expectations.
Try us out!!
Hiring the right offshore software development company can seem to be a difficult task, but if you invest some time in proper research, it helps you get a clear picture of how well the service of the third-party fits into your requirement. If you are seeking the best company that can offer the best offshore software development services, then Saigon Technology can turn out to be the best option.
Saigon Technology is known to be a prominent Vietnam based company offering offshore software development services. They have an expert team of software engineers who have years of experience in handling various software. For detailed information, you can easily take a look at the Saigon Technology website.
Read More: