Digital Asset Management is a popular term among marketers nowadays and with reason. A Digital Asset Management (DAM) solution is much more than a tool to easily find and organize your digital assets. It effectively helps your organization to streamline the marketing workflow, facilitating collaboration both within your organization and with third parties. 
However, choosing the right DAM system for your company is not an easy task, as requirements vary with the company. For example, a digital publication can have different needs from a retailer website. There are several enterprise-level providers available on the market. In this post, we aim to cover what you need to look for when choosing digital asset management. We will also provide a brief list of the top enterprise and free providers. 
What Is Digital Asset Management Software?
Digital Asset Management software is a technology solution that helps organizations to organize, store, search, retrieve and manage the rights of its media assets. The software assigns metadata to the asset by tagging it. This tag contains relevant data such as the name of the file, its format, content, and usage. This allows organizations to centralize and distribute media across stakeholders. 
Digital assets are media files that provide value to the company, and that can be searchable by attaching metadata to them. In the digital marketing industry, these are also referred to as rich media, encompassing photos, audio files, videos, graphics, animations, design diagrams, and even packaging images and designs. 
Typical enterprise DAM solutions include the following features:
Asset repository

—usually a DAM works as a digital library, allowing you to find the latest approved assets for your projects. 

Workflow management

—facilitates the assigning, reviewing and approving of tasks, therefore improving the marketing workflow. 

Distribution of digital assets

—a DAM helps you share and deliver digital assets faster through external links. This helps automate and streamline distribution to social media sites such as Facebook, Twitter, and YouTube. 
Why You Need a DAM Solution for Your Business
Recent statistics show that more than half of marketers prioritize visual content when creating their marketing strategy. The increasing adoption of digital asset management solutions has pushed the DAM market into a growth spurt, with projections to reach $8.1 billion by 2024. 
The following are some of the benefits of using DAM software: 
Facilitates collaboration
You can share easily digital assets within your company or with third-party clients or vendors. Most solutions integrate with a Content Management System (CMS), allowing you to share documents and assets in a streamlined way. 
Shortens the marketing process
One of the most common sources of wasted time for marketers is the time spent looking for the right asset. Most DAM solutions include features such as asset tracking and comprehensive visibility that allows you to find the right asset in a fraction of time. This results in a more effective funnel, meaning that the overall time to launch a new campaign will be significantly shorter. 
Provides workflow visibility in real-time
You can have a clear vision of where are the assets in the processing funnel and control the workflow. For example, if a given image has been approved or needs editing. 
Provides access control management
One of the most important features of a DAM solution is that it lets you control employee access permissions to protect sensitive data and images. The software also controls the licensing and usage rights for all the digital assets, sending alerts about a license renewal when relevant. 
Allows you to reuse assets
Instead of wasting time and resources creating or buying new assets, the system allows you to reuse the digital assets you have since you have them at hand. That means no more forgotten or outdated assets using storage space. 
Enables customization
Organizations whose customers are distributed across multiple regions can use a DAM to customize the content to each market and language. The software allows you to search and categorize the content for specific external partners.

What to Look for When Choosing a DAM Solution
Choosing the right DAM software for your organization requires that you identify and focus on the capabilities that are most relevant to your needs. For example, you should consider the amount of storage you require and define the roles and access permissions you want to assign. 
These are some of the main features you should look for in a DAM solution:
Integration

—ensure that your DAM solution can work with your content management system and your media channels. A good DAM software solution provides access and authorization management across your systems. 

Curation features

—cataloging, smart tagging, and automated metadata can streamline your work. You may also want a solution that offers version control to track the authorized versions of your work. 

Artificial Intelligence (AI)

—searching capabilities such as image recognition, auto-tagging and search suggestions make it easier to find the assets you are looking for. Some DAM solutions provide automated reports about the usage and performance of your digital assets. 
Top DAM Software of 2019
There are several enterprise-level DAM solutions on the market. Some of them even provide a free version that can be useful for startups and small companies. Here we cover the top three DAM software providers in our opinion. 
Cloudinary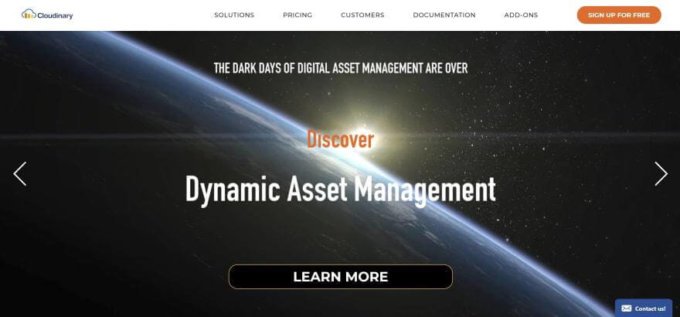 Cloudinary is a software-as-a-service DAM solution. They offer dynamic asset management, meaning you can automate the delivery of digital assets across multiple devices. Users on the free plan can leverage a DAM repository library, centralizing all visual content in a single platform. 
The free version is often a sufficient solution, as it allows you to search assets, create and enhance images and videos and even set up automatic backups. Premium features include Artificial intelligence (AI) and user access controls.
Pricing: There are three monthly subscription plans—Free; Plus, which costs $99; and the Advanced plan that costs $249. 
Bynder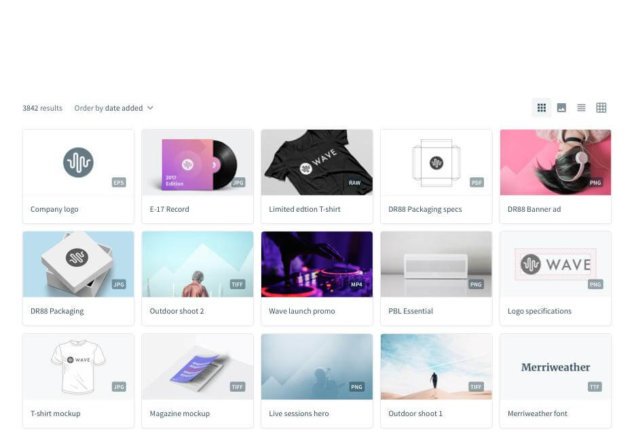 A digital asset management platform used by global brands such as Spotify and Puma. Its popularity arises from the ability to automate creative workflows. You can control versions, add notes and customize the approval process to a given asset. Its templates allow users to create marketing content on the platform.
Support: integrates with Magento, Google Analytics, Android and iOS.
Pricing: by quote requested on the website. 
Brandfolder
This digital asset management software enables users to manage and share digital and branded assets from a single secure location. One of the strengths of Brandfolder is the multiple layers of security, as well as automated backup processes. The software provides AI image recognition, smart-tagging, and permission controls. 
Premium features include video storage and formatting, insights and analytic reports. It's designed to handle large asset workloads on a constant basis, making it easier to tag, move and merge the digital assets. 
Pricing: by a quote from their website. 
The Bottom Line
A DAM solution ensures that you keep your assets at hand, never losing track of a digital resource anymore. Finding the right digital asset management solution for your company will depend on your organization's needs and requirements. 
However, it is worth the effort to do your research, as implementing a DAM can effectively keep your data up-to-date and the marketing funnel flowing smoothly. This, in turn, allows you to provide more visually engaging content, giving your company a competitive advantage.