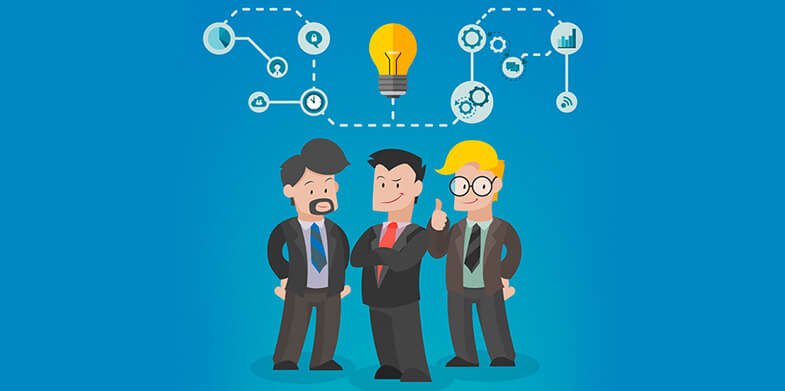 There is something absolutely scintillating about having an idea. It is said that once a mind is stretched to its limits by the power of a great idea, it almost never returns to its original state. The idea taking shape in your mind right now could change the world as we know it today. Think of Apple as a company, every piece of innovation coming from this brand has one simple idea: Think Different! Your idea could also be the next billion-dollar business. How? That's what we are here to figure out!
Well, having a great business idea was just the first step. But apart from an idea, a business needs to follow a certain process. In entrepreneurship, this process is far more important than the goal. Your job as a budding entrepreneur is to connect the dots between your idea and your goal, and enjoy the process while at it
An idea is not going to grow into a profitable business just by sitting out there. Here is a step by step guide that will help you embark on the journey and implement your idea in order to establish a successful business. Isn't that the plan? The next step?
Have clarity around your vision: – Stretch your great business idea in every possible dimension and let the details fall into place. That's step number one. In this step, we attempt to answer a fundamental question: where do we want to go and why? The more you probe, the more difficult it will get. The answer may elude you for some time and once you find it, probably it will change a couple of times before you can fixate on something. And, that's fine. Let's just be honest to ourselves in this step.
Carry out an end to end assessment: – Once you have defined your purpose and core values, it is important for you to understand where (exactly) you stand. It is time to scrutinize yourself, starting from the bitter end to the sweet one. Once you can objectively look at all your strengths and weaknesses, put them on the table with utmost sincerity (which means no scope to sugar-coat things here). Now that you know where you stand, the next thing that you need to know is what you have in terms of resources (manpower, venture capital, connections, years of experience, technical knowledge and hands-on skills).
Study your target audience and the market conditions: – An idea qualifies as innovative only when bears the potential to yield in monetary benefit by catering to some or the other need of your target audience. Know your target audience from end to end. Stalk them, woo them, pursue them, romance them. That's how you will figure out their sweet points, weaknesses, pain areas and trigger shots.
The next thing you want to do is dig deep into your competitors. Know their businesses better than them. From their USP to insight to their marketing strategies to their next move, study everything thoroughly. Only when you know what's already there, you can figure out what's missing and earn your own positioning in the market.
Invest in Branding: – A business is an entity and like all other entities, a business needs an identity of its own. All this research that you have done must have altered your mission and vision a couple of times, and that's fine, we were still emerging until now. Now that we understand ourselves, our audience, the market condition, our competitors and our unique selling point, it is now time to define ourselves in a way that will resonate with the set of target audience we want to adhere to. Here is where you decide on your brand name, logo, tagline, buyer persona and set out to create your unique brand personality.
Weave your business strategies: – This is where you attempt to establish a relationship with your target market. You know who you are (your branding), where you want to go (your long-term & short-term business goals), why you want to get there (the bigger picture that defines your value system) and now the only thing that remains is how to get there (your marketing strategy). See what works best for you, if you are going to be marketing online you must know the terrain well and understand where your audience resides. If you are just starting out, promoting your business on social media could be the best opening ground for you to establish your digital footprints. So, brainstorm on strategies for the same.
The final step, execute your grand vision: – But remember to break it down to bite sizes. An idea makes sense only if you were planning to execute it, and you have to do it right now. You have done everything according to the plan, just don't get cold feet now. Your resources are in place, you have seen your vision hundred times a day, you know your pros and are ready to work on your cons, your brand personality is in place, you know your USP and you have the perfect strategy to market your idea. You are ready for the battle, all you have to do is get down to it and fight! Once you have reached this point, there is no looking back for you. Launch your idea, do your best, have faith and keep your finger crossed!
Now is not the time to relax! The ride ahead is bound to be bumpy if you do not spot the change in currents well in advance. Business is a volatile world and once you set your foot here, you can forget about a holiday. It's highly competitive and for you to come out on the right end of things, you have to persevere. Better ride the tides of technology before it cooks up any big surprises for you. Analyse the market trend and invest in the future while creating value for your customers in the present! Congratulations, once again! You have successfully implemented your business idea. The billion dollars that you dreamt of is not so far away!