Nine out of ten marketers agree that video ads help their business' marketing campaigns. That's a staggering stat for anybody still not sold on the idea of using video ads. 
But if you're starting to consider incorporating video into your marketing strategy, there are a few questions you need to ask:
What are your KPIs? 

Which platforms are you willing to focus on? 

Are you planning to work with influencers? 

What are your competitors doing?
LinkedIn is the leading business-focused social network, and content marketing is a significant component of a successful marketing strategy for this immensely powerful network. 
Video advertisement is the latest, fully customizable, content-rich, and successful channel of B2B marketing over LinkedIn, and that's what we'll cover in this guide.    
How Do Linkedin Video Ads Enable Better B2B Content Marketing?
LinkedIn users are invariably influential and in decision making positions. All these user-traits make LinkedIn the ideal marketing ground for B2B content. 
Video ads are just the boost you need to target your most relevant audiences, for higher lead generation. 
Plus, video ads let you communicate complex brand messages and show your operations, work culture, and products in action. 
You can enjoy higher conversions with video ads because of the highly relevant LinkedIn audience. Contact targeting is an easy way to show your ads to specific LinkedIn users. You can use an email finder like Hunter.io to find email addresses relevant to your business and upload them to LinkedIn to reach potential audiences.
Creating LinkedIn video ads is easy. LinkedIn Campaign Manager is all you need to set up your video ads campaign, specify your objectives and audience, create a budget and schedule, create video ads as per guidelines, and launch the campaign.
Next, here are all the things you need to do to leverage LinkedIn video ads for B2B content marketing.
Get The Video Design Right
Yes, there is a dependable formula for creating great B2B marketing videos. I don't recommend you fixate on the formula but keep it firmly in mind while planning your video.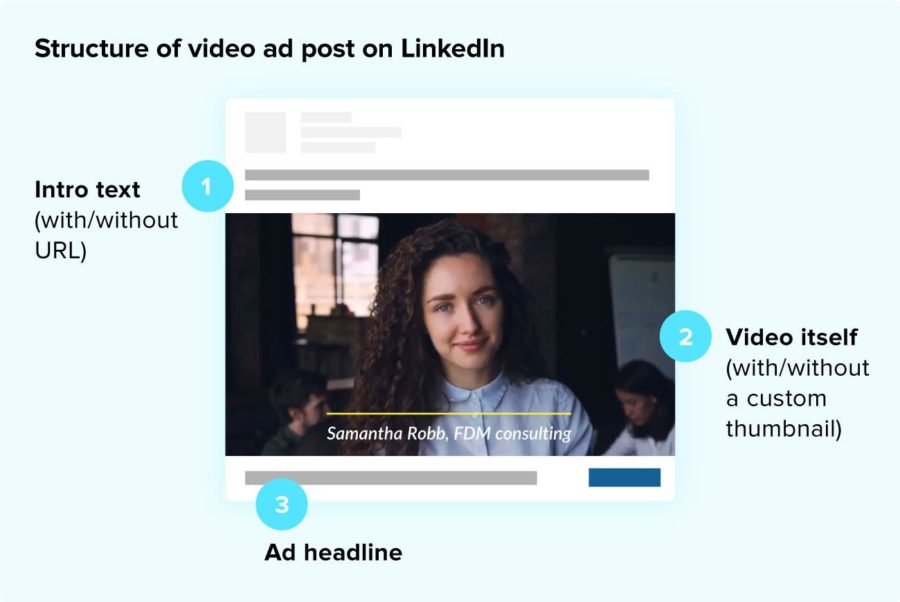 Hook: Grab attention within the first few seconds (1-3 seconds).

Ignite Pain/Pleasure: Highlight the problem or the opportunity in the next 10 seconds.

Tell the solution: Show how you will help.

Call to action: Of course, clearly define the next step the audience can take to enjoy the solution you offer.
How To Produce Great Videos?
Now, producing great videos takes time and money, so you want to do it in a manner that makes the footage reusable across platforms. 
I strongly recommend a social video creation application like Adobe Spark. It helps you create HD videos in very little time and offers a library of predefined layouts. Here are the top features of Adobe Spark:
No dependence on expensive video production equipment.

Videos designed and edited with focus on getting the CTA perfect.

Spice up your videos with a theme and soundtrack. 

Select from thousands of images from the web and use it on your videos.

Publish it directly on any platform of your choice.
Experiment With Different Video Ad Types
For a comprehensive LinkedIn video ad marketing campaign, you'll need a lot of ideas around which you'll design and produce your videos. 
For B2B brands, here are some excellent ideas:
Try an industry insights video ad to establish your brand's domain expertise and market intelligence.

Leverage news analysis video ads to beat competitors who may be too slow to produce a decent video on a trending topic.

Informational video ads, whether it's to promote a webinar, or just to offer some free value to audiences.

Company profile video ads offering a sneak peek into the work culture.
Optimize Your Ads to Maximize ROI
Every ad campaign you run on any social platform should be optimized for maximizing ROIs. 
You can use tools like Finteza to optimize your social media ads for improved conversions. With the help of the Finteza conversion funnel, you can track the user conversion path from the first visit to the purchase. 
All you need to do is to mark the source with UTM tags and enable registering on your site. Build a sales funnel by setting specific conditions like the country, traffic quality, language, etc. Finteza automatically calculates the conversion rates and presents them in different colors.
You can easily optimize your campaigns when effective filtering options are available. Simply check which ads generate the highest ROI and identify the reasons for higher conversion like traffic are coming from a specific country or from a particular device. Finteza lets you effectively apply a variety of filters to optimize the performance of your social ad campaigns. 
Know Key LinkedIn Video Ad Trends
Your video content has to be optimized for the social media platform you plan to use it on. For LinkedIn, here are some key points you need to know:
57% of LinkedIn B2B content is watched on mobile phones, so your video content must be optimized for mobile.

80% of LinkedIn videos

are seen with sound off, which means you need a good video production and editing tool to create on-screen texts, subtitles, etc. 

Refer to the video guidelines issues by LinkedIn before you plan the content. 
Measure, Optimize, Repeat
The best tip you can trust is to measure your ad performance and optimize it for always increasing ROIs. 
Thankfully, LinkedIn offers you a lot of insight in terms of your video ads performance scores on crucial KPIs. Here are some useful ones:
Impressions

Views

View-through rate

Completions

Completion rate

Full screenplays

Skips
There are more video metrics as well, which you may want to measure, track, and plan around. 
Conclusion
LinkedIn Video ads have helped global brands such as GE, Vodafone, Cisco, Philips, and Audi in their brand awareness and demand generation goals, in spite of LinkedIn being the last among all social media platforms to focus on this highly engaging content format. The benefits are out there for all B2B content marketers to reap.