MarkdownMail uses your Amazon Simple Email Service (SES) account to send emails. Amazon has a proven track record of getting emails into inboxes. MarkdownMail and SES make a cheap and powerful solution for sending your newsletters. I think the most intriguing part about this startup is the cost, and how low it is. Incredible.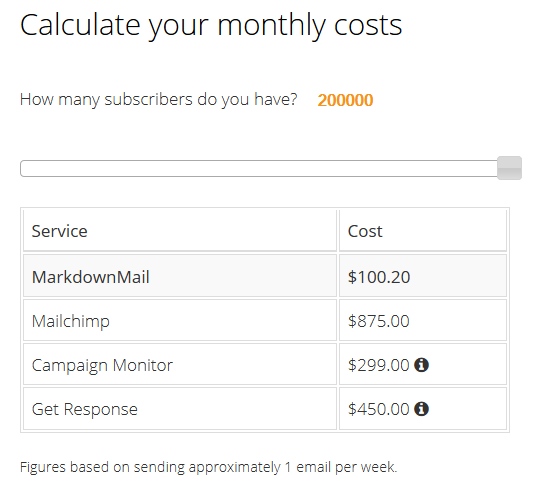 Now, it's actually quite appealing, when you consider that it's not really necessary to send out more than just one email per week. But, each has it's own preference and I've not yet managed an email list that big, couldn't speak for it. It looks very affordable, as the title of the website suggests.
I'd love to see benchmarks for quality, rate of inbox success, etc,. etc,. It's not about markdown people are going to be worried about, but the quality of service. I'm not gonna be the one to argue about it, but I don't agree with the fact that WYSIWYG editors are bad, or difficult to work with. It comes down to users preference.
The startup is currently in beta, so there is no rush in making assumptions, or trying to predict failure / success rate, I'll be keeping an eye on this, and hopefully hear enough good reviews to consider using it myself, the price rate is adorable.