Surveys serve as the primary research instrument for collecting data. In this era of internet, the scope of online surveys has grown tremendously since they can be targeted towards a huge number of people on the online space at the same time. The collected data can then be assessed for discovering consumer preferences, trend analysis and other such useful information. Surveys are extremely useful for large corporate companies, small start-up companies, educational institutions, retail shops, government organizations, non-profit organizations and several other private institutions. It helps them in making more informed decisions while offering products/services or framing policies. Professional bloggers and social media managers can create specific surveys which are targeted at online customers or members. Companies can collect useful information from their employees through smart surveys.
There are several web-based survey tools as well as modern survey software applications which cater to various scenarios. Most of the tools provide limited features for free while some also have premium plans for availing advanced features. So, here I am going to present a list of 10 such online survey tools which can allow anyone to create a survey, assess collected data in a professional way and monitor other custom features with ease. A lot of these tools provide sample survey question types and pre-written templates which makes creating a survey very simple. One can easily use these templates for creating surveys for employees, students or online fans. Alright, so let us check out the list of 10 popular online survey tools.
Zonka Feedback is another easy-to-use modern Online Survey Software and app that you can use to create and send surveys through multiple online channels. You can embed online surveys on your website, share them via SMS and email, or set up QR codes for customers to scan and share feedback. It offers a variety of ready-to-use templates and 40+ question types to create surveys of different kinds for various industries. With Zonka Feedback, you can create Customer Feedback Surveys, Employee Feedback Surveys, Guest Feedback Surveys, Patient Feedback Surveys, Student Feedback Surveys, and surveys to measure CX metrics like NPS, CSAT, and CES. The software has advanced features like real-time notifications, and powerful integrations like Zendesk that allows you not only to capture feedback but also get notified of responses, convert feedback into tasks, assign them to your team members, take timely action, and close the feedback loop effectively to prevent churn.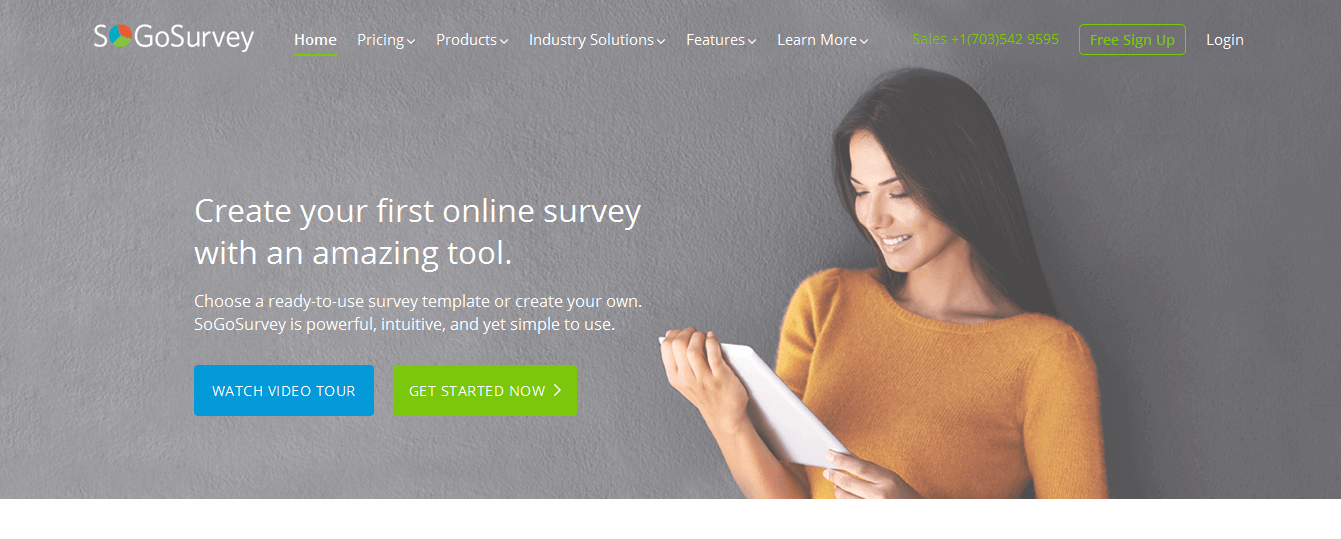 SoGo Survey is an easy-to-use modern online survey application that lets you build a variety of online surveys by offering pre-built sample survey templates. It provides participants' status tracking in real-time and generates data analysis and statistical reports. SoGo Survey provides sample survey templates for building event registration form, customer satisfaction survey or employee engagement survey. One can also create advanced and multi-page surveys based on matrix grid, multiple checkbox, rating scale and more. SoGo Survey allows users to post online survey links to websites, send e-mail invites or share over social media using Facebook or Twitter.

Constant Contact is an advanced software application for creating online surveys. The application offers pre-written questions and templates which makes building online surveys simple. One can also customize surveys using fonts, company logo and more. Constant Contact allows embedding online survey links in to web pages, blogs or social media accounts. It also lets you monitor and analyse survey responses in real-time. Constant Contact allows creating online branded polls for e-mails, blogs, social media posts and websites.

Survey Monkey is one of the most popular online survey software applications. The application provides an online bank of sample survey questions and survey templates. It also provides modern features for analysing collected data through professional reports. Survey Monkey is used by several small and large-scale companies across various sectors, including event management, digital marketing, market research, human resource, education and more.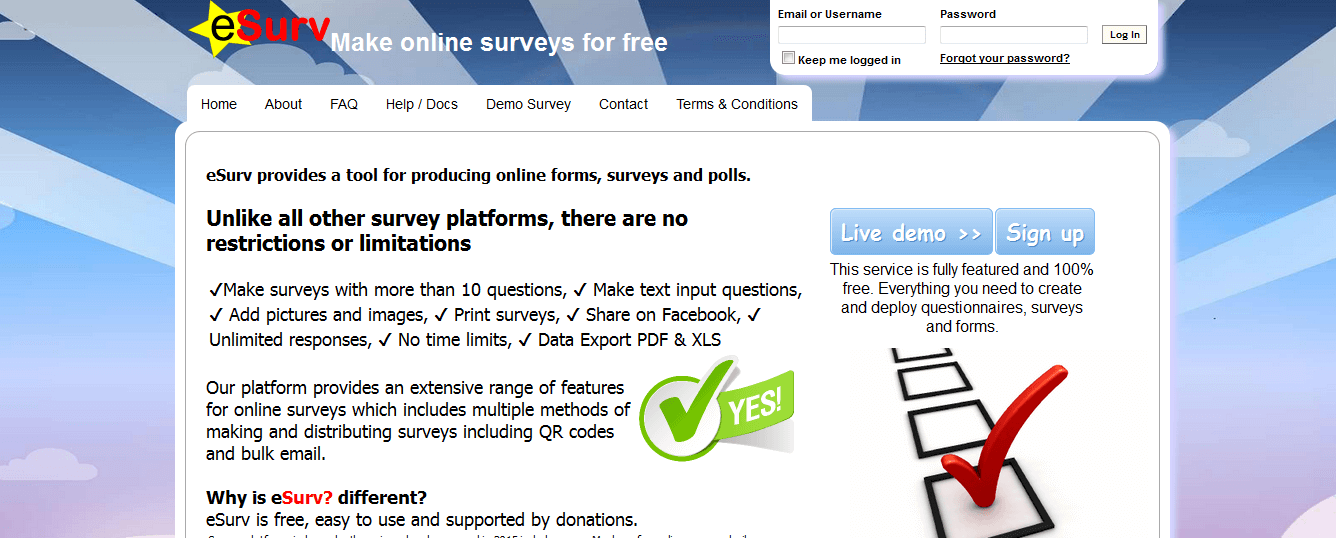 eSurv is a free online tool for building online forms, questionnaires, surveys and polls. One can create professional surveys using various question types, such as text input, rating scale and multiple choice questions. Moreover, one can integrate images, logos or even videos in to surveys. eSurv also provides advanced custom features to add titles or descriptions to surveys, apply password-protection, edit themes or layouts and enable question piping. The tool offers features to export surveys to PDFs or excel sheets, share survey links over social media or e-mail or embed in to blog posts and websites.

Survey Gizmo is a powerful online software tool for building online polls, surveys, forms and quizzes. With over 40 sample question types and a suite of analysis and design tools, Survey Gizmo lets anyone create professional-looking surveys easily. Survey Gizmo also helps in finding respondents for online surveys through its in-built panel integration. The tool also has some robust security features, mobile survey features, survey branding functionality, multiple user collaboration options and more.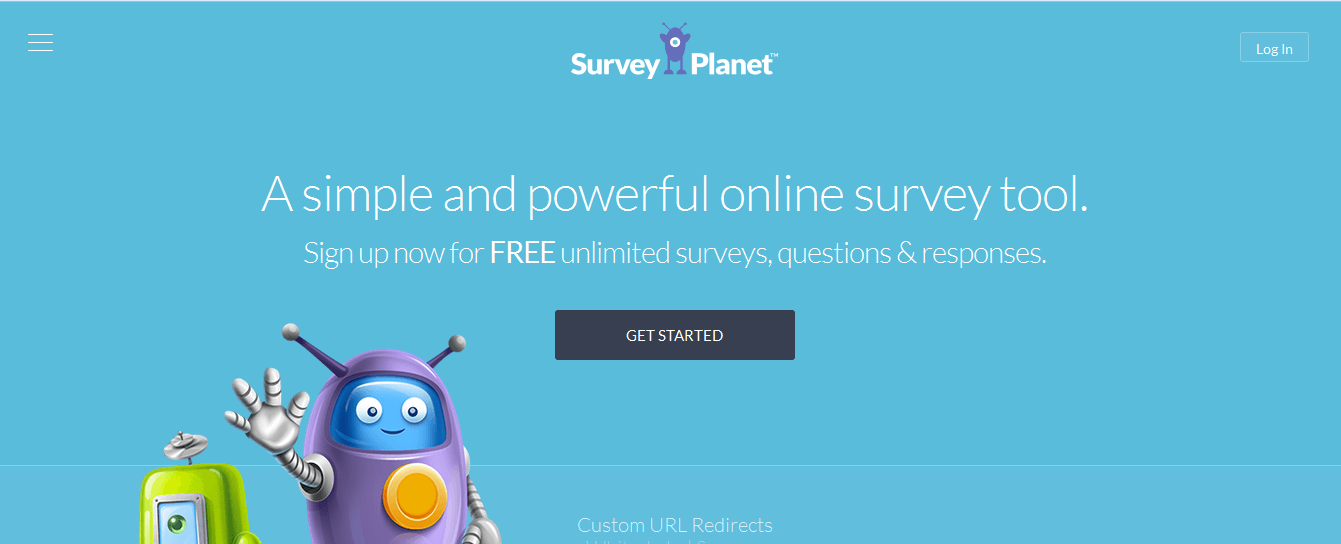 Survey Planet allows creating surveys based on several question types, such as multiple choice, text input, rating-based, true or false and more. The tool provides custom theme designing features by providing a set of 50 color palettes, 25 font types and 45 background textures. Moreover, Survey Planet provides 90+ pre-written and editable survey templates, multiple language support, branching, embedding features, preview mode, custom branding features and more.

Quiz Revolution is a powerful online application for creating surveys and quizzes for blogs and websites. The tool offers support for multimedia content integration in to online surveys. Quiz Revolution allows users to create surveys and quizzes based on various question types, review survey responses and generate analysed reports with ease.

Free Online Surveys is a powerful online application for building online surveys, quizzes, polls and contact forms. The tool contains in-built sample templates which cover a range of question types and other custom branding features. It also features a standardized tool for comparing two different quizzes and generating analysis reports. Moreover, one can embed links for online surveys in to blog posts, websites or social media posts.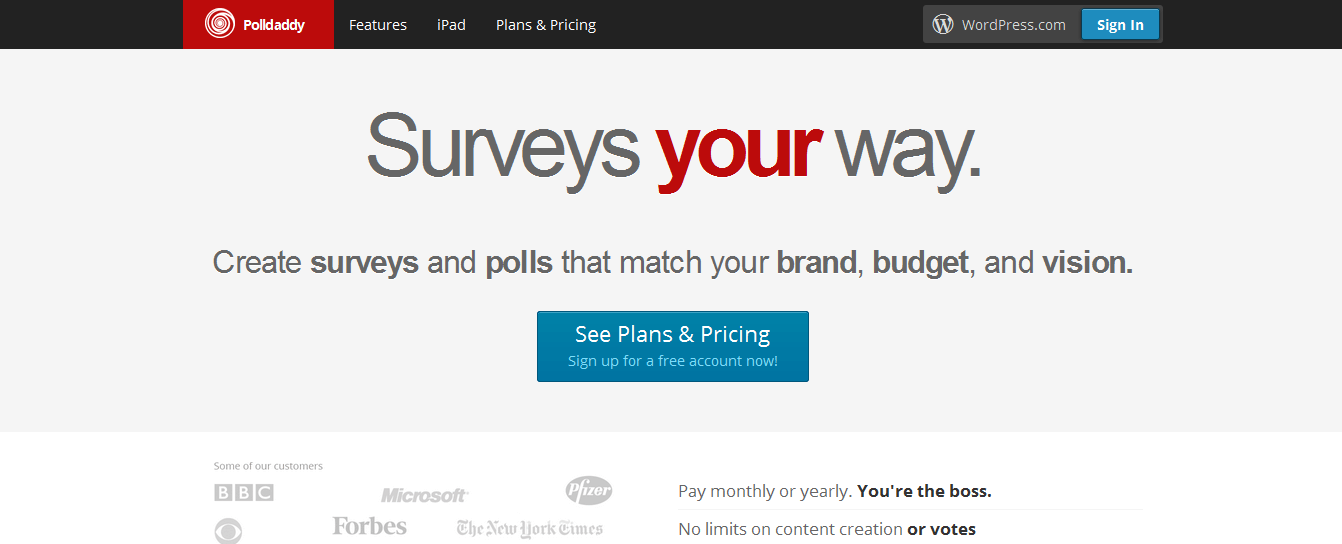 Poll Daddy is an advanced software product for designing and administering online surveys and polls. The application provides a built-in survey editor and 14 question types which allows creating a survey easily. It also provides numerous other features, such as password-protection, support for adding multimedia content from YouTube and Google Maps, e-mail notification, support for multiple online sharing options and reporting tools.

Lime Survey is an open-source, online survey tool providing some modern features. The application allows creating multi-lingual online surveys using 28 in-built question types as well as ready-to-use importable questions and surveys. It also provides advanced features like branching, piping, integration of multimedia content in to surveys, template editing, statistical/graphical analysis of reported data and more.
Conclusion:
Modern survey tools are packed with robust features which allow administering online surveys and generating statistical reports easily. I am sure that the tools mentioned on the list will prove to be useful. If anyone wants to share feedback or information on other survey tools, then they can write their thoughts in the comments section below. Thank you.