Mobile Tracker app for phones – what is it
With the advent of new technology, it has become easy to track smartphone activities performed using a phone tracker app. The app can monitor all the communications user activates, the location associated with a smartphone from a web browser. And such an app comes with dozens of features that make keep you track.
Who Uses Mobile tracker for Smartphone
Mobile tracker apps have come up with many features that enable the user to monitor the activities done on the target smartphone.
Parents may use mobile tracker apps to protect children from the evil influence of the use of the Internet. This the parents can do by monitoring children's activities on the smartphone. The Hoverwatch parental control app can enable parents tracking and monitoring, text messages, outgoing and incoming calls, social media usage, location, change of SIM card information, use of the camera, Whatsapp usage, email (outgoing as well as incoming) and more.
An employer can use a phone tracker app to track the activities of their employers. They can know what they are doing online, who they contact and how much productive use of the phone they are doing and so on. The app will help empowers protect their intellectual property by properly monitoring the activities of their employees. This will make employees stay on track.
What are the alternatives in phone tracker app?
There are numerous alternatives that can be used. These include free as well as paid versions. The apps that are available for premium may include a free subscription for a limited period and then the user has to pay by adopting a premium.
The various alternatives include My Mobile Watchdog, FlexiSPY, TrackingSmartphone, Highster Mobile, PhoneSheriff, Pumpic, TeenSafe, SpyHuman, Spyrix Keylogger Free, Life 360 GPS Tracker, Hoverwatch, Spyzie, Spyzie and the like.
What are the most phone tracker apps for Android?
Today, there are greet mobile tracking apps with functionalities like GPS on Android. Using a phone tracking app, you can track the location, in person, children vehicle to go through unknown territory. Thus, a mobile tracking app has several compelling features that are worth buying. There are many high-quality simple and easy-to-use Android apps that you can buy for monitoring and tracking smartphones. These include Hoverwatch, Spyzie, mSpy and the like.
Spyzie
Spyzie is a phone tracker app with a set of rich features. You can access all the critical information related to the phone that you wish t monitor. It is easy to install and start using. Spyzie has a web-based dashboard that you can access from any device. You can locate the target phone on a real-time basis – you will get updates and you access important data such as text messages, browser history, and notes.
The salient features include
A separate web-based dashboard
Compatible with all the versions of Android
You can locate the connected device instantly
Gives location history completely
Good quality assistance round the clock
Easy and simple to use for monitoring
mSpy
mSpy is a phone tracker app designed for a wide range of monitoring requirement of any smartphone user. It's simple and easy. The user can easily perform all the activities performed on the target smartphone. These include voice calls, GPS tracking, text messages.
Just add the special service called service mAssistance when buying. With mAssistance, the initial installation of the spying app on the target phone is done. Along with this, the whole Keylogger set up is also done. If you wish to jailbreak, you need to contact customer care service. Thus, you can install the app without the knowledge of the target phone user.
It can track call history, GPS location, Whatsapp, Snapchat, Facebook, Skype, Tinder, Instagram, Facebook Messenger, read incoming and outgoing emails, and quality support.
You can control apps being used – you can block any.
You can control the device remotely – you can lock the device.
Hoverwatch
Hoverwatch is a simple and effective app that you can use for monitoring smartphones as well as computers. It's is a great app for parental monitoring for tracking children's devices. Employers can also tracking company's cellphones computers if employers so desire.
Hoverwatch can spy on keystrokes and can crack passwords and usernames.
It can track real-time surroundings where the target phone located by web camera.
You can know the URL of the websites visited.
It can track text messages.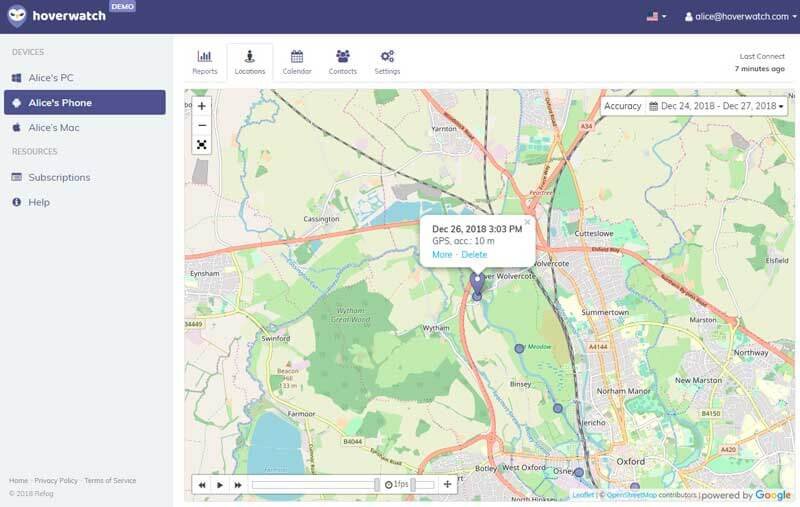 A story about using a phone tracker app
David Christopher, 31 owns a small e-commerce business dealing in mainly consumer durables. The business has customers across the target. There are nearly 30 employees including housekeeping personnel. Everything was fine. However, David got reports from his managers that important information is getting leaked to outside. This happened once, twice, and once more. David was skeptical that someone or some of the employees are deliberately leaking information. When this happened for the third time David was dead sure that it was deliberately done.
However, the issue is how to know who is committing it. So, after discussing the matter with the senior managers, David secretly installed a Hoverwatch phone tracker app on all the employees' smartphone. After close to two weeks, the person was caught thanks to the tracking app. It was one of the delivery personnel that was committing such illegal activities. What happened following this does not need elaboration – it's too obvious.
Conclusion
Today having phone tracking app has become essential because of the growing use of technology and tech gadgets that make it easy for various groups, like children employee or unauthorized users to misuse it. Today's parents are more concerned about their teen kids. They cannot trust their kids.
They feel they should install a spy app on their kids' smartphones. Likewise, employers can do as well. However, it's important to know whether it is employers or parents, installation of a spy app should be done with proper legalities. For examples, though it is legal to track smartphones of children, it is better to discuss with them and explain to them the evils that are happening around by using the smartphone. This will help easily accomplish the purpose. Choose a phone tracker app as per your need.