Web designers are left without a choice in terms of where they store their work, it's always going to be online, either on their personal site, or on a portfolio websites such as those on our list today. With so many new designers beginning their careers, either corporate or freelance, it makes it more difficult for those who need a designer, to find one that's reliable and can work with the required standards.
Remaining relevant as a web design person is important, but not something that's always on the back of our minds. We shared some tips on how to solve this a little while ago, you can also check out our post about money tips for designers who want to earn that bit of extra, all thanks to exposing your skills/portfolio to other people.
Your portfolio showcases all that you're about, all that you can do, as well as your own personal achievements and the clients that you've worked with in the past. Take a look at some of these incredibly well-designed startup pages to give yourself an idea of what the current market of startups is looking for. The following portfolio sites can be used to promote your work, to connect with others, to find new clients, and to organize your own work in a way that suits you the most, needless to say that there's unlimited amounts of inspiration to be found on these sites.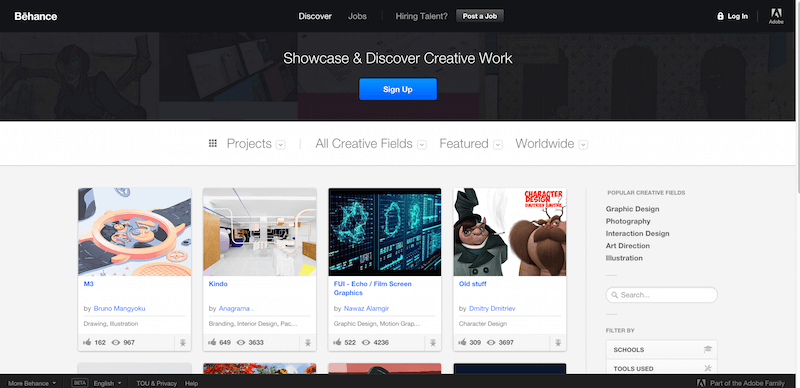 Behance is also one of the places we recommend as the leading resource for finding experienced designers such as yourself. Behance is a community of designers who share their work, their concept art, and generally their successes with the rest of the community — the community is very active, and you can easily gain a significant amount of attention by sharing something that will stand out from the rest.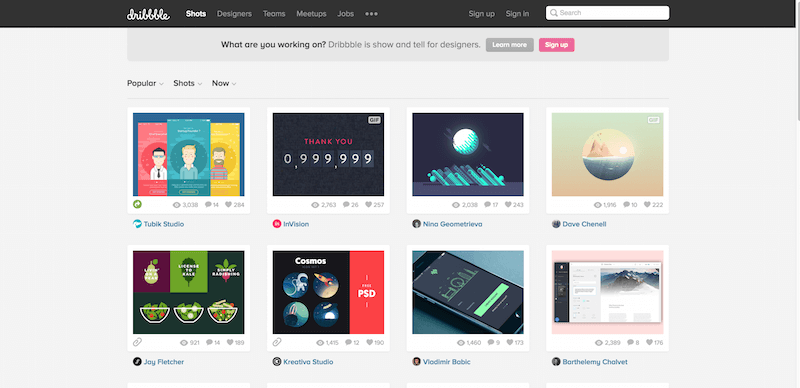 Dribbble is for sharing your work that you're currently working on, it is a very modern design website, and there are a lot of great designers to be found — many of which work for the leading companies today. Dribbble puts you in touch with tens of thousands of potential new clients, and is one of the best places to begin building your portfolio with.

Tavern, which was formerly know as Forrst, is a place for designers and developers to come together and answer important designer/development questions that may affect our lives on daily basis. It's a great platform (albeit it is BETA right now) for expressing your knowledge in the field and gaining some loyal followers and connections that way. We're eager for the public release of Tavern, until then — you can signup for a possible invite.

With more than 10,000 professional designers from the leading companies today, Hunie is an amazing platform that allows you to connect with other designers and gain their perspective on your work and how it can be improved, it's the perfect online mentorship program for designers — both beginning their careers, and already established. Expect a lot of collaborative work from the Hunie members.

Ocean is somewhat similar to all of the sites above, with the exception that all the feedback and commenting on your work happens directly on the work that you share. Other designers can leave their feedback on specific aspects of the pages/sites you're designing, giving you ideas and insights on how to improve, or perhaps to ask questions to yourself directly.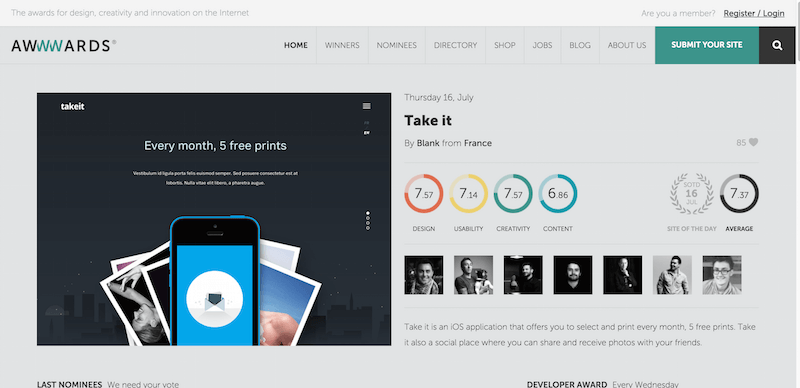 Awwwards has been the leading awards website for many years now, with a lot of companies and designers using Awwwards as a method of proof of great design. They're regularly awarding new and creative websites with their special badges, to let them know that their work is of industry standard, and also to let other agencies/clients know that there's a designer out there who is capable of such work. Other than that, Awwwards offers a way of exploration of thousands of cool and inspirational websites that will leave you full of ideas to work on.

Material design is becoming a thing increasingly fast, this is why we feel that MaterialUp deserves a place on this list. Even if you're just starting out with material design, we highly encourage you to share your material designs with the community over at MaterialUp — all of whom will be happy to assist you and leave you with invaluable feedback on how to improve and keeping moving forward.