SiteGround and GoDaddy are two of the top hosting providers in the market. However, each hosting service provider excels in different areas, and each website has different needs. It, therefore, becomes crucial to decide which provider suits your needs better.
This SiteGround vs. GoDaddy comparison should help you choose the best provider for your needs.
Site Ground Overview
SiteGround is one of the best hosting providers out there, and it is listed by WordPress as "one of the best and brightest in the hosting world." The hosting provider is a Bulgarian company launched in 2004 by university students, and it's currently home to 500 employees and 2 million domains.
SiteGround has data centers in the USA, Europe, and Asia.
GoDaddy Overview
GoDaddy is one of the biggest hosting providers today, and it is actually the biggest domain registrar. The US company was founded in 1997 as Jomax Technologies, and it currently has more than 20 million customers and over 7,000 employees worldwide. It has 14 facilities around the world, and it has become famous for its advertising on TV and in the newspapers.
However, it's the overly commercial approach and recent performance concerns have led to the migration of some important clients such as Yoast, and you can also have a detailed look at better-performing alternatives using HotScore data.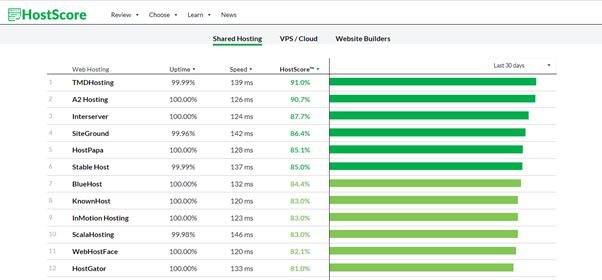 SiteGround vs. GoDaddy
User Experience
Namecheap has a fast and straightforward check-out process. The website is also easy to use and it does not contain any upsells or pop-ups. The hosting plans are also quite straightforward.
GoDaddy's website is lively, but the site is also known for its lots of upsells. The hosting plans are quite exhaustive, but they may not be straightforward for new users.
Features
Both SiteGround and GoDaddy are feature-rich. However, unlike GoDaddy, SiteGround includes premium features like automatic daily backups, Cloudflare CDN, and Let's Encrypt SSL certificates with every plan.
As for GoDaddy, the provider take a more profit-oriented approach and makes it hard to use free services like Lets Encrypt. They then promote their own product which comes at an additional price.
Security & Malware Vulnerability
SiteGround clearly lists how they protect user websites, but GoDaddy does the bare minimum. For that reason, GoDaddy is one of the top malware hosting networks, and it is constantly named as one of the most insecure hosts. There have been lots of cases of hacked accounts, malware, and viruses on the popular hosting platform.
Both hosting providers however provide top-notch security capabilities that users can add at a cost.
Uptime & speed
Both SiteGround and GoDaddy are superb in terms of uptime, registering an average of 99.99% to 100%.
As for speed, SiteGround is super fast as it uses the best technology and has its servers in 3 continents and 6 different locations. GoDaddy also uses the latest technology and has more locations, but their servers are usually packed with lots of other users. This has led to public slating over low speeds for users on shared hosting.
Also Read: Shared Web Hosting: All You Should Know!
Pricing
When it comes to pricing, SiteGround is slightly more expensive than GoDaddy. However, GoDaddy usually has lots of upsells, and so you may end up spending more while purchasing features that are free on SiteGround.
Customer Support
SiteGround offers superb customer support via tickets, emails, and live chat. GoDaddy promises the same, but you can expect less focused customer support considering the number of users they have to deal with.
Also Read: Why It's Important to Compare Web Hosting Companies?
SiteGround Pros & Cons
Pros
Free  premium features

Fantastic customer support

Excellent uptime

Unlimited email

Several server locations

High-speed hosting

Automatic updates & data backups
Cons
Isn't the cheapest in the market

Limited storage
GoDaddy Pros & Cons
Pros
Excellent uptime

Unlimited traffic

Several server locations

Linux or Windows servers available

Domain name registration integrated with hosting

Market reputation
Cons
Lots of upselling that can be annoying

Complex check out process

Overly commercial
Verdict
Both SiteGround and GoDaddy are some of the best providers in the market, and we encourage that you do a thorough analysis before choosing one. However, we would advise against jumping onto GoDaddy based on its market share. SiteGround inclines towards customer satisfaction more than the latter.