There are literally tons of task trackers out there. Your team is small, so you have to move fast and don't have time to figure out what's best out there. That's fine. Here is a list of top task trackers based on reviews, active users count and feature set, handed on a platter. Pick the one which better fits your needs — and enjoy your meal.
Asana
Asana has a unique story behind it. Founded by Dustin Moskovitz and Justin Rosenstein in 2008, it's still widely used among many organizations. Asana emphasizes communication over task tracking, which is very well suited for elite teams of highly skilled workers — as they need less management and more leadership.
The Stand-Out
Asana kills email. Some companies reported that since moving to Asana, they have totally eliminated communication over internal mail, which is as old as Internet itself.
When Should I Use It?
Use Asana when your team consists of very productive individuals.
Pricing
$50 / mo for teams of 1-15 members. As team size grows, pricing escalates: 3x increase in team size results in 6x increase in price.
Pintask
Pintask is the most customizable task tracker. You can adapt it with extensions, installed from Extensions Store or written in Javascript by yourself. It's possible to order extensions to be written by accredited programmers, though it's limited to Spire Club members. At its core, Pintask is a Kanban board with quick access to most useful functions.
The Stand-Out
Pintask has Extensions Store. It provides plugins and accelerators to make your work faster, and allows to write your own extensions.
When Should I Use It?
Use Pintask when you plan to automate your business.
Pricing
Pintask is free: unlimited users and project boards. It makes money off some extensions, like hands-free time tracking or mirroring of cards: $3 / mo, as of now, scheduled to rise to $10 / mo later.
Basecamp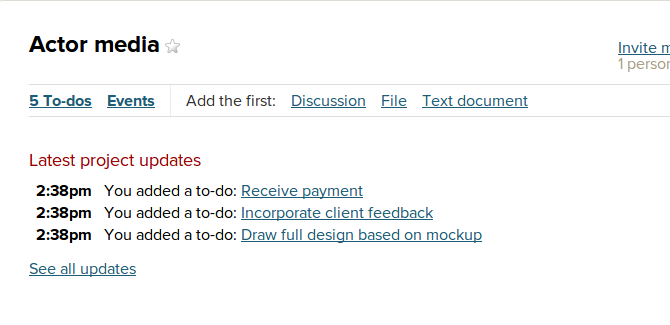 Basecamp is the oldest app on the list. It started way back in 2004, and was redesigned in 2012. Staying in market for that long has its own advantages: it has a large user base, and there's a lot of useful tips and best practices to be found on Internet. Basecamp is liked by even the most hardcore pen-and-paper fans.
It's also known as a really good tool for development teams, who need a little bit more flexibility with their workflow and the way of managing multiple tasks at any given time.
The Stand-Out
Signal vs Noise blog is what made Basecamp so popular. Practically every article is worth giving a read.
When Should I Use It?
Use Basecamp when you work a lot with non-computer-savvy people.
Pricing
$20 / mo for 10 projects. As project count increases, pricing escalates: 4x more projects require 2.5x more money.
Trello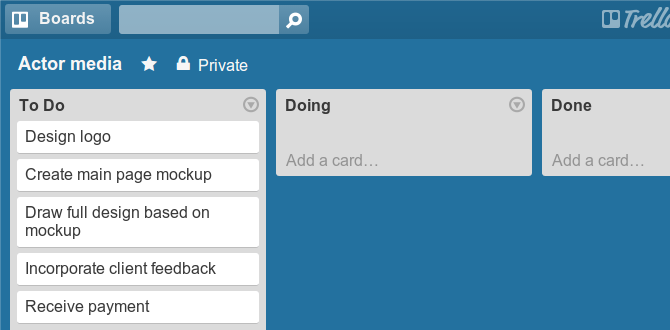 Trello is targeted on individuals in creative fields. Artists, filmmakers and even bass guitar players favor its minimalistic interface, which nevertheless has all needed functions. It's a Kanban board-style app with focus on simplicity.
The Stand-Out
Trello is very simple. Cards on a board is a concept easy to explain even to children; adults have no problems understanding that whatsoever.
When Should I Use It?
Use Trello when your project requires more creative thought than hard execution.
Pricing
Trello at its base is free. There's a Business Class option for $50 / mo, and Gold account for $5 / mo.
Wunderlist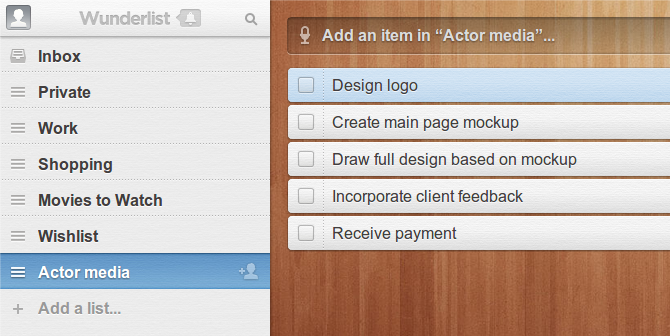 Wunderlist is renown for its snappy interface. When this app was released in 2010, it went on to be featured by Apple in their App Store. At first glance, it looks like personal to-do list, but it can be used to collaborate with team as well.
The Stand-Out
Wunderlist is eye-candy. If you need a really beautiful to-do planner, here it is.
When Should I Use It?
Use Wunderlist when your team members work mostly individually, and only coordinate general efforts.
Pricing
Wunderlist is free for personal use. However, Wunderlist Pro is required for assigning tasks to team members, and it costs $5 / mo.
Producteev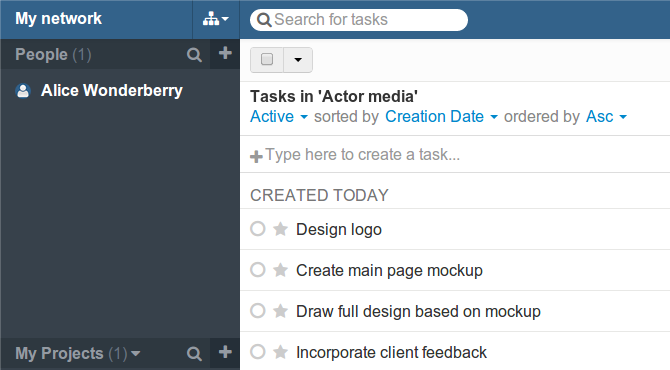 Producteev is a comprehensive set of project management tools. Now owned by Jive Software, it is a good fit for organizations small and large.
The Stand-Out
Producteev can parse properties out of task description. If you're in a hurry, jotting down something like "Build FAQ +Danielle Cheifetz !19.04 #Marketing" will assign building FAQ to Danielle in Marketing dept on Monday.
When Should I Use It?
Use Producteev if you have a tight team of remote professionals.
Pricing
Producteev is free. However, if you want to upload your company logo, or need integration with Outlook, there's a $99 / mo Pro plan.
Flow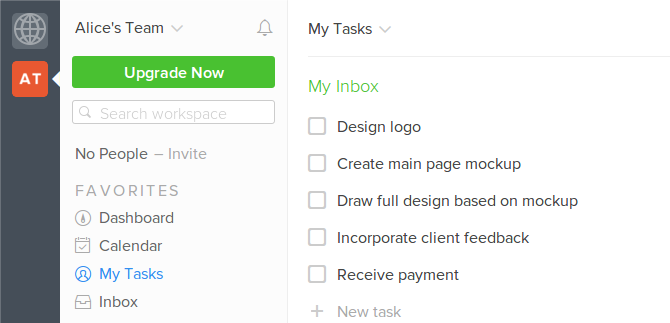 Flow is all about teamwork. It helps your employees stay productive while also efficiently managing their inboxes. There's also a dedicated feature to capture new ideas they might have during work time.
The Stand-Out
Flow puts an end to in-person meetings. Its interface is specifically designed to handle issues that arise from undocumented communication.
When Should I Use It?
Use Flow when your team members know each other well and mostly collaborate on ideas and messages.
Pricing
$19 / mo for 2 people. As team size grows, pricing escalates: 5x increase in team size leads to 4x increase in price.
Todoist
Todoist is the simplest app on this list. Despite being on market for a long time (since 2007), it has stayed a simple place for to-do items, without complex features for specialized use cases.
The Stand-Out
Todoist has a dedicated app for practically every platform imaginable, including Postbox (have you even heard about that?).
When Should I Use It?
Use Todoist when you need tight integration with existing tools.
Pricing
$999 / year. Yep, that's right. Looks like simplicity has its price.
Podio
Podio is a workplace with social network elements. It also has adaptations specifically designed for various verticals, such as recruiting, sales management and general project management.
The Stand-Out
Podio has opened a physical storefront in SF for users to try out the adaptations mentioned earlier.
When Should I Use It?
Use Podio when you need an app specifically designed to fit your needs at work.
Pricing
$25 / mo for 1000 "items", which are tasks, or projects, or any other data piece. Rather confusing, but that's the case. As items count grows, pricing escalates linearly. There's also an "unlimited items" plan for $500 / mo.
TeuxDeux
TeuxDeux is a calendar-style to-do app. It has a clean look and boasts itself as "designey". Maybe that's because it has been built by a design studio, as their story tells. Or maybe that's because it's much easier to design something really simple (which is good, not bad). Anyway, people like it for simplicity and being fun.
The Stand-Out
TeuxDeux has its voice. You always feel like you're chatting to a friend, while using the app or browsing the docs.
When Should I Use It?
Use TeuxDeux when your to-do items are tied to week days.
Pricing
$2 / mo if paid annually, $3 / mo if paid monthly.
ProofHub is award-winning team collaboration and project management software that is trusted by more than 85,000 teams and organizations worldwide. Offering all powerful features in a single location, ProofHub is a must-have in any project manager's arsenal today. Be it Task Management, Time Management, checking project's progress with Kanban Boards, or Group Chat, ProofHub has all that will enable project managers to have ultimate control over teams and projects.
The Stand-Out
ProofHub offers fixed pricing plans, which makes it affordable for teams of all sizes to use. All tools under one roof, minimal learning curve, scalability, regular updates, and multilingual interface makes it one of the most user-friendly team collaboration and project management software available today.
When Should I Use It?
Use ProofHub when you want to have an affordable, feature-rich, all-in-one project management tool that can replace expensive multiple tools you are already using to monitor tasks and projects.
Pricing
ProofHub offers two fixed pricing plans. The Essential plan is priced at $45 per month, billed annually. More premium, Ultimate Control plan is priced at $89 per month, billed annually.
---
Recap
Phew, that was long enough! Now you're well equipped to form your own judgement about which task tracker suits your team better. If still in doubt, the easiest way to choose is to sign up with a couple of services and give them a spin for a day or two — any issues will pop up during this time. And if there were none, bingo! You've just found a perfect tool for your needs.