Facebook and Twitter are well-known social media networks that provide a feature called 'Trending Topics', these will be links to news and stories that people are sharing and talking about the most, and quite often a few great ideas can be found from these two sources alone, but they're certainly not something a startup should rely on; whether for content ideas, or for possible expansion ideas for the startup itself.
We at CodeCondo recognize the importance of knowing trends and have published numerous posts this year that reflect our own research on the latest trends in different categories, including: eCommerce trends for increasing sales, web designs trends to keep your pages modern, and mobile app development trends to help you create the most sleek and optimized mobile apps.
Few years ago, all people had to rely on was Google Trends, and not that it has improved over the years. Thanks to the growth of startup scene, we now have several ways of acknowledging and exploring hot trends, many of which we can utilize and incorporate instantly. The following list of resources will be of great use for any startup looking to make use of the latest trends.
quepoppa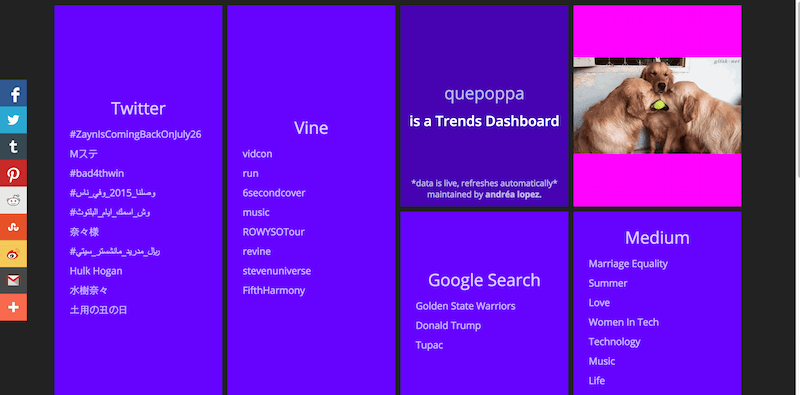 quepoppa is a great little platform that shows the latest trends from Twitter, Vine, Google+, Google Search, Medium, and YouTube. It's the perfect place for any blogger and/or journalist to bookmark and check out once in a while for hot and trending topics that could be turned into unique posts. Is convenient and saves you a ton of time.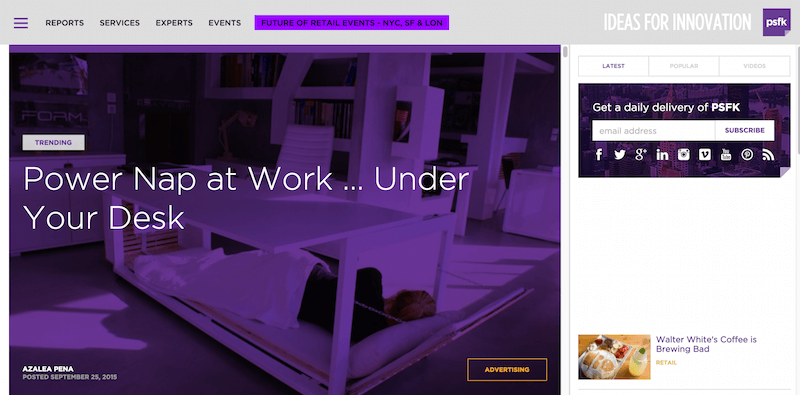 PSFK examines trends in major corporations. The company does research for corporate clients to determine trends and consumer behaviors. PSFK has tracked consumer data through smartphones and other mobile devices for clients. They were founded by Piers Fawkes in 2004. Fawkes ran his own website with a blog. He relocated from London to New York and started covering technology and other trends on his blog, which formed the basis for PSFK.[1] He worked as a dog walker and other odd-jobs until he started his startup.[2] His first client was Anheuser-Busch. They had seven employees as of 2011. Clients include Coca-Cola, Target Corporation, BMW and Procter & Gamble.[1]
PSFK is a specific platform that investigates trending ideas in large corporations. The clientele of PSFK is usually corporate, partners who are looking to analyze and understand the behavior of consumers, as well as determine the trends amongst the necessary industries. PSFK has a lot of experience with mobile data analysis and learning about consumers through mobile means. The PSFK brand was grown out of sheer passion for latest trends.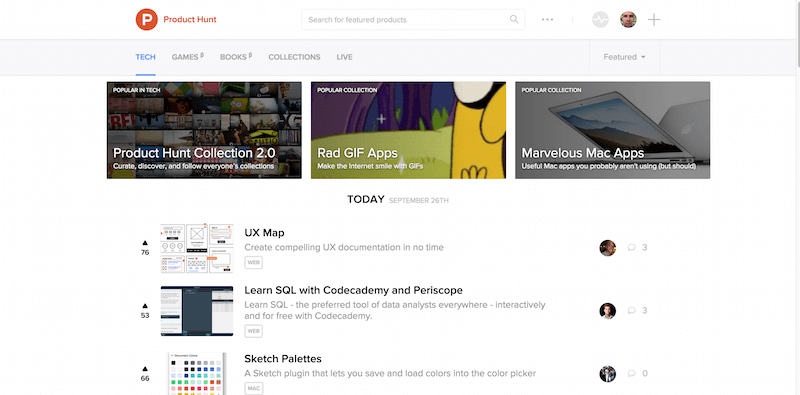 Product Hunt saw rise in number of users within just a few short months, and these days this product listing startup attracts hundreds of thousands of startup owners and startup enthusiasts who want to learn more about the latest technology. Every day, dozens of new startup submissions are created that can be used to explore what people like the most, what kind of startups generate the most discussion, and what kind of repeating patterns are there for exploration that you could utilize in your own startup.
By engaging the Product Hunt community on social media sites like Twitter, it's possible to have your own startup submitted for a review, the results for many people have been nothing short of amazing.

Trend Watching has been recognized as one of the leading trend spotting resources on the planet, the main focus of Trend Watching is to observe and organize brands, companies and business categories where innovation happens on consistent basis, and then transforming that information into actual and usable insights for your own business. The premium package includes a ridiculous amount of trend information, all of which is always up to date and ready to be implemented.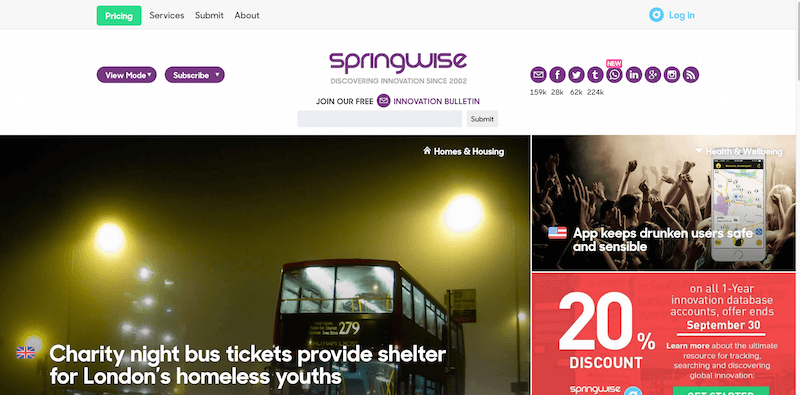 Springwise is focused on sharing information and resources on the latest innovative trends, in every industry imaginable. If it's unique and it's innovative, you will find it on Springwise.
Springwise is the global innovation discovery engine. Every day, our team of over 18,000 Springspotters sources the latest innovation, start-up and new business ideas from around the world. We validate, curate and summarize the top three for daily publication — guaranteeing our readers real time, real business inspiration.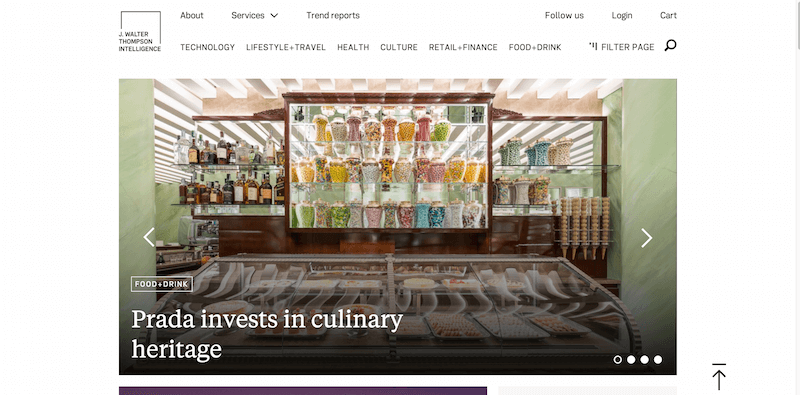 The team at JWT uses a specific practice for researching trending intelligence in the field of research, data analysis, and innovation. The clientele of JWT gains access to a list of insights, trends, data analysis and inspirational documents that stretch on a global level. Any brand, business or corporation looking to expand their knowledge about specific markets should look into JWT and what it has to offer.