Do you still have doubts that your business would be successful with such a tool as chatbots? Stay here and we'll dispel them!
Chatbot or bot — is a computer program that simulates a natural human conversation. Chatbots, also called chatterbots, is a form of artificial intelligence (AI) used in messaging apps. This tool helps make communication with customers more convenient — they are automated programs that interact with customers like a human would and cost little to nothing to engage with.
Users communicate with a chatbot via the chat interface or by voice, like how they would talk to a real person. Chatbots interpret and process user's words or phrases and give an instant pre-set answer.
Take a look at the example below. This is a typical variant of the commercial chatbot, which helps potential buyers make a decision of the purchase and advises them of a special product that they need.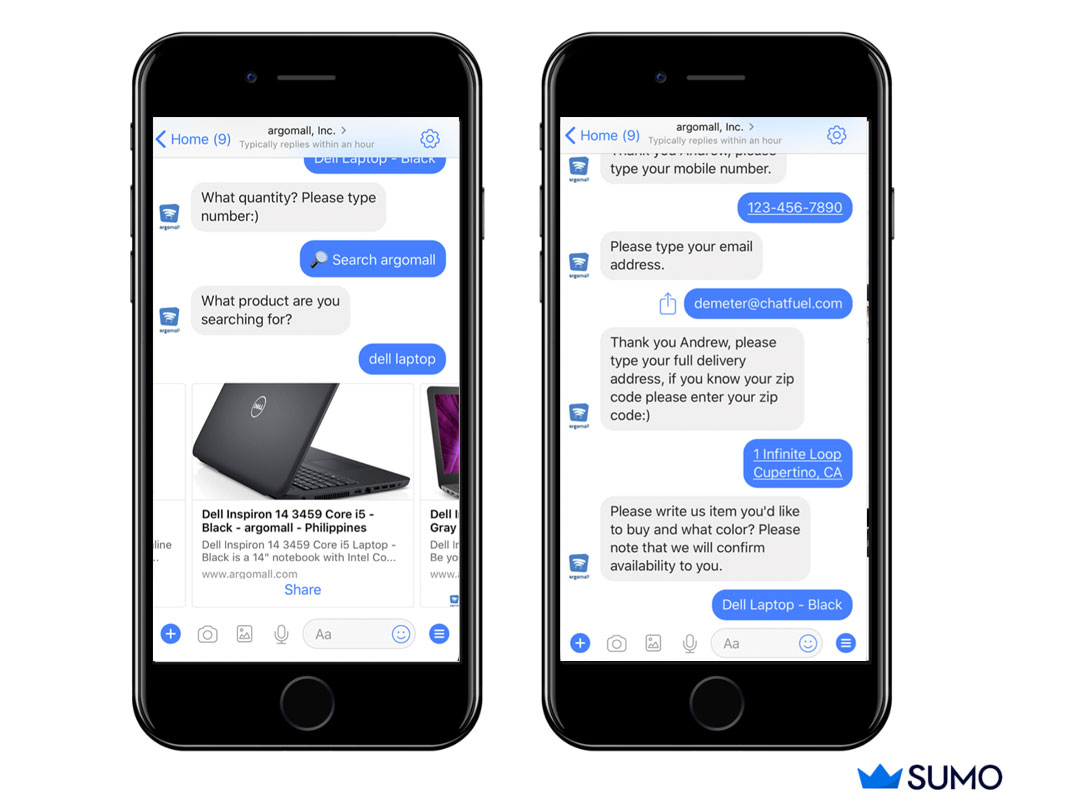 Take a look at the following points to find out the main benefits of chatbots.
Pros of chatbots in work 
Chatbots are user-friendly
They keep pleasant conversations with the client. Through personalization, the client receives information relevant to them. Sometimes a customer comes to a brand not knowing what to buy. 
The scenario is the following: the client contacts the bot — the program analyzes various facts related to each specific client — the bot offers the appropriate choice. Through personalization, the client receives the relevant information.
Look at the example below. Here you can find a friendly dialog between the customer, who's interested in terms of delivery, and the chatbot.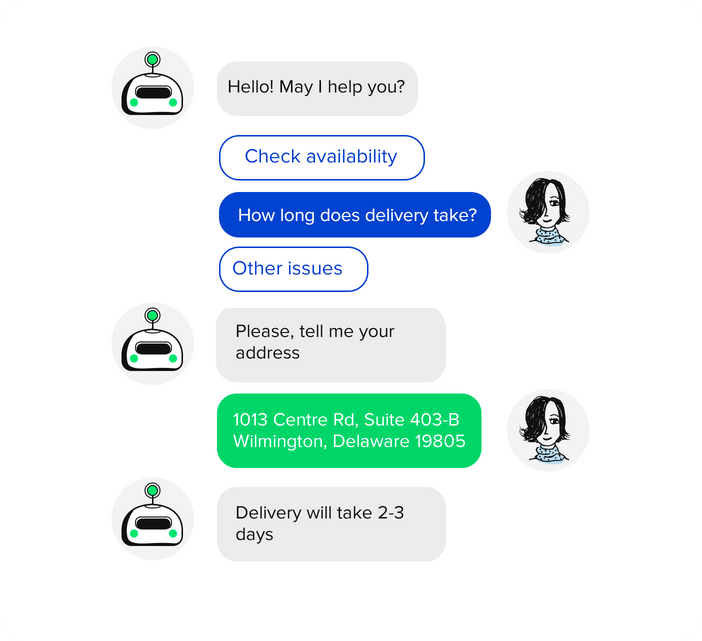 Progressive opportunities
Chatbots can boost your sales thanks to marketing technologies, such as personalization, speed, and work with clients. They're also an analog of an email newsletter.
Chatbots are aimed at personal work with the user, thereby helping to make a choice in favor of a particular product. The next thing, that they give you a quick response, which is so beneficial.
Chatbots reduce operational costs
They will help to provide any support and will solve typical customer requests. As a result, customer service focuses on handling complex, non-standard requests. The costs can be significantly reduced by using the chatbot instead of the salary for each worker.
Chatbots are real helpers, but not substitutes 
This reason can also be an advantage because people can solve problems better, indeed and bots just simplify some tasks. Chatbots only interact with people in order to clarify their request as much as possible and solve it. 
For problems that go beyond the specified area, chatbots redirect the client to the manager. The bot is more useful when the client asks repetitive questions because all the information which is needed has been already collected
For which areas of business will chatbots be useful?
Business chatbots are special computer programs that simulate human conversation using artificial intelligence, transforming the way people interact with the Internet. They are designed to be a great virtual assistant, helping to complete tasks ranging from answering questions, determining the direction of travel, etc.
Automating requests will save time, money and create an easier and faster way to do business – for employees or customers. The products or services have low engagement (meaning decisions can be made quickly) and appeal to the customers' emotions.  
The services and prices are nearly impossible to differentiate because of the competition. In this type of marketplace, you can build loyalty with chatbots by automating the way you provide personalized, easy-to-understand information about your products or your business.  
Business process management is a new solution for discovering, modeling, analyzing, measuring, and improving business processes. Everyone knows that the system provides automation of profit management, helps to plan company budgets and financial reports.
Bots create a new, smarter way for customers to get the information they need and interact with your business, products, or services. Instead of opening a new app, they offer personalized solutions and seamless integration with messaging apps that your customers already use for hours a day.
Chatbots will be useful in various areas of modern business:
corporate chatbots;

for hotels and restaurants;

clinics for booking;

for online stores;

for any service sector;

for information portals.
Using a chatbot, customers won't have to browse or have endless conversations with customer service representatives. Chatbots are quickly becoming the best personal assistant, problem solver, and friend your clients have never met. 
Look at the conversation screen as an example of the assistance of the chatbot in the pharmacy sphere with a special offer.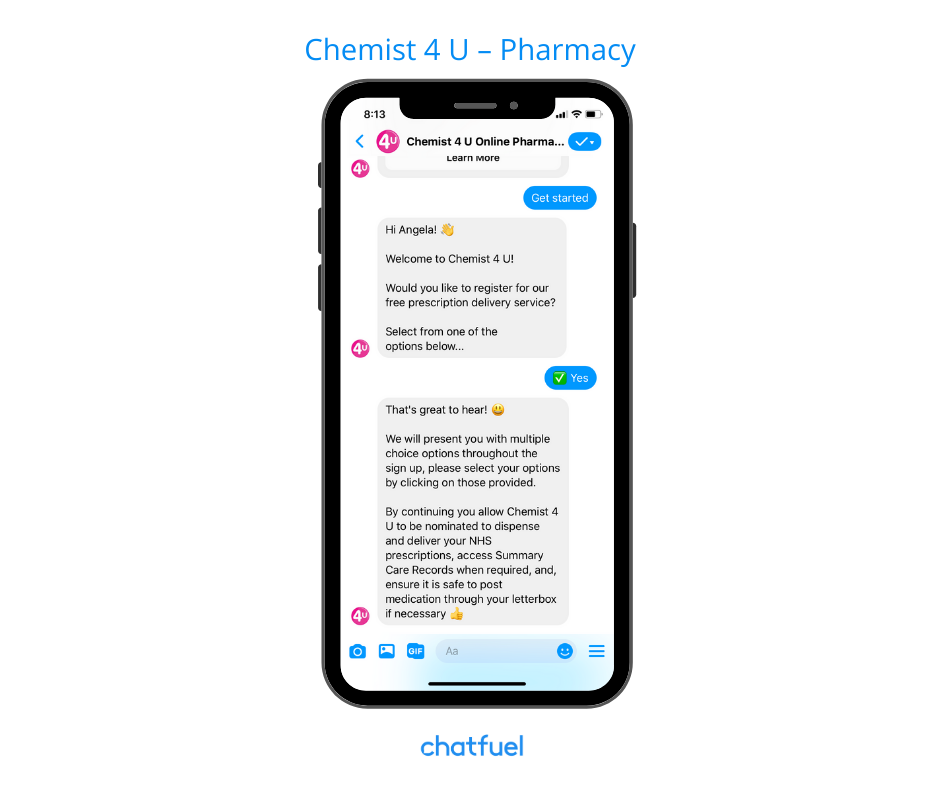 Customer communication has to be prompt whether for sales, marketing, or support.
Take a look at the advantages of using them in your business.
Chatbots benefits in customer care and sales processes
By integrating chatbots, you not only achieve marketing goals but also drive sales and improve customer service. Chatbots can become useful tools when it comes to forging good customer relationships.
Let's discuss reasons how chatbots can help in customer communication and drive business growth.
Make a workflow consistent
You can easily control the process, especially when it's automated. Such a system doesn't have tiredness, irritability, or sick days.That's a really big benefit, don't you think? You can serve customers consistently when they need you the most. Adding it, you do help your company's reputation as a reliable one.
To say more, chatbots have such effective options, as "very responsive to messages" or "replies instantly." 
Engage users
Customers stay longer on the website while maintaining the dialog with the chatbots, which can give them all-needed answers. What's more, chatbots can deliver consistent answers and this helps you avoid unnecessary information to customers.
They do help in taking user's engagement. Let's know what tips of conversations between the user and chatbots exist.
Personal conversations — chatbots are smart enough to analyze responses based on the customer details and history, that's why they can engage at a personal level and drive conversations. 
Real-time response — businesses can use chatbots to deliver fast, real-time responses to customers and avoid losing them to competitors. 
One-on-one responses — users expect immediate one-on-one responses and can use a chatbot to meet that goal of the needed brand.  
Automation can help empower your clients because they will receive the information they need to solve their problems without asking for support. This empowerment consequently helps your agents by reducing their caseload.
Reduce costs
Everybody appreciates their time, that's why it's important to have an immediate answer. Chatbots are a great alternative for a worker.
You're expected to spend more money on personal workers than on сhatbot, which could also provide useful information and help in supporting. In addition, they provide support even when the human support team isn't active.
By investing in chatbots, you can save extra costs that otherwise go into hiring more support resources. 
An example of a chatbot expert
With chatbots, a business can reduce costs on different levels, such as training, salaries, or infrastructure. Then, by ensuring a brand experience that is simpler and more seamless for users, сhatbots reduce a significant amount of money and add value to the bottom line.  
Include multilingualism
Businesses can program the сhatbot to answer requests in the language of the user and expand the reach to new markets or territories. That's a really good benefit, don't you think so?
Meet expectations of users
Customers expect quick responses to requests, brands also can use them to automate some of the routine interactions and meet customer expectations.
Let's look at options to use chatbots to meet user expectations:
Proactive interactions – Bots can help businesses proactively interact with the customers,  deliver them quick responses and get higher open rates than email. 
Personalized experience – The use of a chatbot can prove very handy when it comes to delivering a personal experience to customers across multiple touchpoints as this can also impact sales and conversion rates.  
Effective targeting – using chatbots for sending visual content and giving information about product information, offers, discounts can ensure effective targeting and boost customer engagement.     
Meet customers everywhere
We're all different. Some customers can do several actions at the same time, some of them don't prefer "artificial" communication, that's why they want to talk with the manager personally. Automated customer support systems are flexible and allow your customers to get the support they need when and how they need it.
Decrease mistakes
There's an option in the human's work like tiredness, which increases people's chances of making suboptimal decisions. While some mistakes may be inconsequential, others could be off-putting to your customers and lead them to stop working with you altogether. You will lessen the burden on your support agents, which can help them to perform better if you delegate tasks to automated system support.
Save agents' time
On average, there are lots of repeated questions and chatbots can easily answer them, so doing this work gives agents the opportunity to answer more difficult questions. Additionally, by connecting your agents to cloud systems, they can spend less time retrieving customer information and more time helping them solve their problems.
Increase the standard of service
Chatbots can direct the customers to special agents who can help in solving their problems. Lots of users would give up your product or service if your online chat is slow, you see how automated customer support can help your company in the long run.
Final words
To be honest, every industry is affected by automation nowadays and it's really reasonable. The companies that are succeeding today provide value and serve their customers as fast as possible. By adding customer support automation to your business processes, you win lots of profits for it.
Don't be afraid to use such powerful tools as chatbots, create them with 13chats.com, and be successful! Stay tuned:)
Also Read: 8 Different Ways Chatbots Are Helping Businesses Grow