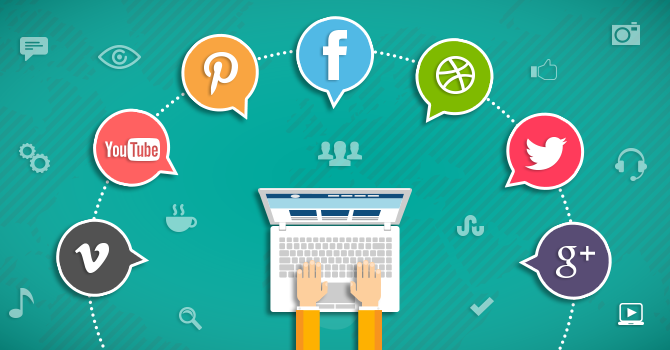 With the advent of popular social networking websites like Facebook and Twitter, marketing professionals have discovered a new channel to market their company's brand image. Since, these websites offer an effective platform for social interaction, marketers get to learn about the latest consumer trends and preferences, basic product requirements and more. Moreover, considering its global reach, every company today strives to build its brand image on the digital space. Technological progress is introducing innovative features to these social media platforms and hence marketing strategies need to be modern and platform-specific to make the most out of this opportunity.
A great marketing strategy that incorporates various social media platforms to promote brand and business is essential. The nature and function of every social media website is considerably different. Today, various social media management tools have lately sprung up to assist marketing professionals in the challenging scenario. Hence, I have selected a few tools that will surely lend a helping hand to marketing professionals in executing their strategies.
Alright, so let us take a look at the list of 10 Best Social Media Management Tools in 2015.

Bitly is a popular online tool which provides services for creating short links, branded short domains and deep linking. Moreover, it offers real-time data for analyzing number of clicks, user engagement, number of visitors and a lot more. Besides, Bitly is a great resource for managing your marketing and branding strategy across various social media platforms, such as Facebook, Twitter and more.


Everypost is an online publishing tool designed exclusively for pushing and managing multimedia content across various social media platforms. On Everypost, you can pull relevant content from various sources, such as YouTube and Instagram and integrate it within your post. This means that you can customize your content to suit with and benefit from particular features of each social media website. Additionally, Everypost offers tools for performing social media analytics, such as scheduling your posts, viewing post frequency, measuring fans and followers and a lot more.


Sprout Social is ideal for any marketer for conveniently scheduling, publishing and managing content across several social media platforms. You can monitor messages across Facebook, LinkedIn, Twitter and more as well as engage in conversations through a single streaming inbox. Sprout Social integrates with Zendesk and UserVoice to allow cross-platform team collaboration from a common dashboard. Moreover, it displays useful information regarding Twitter/Facebook analytics, user engagement, clicks and more.
Besides, the tool offers a lot more features, such as Twitter conversation history, future posts scheduling, creating trend analysis reports, real-time social monitoring and Google analytics, to name a few. Sprout Social caters to several brands, including Nestle, Uber, Pizza Hut and American Red Cross.
Also Read: 10 Facebook Tools for Business & Marketing in 2014

Twitter is a powerful medium for promoting and marketing the brand/corporate image of a company and its products. Unlike other social media platforms, it is an arduous task to manage or boost your audience engagement activities on Twitter. Here, Tweepi comes to the rescue as it is exclusively dedicated to help you grow your Twitter account. Tweepi features a robust tool to filter the users in to separate categories and create a list of followers, non-followers, unwanted followers, users being followed by you and more. Moreover, Tweepi displays information about each user and offers features to remove non-followers from the list, make undesirable users to unfollow you and a lot more.

Hootsuite is a one-stop solution for all your social media marketing needs. With Hootsuite, you can manage and publish your content across more than 35 popular social networking sites, such as Twitter, Facebook, LinkedIn and more. You can integrate useful applications like Glassdoor, Marketo and Zendesk within the Hootsuite Dashboard. Hootsuite offers monitoring, scheduling and posting Facebook and Twitter messages and conversations to track audience engagement.
Moreover, the dashboard allows real-time collaboration among team members as well as lets you interact with your audiences. Hootsuite helps track user engagement, impact of marketing strategies, lead generation plans and analytics data.

Mention offers a hassle-free way of keyword-specific media monitoring. On Mention, all you have to do is enter a keyword and Mention will send you real-time alerts when it finds your keyword published in the latest blog, forum, social network site and news website. Unlike Google Alerts, Mention also features results from social media websites. One can connect multiple social accounts with the alerts and preview the web page without having to visit the site. Moreover, on Mention, you can custom create an alert notification using its analysis tool and priority inbox and receive alerts in 42 different languages.
A marketer benefits immensely by getting specific updates on the latest tweets, comment threads or conversations to initiate timely engagement with the audiences. Hence, I strongly recommend Mention to social media marketers.
Also Check: 23 Twitter Tips That Will Make an Impact on Your Business

A great deal of marketing is done through interesting visual content to attract and engage a community of online users. Photos form a major part of any marketing content as it they are more likely to generate interest of users. In case, you are looking for a tool to use Instagram for marketing then Iconosquare is the answer. It is a great tool which monitors social photo campaigns. With Iconosquare, one can promote a company's profile page on Facebook, Twitter, Tumblr, Pinterest and more. Moreover, the tool offers advanced analytics reports on total number of likes/comments per photo, growth report of followers and more. Iconosquare caters to popular brands, such as Coca-Cola, Ford, Nike, AT&T and Ebay.

If you are not new to social media marketing, then you must have probably heard about IFTTT. IFTTT is a great tool that saves much of our time by automating functions across the web that we normally perform manually. Using IFTTT, you can define multiple sets of triggers and choose to have desirable resulting actions. For instance, if you post a blog on Tumblr, then a status is updated on Facebook.
Do not forget that IFTTT works according to our suggestions and inputs. You can check out 27 Useful IFTTT Recipes for more information.

Klout is a robust platform for publishing and sharing quality content. Klout is ideal for tapping in to the nature of your customers, readers and followers. By monitoring trending topics for content creation as well as examining feedback and preferences, a marketer gets to know a great deal about consumer behavior. Moreover, you can promote your brand's content on Facebook and other similar platforms. Klout has published content for successful marketing campaigns of popular companies, like Red Bull, ESPN, SONY, Disney and more.

Sprinklr is a powerful tool for measuring social media analytics. It offers a rich user interface which supports about 10 languages while performing content analytics in over 70 languages. Sprinklr lets you evaluate your brand's online presence across 8 social websites. Moreover, it offers a robust solution to gauge your brand's social rankings by comparing with several other brand's performance across various social media platforms. Sprinklr has an up-to-date feature to capture data to measure a brand's consumer interaction based on more than 70 different metrics. Some of its key areas of expertise are social listening, paid advertising, distributed social management, publishing and more.
Conclusion:
Every large-scale business or a start-up needs a particular set of management tools to spearhead their marketing efforts in the right direction. A marketing strategy needs to be devised depending upon a company's core business. Hence, it is wise to use a combination of different tools that works well to meet the requirements and pre-defined objectives.
I have listed down some of the most popular and effective online management tools in 2015 to cover different types of social media marketing. Each one of these fulfill a specific purpose though some are full-fledged management tools offering a gamut of features. But, I am sure you will find this list useful and interesting as I have tried including useful resources that will cater to various specific requirements. But, I am aware that a lot of popular names have not made it on the list. So, I urge upon the readers to suggest any other interesting social media management tools by mentioning their names in the comments section below. Good Luck!!!