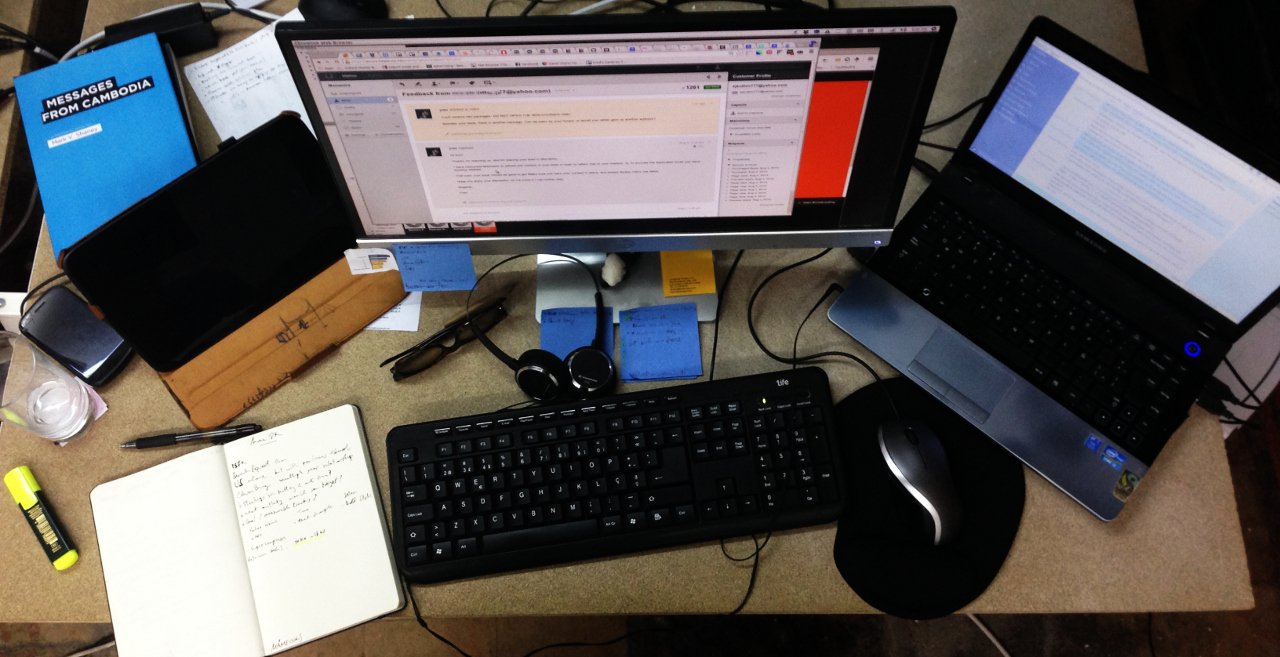 Managing a startup is a task that involves juggling many aspects of the business simultaneously. That's what makes it an art. Having the right tools to not only streamline your work but also to keep every member of the team on the same page is key.
At Memeoirs we've always been passionate about improving our internal workflow in order to boost productivity and improve communication. We've been integrating new tools and honing the processes over the years, and now we've hit a pretty good productivity sweet spot.
First off, we killed email. We never use it internally. Ironic for a company that started by making books with emails, right? Wrong, we like having each thing in its place, and email is a poor productivity tool. This is the most liberating thing we have achieved.
"How does an international team, with members scattered over Europe, manage to keep in sync then?" you ask. Read on.
Conversations happen on HipChat. It's essentially a group chat divided into rooms, very much like a virtual office, with each department having its own room. Marketing, Development, you get the picture. The point is that conversations are topical, while every team member can have a sense of what's going on at all times if she so wishes to.
No more "Re: Re: Re: Re: Memeoirs at the Frankfurt Book Fair" emails. Bonus points: a water cooler for non-related cool stuff (screenshot) and an Operations Control Centre where the timeline of the company gets logged to (sales, customers queries, code commits). I have this open on my Ubuntu's second screen at all times (yes, they also have a Linux client!).
Trello is our project management tool and it drives what anyone is doing at a given time. For each area of our business (Product, Development, Marketing and Communication, Business Development) we have a Board, and each of these has the following lists of actionables: "Ideas", "Up Next", "In Progress", "Polishing", "Completed". These actionables travel in time, ie, from left to right. They're born as ideas, then when there is a consensus about their usefulness they are promoted to "Up Next".
When one of us gets something through the door (liberating a slot in the "In Progress" list) the actionable is finally given a deadline and starts being executed until it's finished and passes either through "Polishing" (if there are some nice-to-haves pending) or goes directly to the "Complete" list (and eventually gets archived). Each card (actionable) has a team members attributed to it, and Trello includes a handy view of all the cards attributed to a person, so each member can track exactly what's on their plate at a single time, and when a certain deliverable is supposed to go through the door.
This gives our team an extraordinary way to keep in sync and working like a swiss watch, with little need for a lot and back and forth. After all, Trello is all about actionables, the plan is already in place, this is all about working it.
Customer delight is front and center at Memeoirs. We wouldn't settle for less. People's joy is, after all, why we started doing this in the first place. For this we focus not only on the final product – our books – but also on the whole experience and interaction with Memeoirs, the Company. This was another key decision we nailed: getting the right tool to talk to our customers. 
HelpScout helps us getting loads of useful feedback that we then use to improve the whole product and user experience, but also making sure people have the support they need (if or when they need it) to finish their book, and to get it delivered to them. HelpScout works pretty much like a shared mailbox. With a twist: messages are always in an "unread" status, until addressed. This guarantees no ticket ever slips through the cracks. As each customer query arrives it gets assigned to the person responsible (pre-sales, post-sales, engineer) and when this person replies it gets closed.
Bonus, super-useful features include a warning every time someone else is viewing or editing a ticket, to avoid collisions; tags, to organize the tickets in terms of feature requests, quality of lead, common issues, etc; HipChat integration, so the whole team has a feeling of what people are telling us. Bottom line: HelpScout was built by very clever people who understand exactly how customer support is supposed to work. Now THAT's Zen.
No startup can afford to not have focused data to drive decisions. We track conversions, funnels, segments, etc using a combination of tools: Mixpanel, Google Analytics and, more recently, Intercom.io. They compliment each other. We've extended the use of Intercom to send reminder emails to our users. We've laid down a very simple calendar that reminds people that they might have an unfinished book or that after 7 days it's probably time to come back and say "Hi!".
The central repository of Memeoirs is The Drive. Google powered. All types of docs, from red tape to the copy on the website, from product shots for the press to marketing KPIs, it all lives there accessible from anywhere and editable in real-time collaboration. The power of it is just mind-boggling. We're fans.
A last word for our dear friend Freddie. Any company focusing on Email marketing is using Mailchimp, they've always been a reference, so I'll refrain from amplifying the voice of the crowd.
FINAL THOUGHTS
Don't be afraid to experiment with different tools and have in mind exactly what you want from each of them. Don't commit unless you feel it. Usually poor interface or user experience reflects a bogus, fragile base, so be on the look out. The right choices will make the difference between a smooth, happy work life or a journey of painful day-to-day chores and loop jumping life.
Am I missing a killer tool? Do you use any of these differently? What tool couldn't you live without? Tell us all about in the comments!
[box]
Fred
is a curious mind with a background in telecommunications engineering that has shifted towards product and design. He co-founded Memeoirs, and is currently focusing on getting more people to keep their memories in book form. Hit him up on
Twitter
.[/box]