Cubender has been actively helping designers and webmasters to create visually appealing websites since 2010, and their most recent V5 release of the platform marks a great achievement and a list of features that will make you think twice about hiring expensive developers to create a site you like.
It's very clear to us that the internet is expanding and welcoming new users, eager to build their first websites, but without any solid direction as to how to go about these challenges. Modern internet user might suggest hiring a web developer/designer to solve this problem, but we have come a long way to believe in alternatives such as Cubender, as you will find in the article that sites built by this platform are truly outstanding.

The most essential part of a website builder for designers such as this is, of course, the editor that lets us build the actual websites. It's one of the features you will enjoy about Cubender the most — the editor is intuitive, clean and flexible; giving you the necessary freedom for your imagination to be running wild.
In order to understand better the capabilities of Cubender, here is a rundown of our favorite features you can find in the editor itself:
HTML5 — it's all modern baby! Have no worries about creating standard compliant websites, since everything you build is generated with HTML5!
Free Themes — the starting pack to get you started right off the bat is amazing, with the inclusion of versatile and creative themes that will allow you to get straight into it without having to wait around.
Store/Blog Builder — avoid the hassle of having to build and install your store and blog separately, it's all possible from within the Cubender website builder editor itself.
Search Optimized — if you're conscious of the immense benefits of search engine optimization, you'll love to know that there's an integrated SEO engine that will automatically optimize your site for search engine visibility.
Forms — any professional website is going to have to have at least a couple of forms, some for the contact form, some for email marketing signups. In-built form builder makes it easy.
Modernized — perhaps the most important feature is the fact that the team behind Cubender have gone a long way to create a platform that provides modernized features, elements and other design features that will make your new websites look like they were purchased for thousands from a professional developer/designer.
the image below puts a picture to all the interesting features you'll find on this website builder. As you can see, the user interface itself is very friendly and appealing even to the most hardcore designers out there.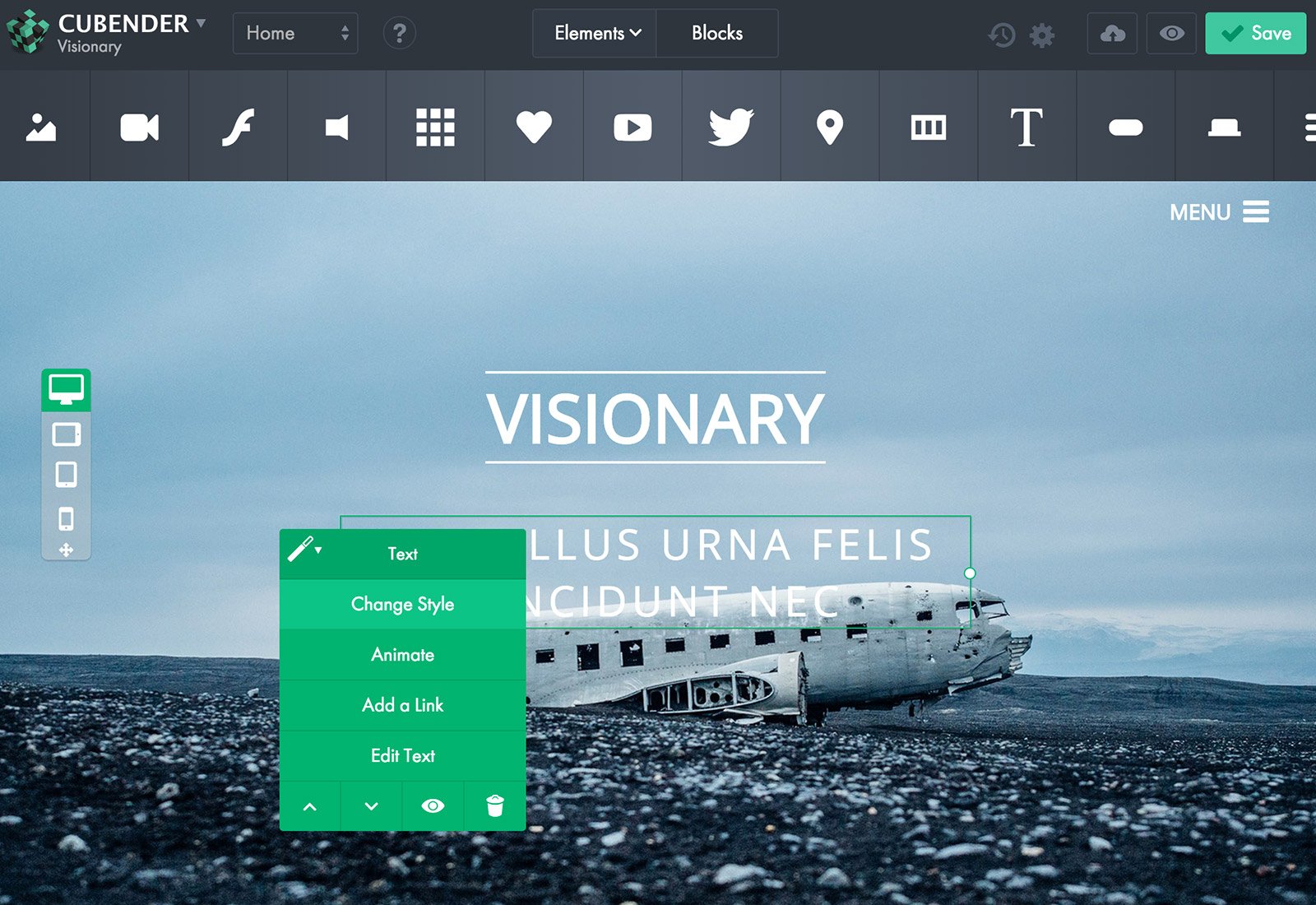 There are several pricing packages currently available, with the lowest priced one being $8.50 on monthly basis, and the highest priced one being $24 on monthly basis — each plan comes with an increased set of features accordingly, as well as more storage space, and bandwidth. Support for each plan is essential and stays of the same quality. Each plan comes with a free hosting plan as well, so you don't have to think twice about where your new websites is going to be hosted.
Here is a concise wrap of what Cubender is and what it stands for:
The platform was established in 2012 and has since gone through five different versions, the newest being V5 currently in BETA development.
The target audience is designers, and to reflect that — Cubender offers complete style control that designers will enjoy taking advantage of.
The editor provides responsive interface controls which means that you can easily build your websites to be compatible with different devices.
The reflow engines makes sure that your site is always optimized for mobile.
The building interface itself is completely code free, is drag & drop and generally very easy to learn how to use.
We're thrilled for the future and look forward to what the new V5 is going to bring out as it continues to reach a more stable version. Our initial tests runs have proven that Cubender is an amazing website builder that could very well substitute a lot of client work in the field of building and crafting professional websites.