Formisimo is to forms what Google Analytics is to your blog. It's a full-scale platform to track and analyze your online forms from the ground-up. Recognized clients include Distilled, Wish and WeBuyAnyCar.
The startup just recently moved out of the beta phase and is now offering the services to the whole world. We use forms everywhere, and just as marketers. The basic type of a form would be a WordPress poll plugin, wouldn't it be nice to know the exact actions that users take when they're presented with these forms?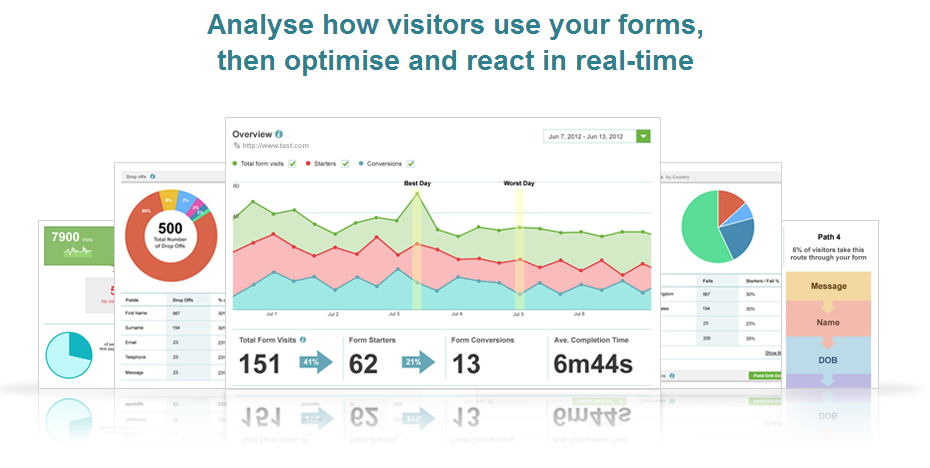 Install a simple, secure piece of JavaScript on your site and Formisimo will be able to track form interactions; giving you access to a wealth of information on how users interact with your forms. From the average completion time to the most corrected field, you'll be able to truly understand how your users interact with the forms on your website.
There are thousands of little things that Formisimo takes into consideration when trying to bring the data back to you on your dashboard. It does it all in a nice and elegant manner, so you're always pleased with how the dashboard looks. The UX is strong with this one.
Formisimo can help to track forms that take a while for users to complete, and in turn you're able to work on solving that very problem. Perhaps there are tasks and options you could remove to improve the form, without losing too much of the needed data you're after. These little things really add up and can leverage the way people interact with forms on your website.
The pricing is fair, a thousands visitors a month come at no cost at all, so you're given a fair amount of data to play with at the end of those thousands visitors. It goes up as the features and allowance increases, and for bigger corporate companies that need to track up to a million visitors – can get in touch directly.
This is definitely something I'll be playing with over the next couple of weeks, and perhaps I can use it to my advantage. Thousand free visitors is more than enough to see if you like the tool or not. It can also help to improve something for future testing :)