In order to advance on the road to blogging success, we have to eventually start gathering data about our visitors and what their needs and questions are. This not only helps us to create better websites and blogs, it gives us invaluable statistics about the communities we build. How are we going to use that data?
Here are the three benefits of creating WordPress polls that came to my mind when I thought 'poll plugins' to myself.
General Feedback
Polls can and are being used to gather feedback from your visitors and returning community members. It's as simple as asking 'what is your favorite color' and we're already gathering data about the customer that could help us sell something to him.
Try to use any of these questions if you're having a hard time coming up with your own:
Are You a Business Owner?
Are You Single or Married?
What Are Your Passions?
You're guaranteed to gather tons of valuable data, this data will then help you make important decisions. It doesn't matter how many people are visiting your site, the sooner you start gathering this data – the quicker you are going to learn about your audience.
And, speaking of which.
Learn Your Audience
There is nothing like creating polls to learn about your audience. You're directly asking questions to the majority of your visitors – and you're receiving real data which you can use to create products and books based on the interest of your community.
I'm sure you want to become a blogging authority, creating polls is getting you one step closer to that dream. Make polls part of your plans and blogging goals.
Statistics for Infographics / Pie Charts
The last benefit of using WordPress polls to gather data about your community is the data that you're going to be able to hold on to. You can use it to create a poll report after a while and show the community what other people answered, or you can continue gathering this data until you've got enough for an infrographic or a professional pie chart.
There are incredible benefits to having infographics on your site, it not only gives your readers data directly without having to 'read too much' – it's also time efficient and presents the opportunity to build natural and organic backlinks.
5 WordPress Poll Plugins
That should be enough for our introduction to WordPress poll plugins, we can now start taking a look at some of the most popular ones as voted by the WordPress community itself. I ask that you present more suggestions and addictions in to the comments, I'm sure there are favorites out there that I was not able to mention.

This Ajax powered WordPress voting/polling system is wonderful for anyone who is looking for a lightweight option to gather answers from the community. It doesn't come off very stylish or modern in design, but that's the price you've got to pay for having a fast way of gathering data. You can fully customize this plugin from within the admin dashboard.
That is how it looks on my demo page, with some modification and a little bit of work you can make it look appealing and sexy! It supports image polls, and also provided detailed analytics after some votes have been cast.

YOP polls are more advanced, and stylish. This plugin comes equipped with a ton of pre-made templates that range from blue to orange colors. It's a more advanced plugin that allows to create scheduled polls and surveys, as well as to have multiple answers for the same question.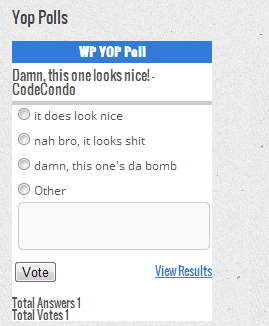 It's aimed at blogs and websites that have got a large community behind them to gather data to the very last details. The plugin also allows custom permissions, so that only registered users can cast new votes, and vice versa. You'll find more info on the official plugin page.
I know that this plugin will appeal to many because of the benefit of letting users vote with their social media accounts, which makes it easier to see and understand who are your poll voters. The whole plugin operates through the OpinionStage framework and it will require linking your site together with the API – but that takes just moments and you'll be creating polls in no time.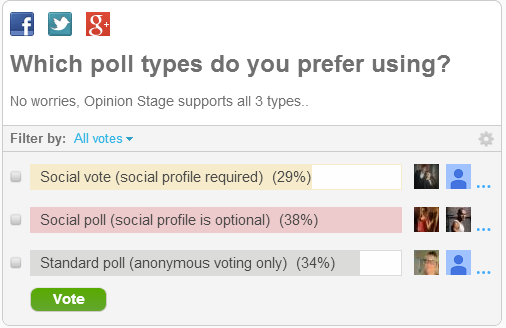 Here are some of the top features for this plugin:
Manage Polls from One Dashboard
Count Polls Anonymously
Count Polls With Social Media Accounts
View The List of Voters
share Poll Q's and A's on Social Media Directly
Custom Details for Social Sharing
It's worth to try and it and see how it converts, the whole social media feature makes this plugin very appealing to people who're looking to increase their social media shares.

SodaHead is a very sophisticated poll plugin that offers a wide variety of choices and options for creating top-notch polls to gather very detailed data about your community, or to simply ask questions and receive detailed answers. It works both ways.
You will need a SodaHead account to get this plugin rolling, but I think for the amount of features and templates it offers, it's definitely worth the hassle.
You should head over to the WordPress directory to check out the snapshots of this plugin, or visit the official homepage and see it in full action, as the plugins homepage is one big polling site itself.

This is very similar to the first plugin we listed, WordPress Poll, the difference is the pre-designed template which might be appealing to people who do not know how to create and customize their own widget styles. It's okay, and you can just try this plugin and see how it goes.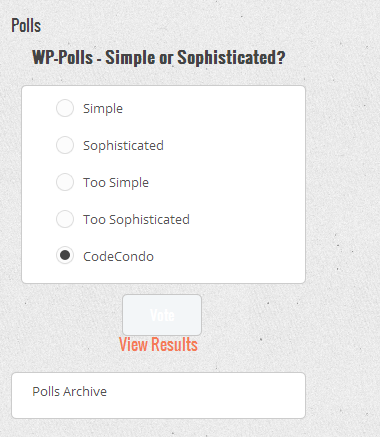 There are quite a few options, like Ajax vote casting for example. The ability to sort results and log events might also come in handy time to time, overall an easy to use plugin with different template styles than other plugins.
It's free, what did you expect. :)

Technically this is already six plugins I've listed, but I wanted to mention Polldaddy because it is the default option for creating polls on WordPress.com blogs – and I found it to be very entertaining and feature rich. It's going to cost you a little bit to get the premium version up and running, but I think in the end it is worth it.