As the number of cars on the road increases, so will spending on maintenance, accessories, and automotive parts. In fact, according to the study made by Hedges & Co, US online sales of new auto parts will grow about 16% throughout 2022 and reach $19 billion by that time. That's hardly a surprise, since customers are becoming more comfortable with purchasing auto parts online, and many automotive retailers are getting better at eCommerce.
At the same time, selling automotive parts isn't like selling books or clothes. The automotive industry has unique needs and requirements, so you need an automotive-focused eCommerce solution to help you grow sales and build a successful business.
For one, auto parts customers expect clear information about their part's compatibility before purchasing. Online stores must perform around the clock, provide excellent customer experiences, and be easily discoverable by new users. Automotive businesses need automotive eCommerce solutions that support millions of SKUs, accurate, real-time inventory, and detailed fitment data associated with each and every product.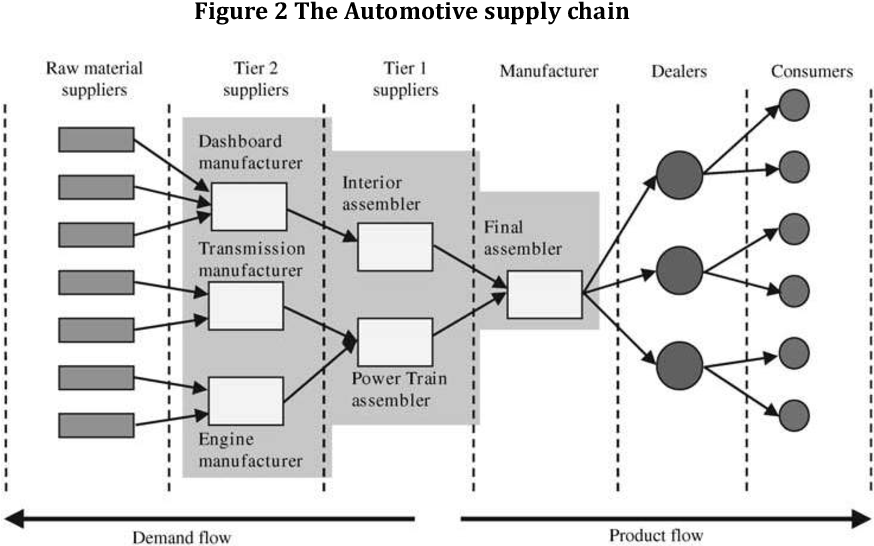 And that's not all. On the back-end, eCommerce solutions must accommodate everyone from suppliers to OEMs, distributors, wholesalers, retailers, and other representatives in the supply chain. An automotive eCommerce platform should appeal to everyone's permissions, access levels, and workflow requirements.
Difference between B2C and B2B automotive eCommerce
There are many differences in how consumers and businesses purchase auto parts. Consumers tend to be more emotionally driven and tend to cross-shop for the best deal out there. Business customers make decisions with the organization in mind, which means involving their stakeholders and making larger orders over an extended period of time.
Parts manufacturers, distributors, retailers, and other B2B automotive businesses tend to underestimate the complexity of their business. This leads to uncertainty around B2B eCommerce platforms and the idea that B2C-focused vendors could work for them. While there are common elements in B2B and B2C eCommerce, such as user-friendliness, omnichannel connectivity, and SEO, that's where the similarities end. Consider your B2B buyer's true needs, which can range from individual self-service portals, stakeholder inclusion, custom pricing, contract negotiation, ordering, invoicing, and payment terms. This will help you choose a platform that's the right fit for your business as well as customers and their business needs.
What automotive B2B eCommerce software features to look for?
Selecting an eCommerce platform for your automotive or auto parts business is not a quick or easy undertaking. Approach your platform selection process with a careful and systematic selection process. Here are some features and capabilities to consider:
User experience
Visitors to your auto parts store expect to find what they came looking for. Ensure their customer experience is seamless, whether they're coming on a phone, desktop, or tablet. Searching should be intuitive whether customers type in a part number, SKU, or description fragment.
Localization
Your auto parts business needs to work on a local, national, or even a global level. Your solution must allow you to launch additional websites, add new languages and selling models such as B2B, B2C, or D2C – the latter of which is proving popular as of late. With online marketplaces like eBay and Amazon gaining popularity, you might even want to build your own online automotive B2B marketplace.
Performance
Automotive suppliers can have large product libraries and SKUs, which can reach into the millions. Your automotive eCommerce system must be able to sustain high traffic loads and host multiple catalogs without causing you any performance issues.
Pricing features
Business buyers have unique pricing, invoicing, terms, and payment requirements. Commercial automotive parts orders can get quite large, so giving customers the ability to negotiate prices, terms, and payment options make it easy to continue doing business with you.
Integration features
Every auto parts business is different. For example, the vast majority of suppliers, distributors, and OEMs require integrations with automotive databases. Your eCommerce platform must integrate with PIM, ERP, CRM, WHM, procurement, and other systems.
Customization
In order to get the most out of your inventory, product, and customer data, you might have to seek out the services of technical consultants or developers. Aside from integrations, a strong back-office and storefront API gives you more flexibility to customize your eCommerce solution to your needs.
Challenges in Automotive eCommerce
Automotive eCommerce is a competitive industry, driven by rising customer expectations, increased competition among players, and the introduction of new fulfillment options such as 3PL and drop shipping. However, the biggest challenges tend to be effective product data and product information management.
Data standardization
The automotive industry's auto care association (ACA) standards have a data standardization system called ACES (aftermarket catalog exchange standard) and PIES (product information exchange standard). These databases help eCommerce businesses effectively manage data from suppliers, receivers, and service providers. While ACES helps standardize product information across suppliers, PIES is about sharing product attributes, delivery, prices, and other information with the supply chain. While these standards sound great in theory, they're often not followed by manufacturers, are used sporadically or outright misused in back-office systems.
This is where a robust B2B eCommerce platform with a well-integrated PIM (product information management) XML connector comes into play. Using Akeneo's PIM connector, companies can pull in automotive data with various attributes including automotive industry standards such as ACEs and PIEs.
Product complexity and fitment
Another challenge for automotive eCommerce businesses is large product catalogs, complex products, as well as dealing with fitment and returns.
Therefore, if you're using a SaaS, B2C, or a platform with poor customization capabilities, it's difficult to do fitment well. A B2B eCommerce platform like OroCommerce comes with many B2B features out of the box that includes near-unlimited ways your storefront can be customized. You can customizable product visibility, offer tiered pricing, as well as display configurable products.
Most importantly, OroCommerce is built on open-source architecture, so you have direct access to the source code and database to fine-tune your libraries. A full library of integrations with the leading ERP, CRM, PIM, WHM, and 3PL systems allows you to maintain visibility into orders and inventory, helping you manage returns in record time.
Examples of Automotive eCommerce websites
TruPar
TruPar is a material handling equipment parts supplier with customers across the US, Canada, Mexico, and Puerto Rico. They chose OroCommerce's B2B eCommerce solution for its robustness, customizable pricing engine, multi-website, and localization features. It effortlessly accommodates TruPar's database of 8 million SKUs as well as dynamic pricing, quantity discounts, and fitment information. Today, Trupar's multiple eCommerce websites sell to 45,000 customers in different countries, languages, and currencies.
PBE Jobbers
PBE Jobbers supplies paints and auto body supplies to wholesalers and retailers. PBE has been serving the eastern and central united states since 1975, and its focus has always been on great customer experiences. OroCommerce's B2B eCommerce platform comes with a built-in CRM, allowing PBE to act on customer friction points and offer better experiences. The mobile-friendly site helps customers quickly place orders, while the platform's flexibility allowed them to introduce a B2B2C selling model for their wholesale customers.
Conclusion
Automotive B2B eCommerce software is heating up, and the eCommerce platform market is responding. As business buyers move online, automotive businesses must leave archaic processes behind and move fast to capitalize on this market's growth. Thankfully, there is specialized B2B eCommerce software out there built specifically for automotive businesses and their customers' needs.
While selecting and setting up an eCommerce software takes some research and commitment, the right solution will eventually get you selling and growing your revenue. Conversely, partnering up with the wrong vendor will cost you time, money, and jeopardize your business's success.
If you haven't yet started, now is a great time to think about your eCommerce strategy. Analyze every automotive B2B ecommerce Software or platform with your automotive needs and customers in mind. Ask the right questions, look for the right features, and you'll soon find an eCommerce solution that will propel your business to success.
Also Read: Top Factors That Influence the Costs of Ecommerce Apps