Many users are curious about Outlook repair (https://outlook.recoverytoolbox.com/repair-outlook/) nuances when something goes wrong with their mailboxes. Since Microsoft has recently released a new Office package named Microsoft 365, users may ponder what possible improvements were made. However, wonder about it no longer. Even though Microsoft has billions, it seems it is not enough. They have released precisely the same software package for a higher price. 
I think you should have some experience with Microsoft Office, right? So, you should know about the inbuilt recovery options of this package, like, Inbox Repair Tool. This application makes some Outlook repair steps when the email client is not openable normally. It was available in the previous versions of Microsoft Office, and I see exactly the same version of the Inbox Repair Tool in Microsoft 365. From my point of view, Microsoft does not have new ideas. At the same time, they are still hungry. They need more and more money. Under existing conditions, they can only issue the same product at a higher price with a different name. So, software developers may be getting some rest, but marketing managers still think about finding more money—and they have found it! Microsoft now distributes software by subscription. Why not? However, there is some good news: if you encounter an email issue in a new Microsoft Outlook version, you know what you should do because Outlook repair options are still the same and well tested by many users. In any case, let me remind you.

How to Restore Outlook by Using the Inbox Repair Tool?
Find the following file: ScanPST.exe; Windows can easily find it. Start the file to open the Inbox Repair Tool. When done, do the steps below:
Click "

Browse

" and select a mailbox of PST format for repair in a popup window

Switch ON the option of backing up processed files before repairing

Click "

Start

" and wait until a current session is finished

Click "

Repair

"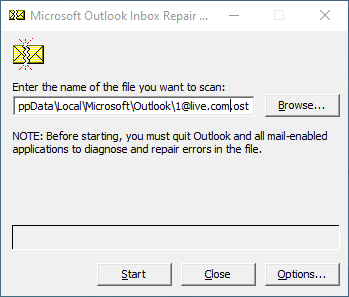 This software provides possibilities of rebuilding corrupted mailboxes of Outlook Microsoft 365 format, but these chances are not as high as you may expect. Microsoft has not improved anything for this tool, so it works like before, i.e., not as efficient as some other third-party tools for Outlook repair. If you do not get good results provided by the Inbox Repair Tool and do not have a backup of Outlook files, let us try another option. Indeed, this one helped me previously.
Evaluating Recovery Toolbox for Outlook
Microsoft Corporation has NOT developed this tool. An independent software developer releases it. However, it sounds strange that other suppliers can offer more efficient Outlook repair algorithms than Microsoft itself. I am not sure why it is so. Maybe Microsoft should take better care of its customers instead of getting more money for the same product? Let us hope they make appropriate conclusions someday.  
Meanwhile, I am going to share my experience regarding Recovery Toolbox for Outlook. In my case, it recovered more data than Inbox Repair Tool; therefore, I do not trust the latest one anymore. For now, let me explain how it works so that you can rebuild Outlook folders without additional explanations and instructions:
Download

Recovery Toolbox for Outlook

from its developer's website

Install this program on any Windows computer

Click its shortcut to start

Choose a PST file to open

Wait for the end of data processing

Evaluate the efficiency of Outlook repair engine

Export data into a new file of PST format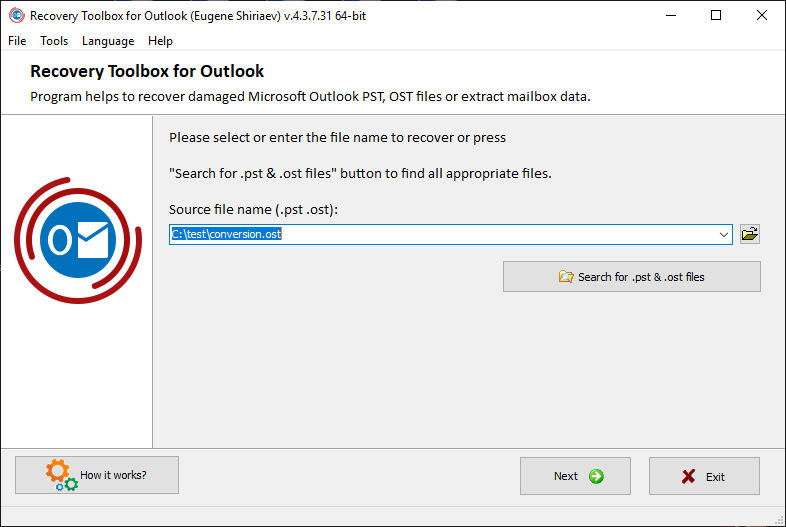 If you have not registered for the program yet, it has some limitations. In particular, the 7th point above is not available until you buy Recovery Toolbox for Outlook. But maybe you do not need such options? In some cases, there is no need to rebuild a whole mailbox. It's enough to open it for preview and make some notes regarding the most important files and contacts. Such an approach allows using the tool for free and for as long as you need it. The usage of the demo version is not limited in time. Just register if you want to enjoy this program without limitations.
Want It Cheaper?
Maybe you do not need a permanent license? When using the online service of Outlook repair, provided by Recovery Toolbox for Outlook, you can experience several advantages. For example, you are not limited by a Windows computer. This service allows uploading files for analysis from any PC, Android tablet, or iOS smartphone. On the one hand, every Outlook repair session provided by this service is paid, but feel free to compare prices. It is much cheaper than a permanent license. What do you think? How often are you going to encounter errors in Outlook Microsoft 365? I do not think too often because, after the first incident, users become more cautious. So, let me explain how to rebuild Outlook email online:
Open this address:

https://outlook.recoverytoolbox.com/online/

Find a file of Outlook format to restore and select it for upload

Provide a valid email address and enter a verification code

Make a payment

Download recovered data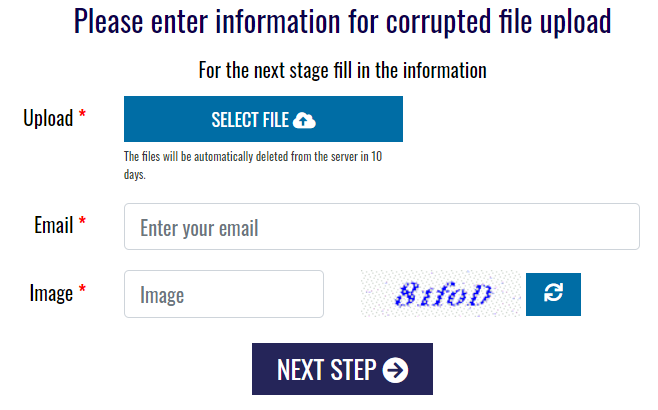 If you have already restored Outlook files with Recovery Toolbox for Outlook, congratulations! Try to avoid similar problems in the future and make sure you have a fresh backup just in case. Backups are easy to create. This procedure can be fully automated using Windows inbuilt administration tools. Remember, it is the only way to guarantee success despite the reason for Outlook email damage.
Conclusion
Microsoft 365 is distributed by subscription, which means users need to pay a certain amount monthly, unlike a one-time fixed payment for a license fee. I do not know which option looks more attractive for you, but subscription options look more expensive if you count money. The only difference is that you do not immediately pay a total sum; that's like a bank loan. There is a small advantage: if you do not need Microsoft 365 anymore, you simply remove it from your PC and cancel all future payments. The sooner you realize this, the less it will cost you. 
Finally, you pay more, but you do NOT get a better service. Their recovery options are always the same, as previously, so think twice before you upgrade.
Also Read: Microsoft Dynamics 365 Business Central!