There are many WordPress hosts that provide WordPress hosting platforms, however, when it comes to simplicity the SeekaPanel offers the easiest & fastest solution. 
With the SeekaHost WordPress hosting control panel, anyone can get online with a self-hosted WordPress site in a matter of minutes. And the best thing is you can host a WordPress site for free with a 7-day trial. If you are happy with the product and hosting after 7 days, then you will have the option to purchase the hosting services of your choice. 
I have personally used many WordPress hosting plans and some of the well-known web hosting brands since starting my blogging career. But I must say I am very impressed with the interface and speed of hosting provided by the SeekaHost WordPress hosting platform. 
What is the SeekaHost WordPress hosting platform?
The SeekaHost WordPress hosting platform is a blog hosting platform that provides everything to create and manage a self-hosted WordPress site. From domain name registration to hosting plans, SEO data trackers, and add-ons, various tools are included and accessible in one dashboard so that everything is available to start building and managing blogs and websites. 
The SeekaPanel was founded by the top digital entrepreneur Fernando Raymond and Yahoo news has mentioned it as the world's first Blog hosting control panel with multiple IP addresses hosting plans. 
Starting a WordPress blog has never been easier with the SeekaHost WordPress hosting. And I see many people have been talking about the platform and are writing about it. 
I am writing this to express my opinion and to promote SeekaHost as an affiliate. However, I truly believe that the SeekaHost WordPress hosting platform is by far the best solution to host WordPress sites and blogs with multiple IP hosting.
I am also an SEO content strategist and have created many private Blogs using the PBN hosting services by SeekaHost since 2018. And since the SeekaHost.app was launched I use the platform to easily host my private blog networks. When it comes to WordPress PBN hosting SeekaHost is unbeatable.  
Now let us look at the SeekaHost WordPress hosting control panel and my honest review about SeekaHost for anyone to start a WordPress blog with the one-click blog set up. 
In this SeekaHost WordPress hosting review, you will find a step-by-step guide on how to start a blog by registering a domain and hosting your site with SeekaHost. 
What you need to know about the SeekaHost WordPress Hosting Control Panel?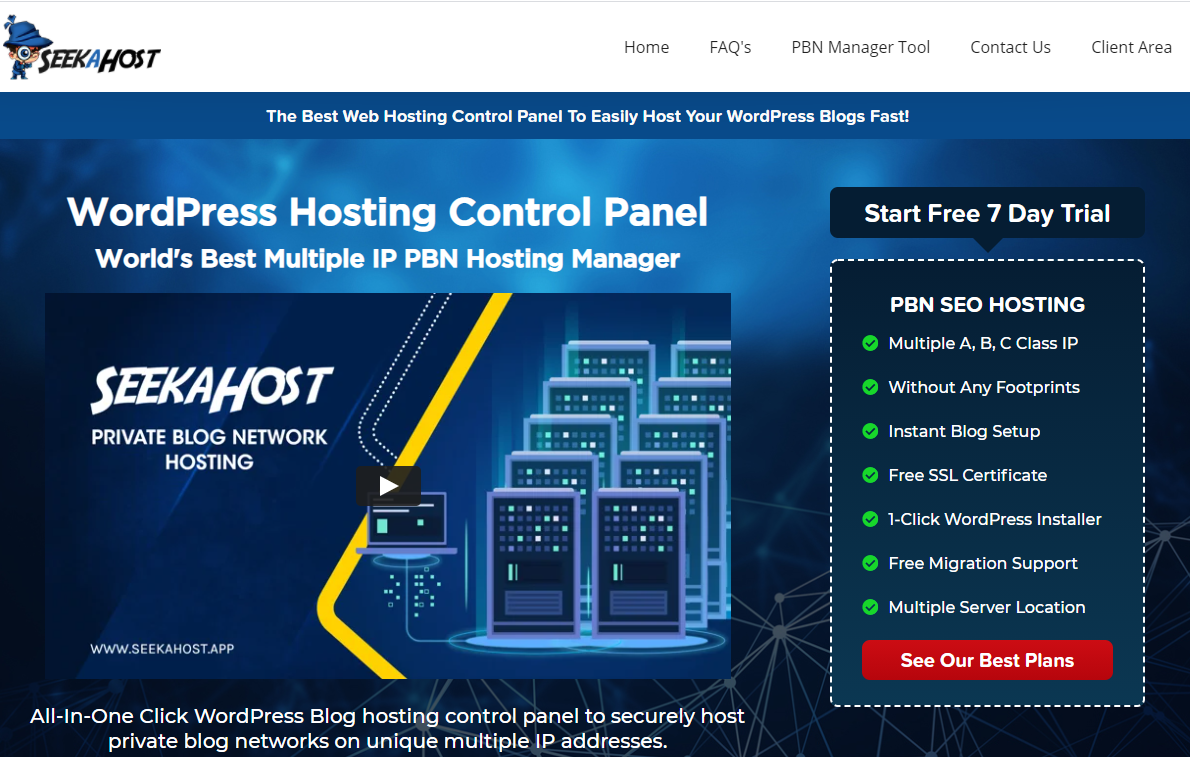 SeekaHost offers leading multiple IP PBN hosting managers with a 1-click WordPress installation to securely host your WordPress blog. It has multiple server locations including the United States, Canada, Germany, Canada, Australia, and Poland. 
So, if you are creating multiple WordPress sites, using multiple IP WordPress hosting has various advantages when it comes to SEO. 
I personally have over 30 websites built on WordPress and for that, I use multiple IP addresses to keep them all under unique IPs. Because I sometimes add links on those sites and cross-link, so I want to ensure that web bots detect them as independent websites. And because I use these sites for guest posting services, I use unique IPs so when SEO consultants look at the IP addresses of the sites they are unique.  
Why Choose the SeekaHost SeekaPanel?
The SeekaHost control panel offers a 1-click solution for starting and setting up a WordPress blog. Here are the top reasons to choose the SeekaPanel:
The servers are DDoS protected to prevent DDoS attacks and keep your site safe & secure.

Regular malware scanning ensures your site is up and running with zero vulnerabilities.

A simple and easy-to-use interface for a 1-click blog setup that saves your time. 

Guaranteed uptime as your site is hosted on a highly secured and fast server.

1-click manual backups that can be downloaded to the local machine.

Enable SSL on your site with one click, just ensure the nameservers have been pointed correctly.

Multiple IP addresses in every corner of the world to host WordPress blogs.

A tracking site feature where you can connect your domain with Google Analytics and Clicky for live analytics data in your SeekaPanel.
SeekaHost WordPress Hosting Review: Pricing and Features
WordPress is the most popular Content Management System that is not only easy to use but also free to use. Starting your WordPress blog with SeekaHost has never been easier with the following affordable hosting plans.
SeekaHost's SeekaPanel WP Hosting offers the latest PHP version for all its WordPress hosting plans. The server-level protection of your website is guaranteed by SeekaHost, but it is your responsibility to protect your site from vulnerabilities.
You can choose SeekaHost WordPress hosting plans with the SeekaPanel, cPanel, or Plesk control panel. The easiest way to launch a WordPress blog is by choosing the SeekaPanel. 
All the SeekaHost WordPress hosting plans will have the following basic and advanced features:
Free 1-click WordPress installer.

Free SSL Certificate

1-Click SSL activation

Free WordPress Migration

Malware Scanning & DDoS Protection

Daily WordPress Backup

Unlimited Tracking Sites
The WordPress support and remote support are not included in the Starter plan but come along with the premium plan.

Choose annual billing so you can save more instead of monthly billing. 
Starter: $1.49/month allows you to host a single website with 2 GB Web Space, 10 GB Data Transfer, and features specified above.
Standard: At just $5.50/month, you can host up to 3 WordPress websites with 15 GB Web Space, 30 GB Data Transfer, and all the features of the starter plan.
Growth: Starting at $8/month, the growth plan allows you to run up to 5 WordPress sites 50 GB Web Space, 50 GB Data Transfer, and all the features of the standard plan. The plan also offers WordPress support.
Premium: The most advanced WordPress hosting plan to run up to 10 WordPress sites is the premium plan. The plan comes with 100 GB Web Space, 100 GB Data Transfer, and all the features of the starter plan. It is the only plan that offers both WordPress and remote support.
How to Start a WordPress Blog with SeekaPanel?
Follow these easy steps to start a WordPress blog with the fast 1-click WordPress installation. Starting any WP blog requires a domain and hosting. Thanks to the SeekaHost affordable domain and WordPress hosting plans, you can get both the services at a cheap price as you will see below. 
Domain Registration
The very first step is to purchase a domain name. For that, visit the SeekaHost website and enter the domain name in the search box.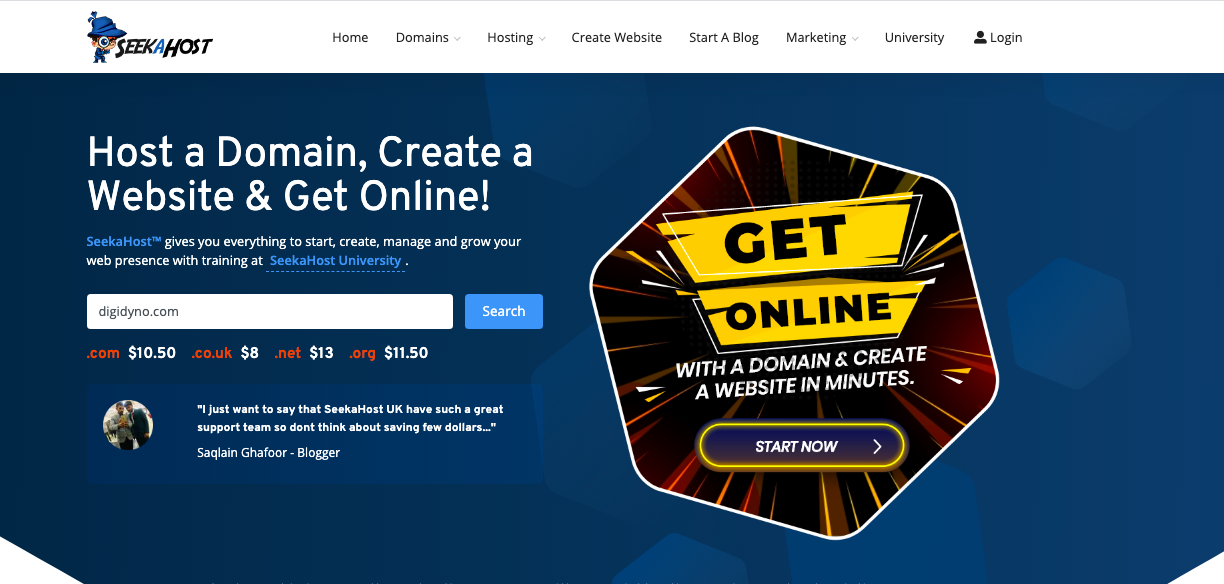 Click on Search, and if the domain is available, proceed with the new account creation. Domain registration at SeekaHost starts at only $10.5 per year. 
Once you have created your account, you can now add DNS management, and email forwarding free addons. 
Next, fill in your details, and choose to pay using USD. By agreeing to the terms and conditions, you can proceed with the final checkout. 
You will get a confirmation email for the domain registration that you should keep for future references. 
WordPress Hosting Plan (Starter)
Again, visit the SeekaHost website by clicking the button below and choose the starter plan that costs $1.49 per month with SeekaPanel. Proceed with the "Buy Now" button and register for the SeekaPanel.
Verify the email and proceed with the hosting subscription.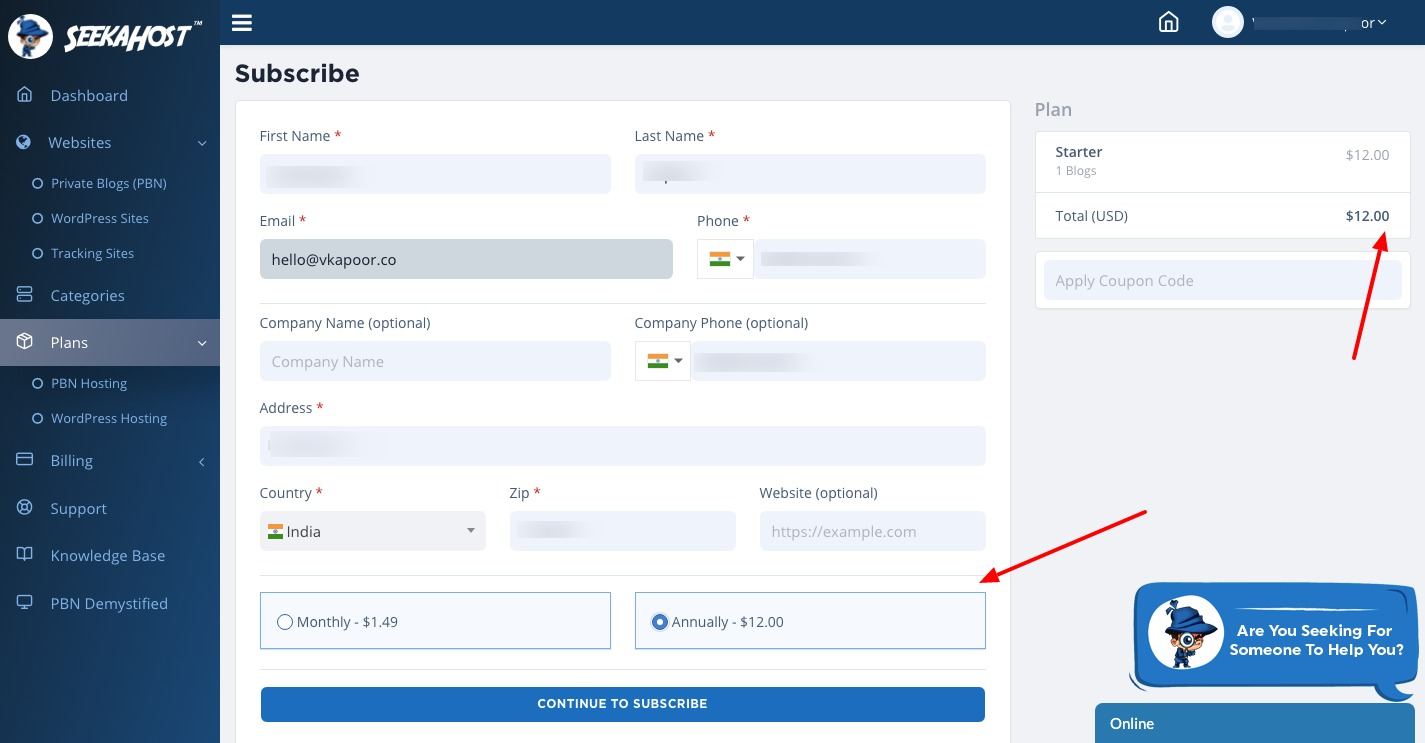 Enter your personal details and instead of the monthly billing, choose to bill annually at $12. Continue to subscribe and proceed with the payment page. 
Create a WordPress Blog

So, now that you have bought a domain and hosting, you need to set up a WordPress blog and you can do it with 1-click in the SeekaPanel. 
Simply click on "create a WP site" and enter your domain name, blog title, and choose the subscription. Click on the "Add WordPress Site" button and your blog will be online in 60 seconds!
There are few more steps to customize your WordPress blog that are important. 
After your blog is shown online, you need to change the nameservers inside the SeekaPanel itself.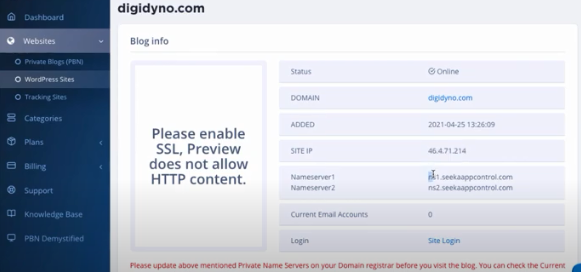 To change the nameservers, copy both the Nameservers, and click on the domain, and then Manage Nameservers. Next, click on "use custom nameservers", and paste both the nameservers.
You can also watch this tutorial for this to make sure you get it right and you can find plenty of tutorials on the SeekaHost YouTube channel: https://youtu.be/mIRX4dAb4lY 
Also Read: 12 Ideas for Improving WordPress Performance
Now your site is live, but don't you want to protect your site with SSL?
SeekaHost offers a free SSL certificate with the fast and easy 1-click SSL installation in the SeekaPanel. 
The screenshot above shows that with a single click, you can activate the SSL on your WP blog with a secure padlock.
Other Features in the SeekaPanel
Your WordPress blog data and content are crucial; hence you should always have a backup in case anything goes wrong. You can take 1-click backups of your entire blog and save them to your local computer. 
To grow your business, you need a business email.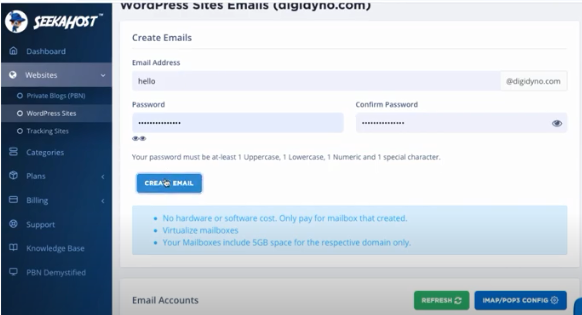 Simply enter an email address and a password and you can create your custom business email and connect with your audiences. When you choose WordPress hosting with SeekaHost, you get a free email account.  
Equally important is the ability to track your website's traffic and analytics data to ensure that your marketing campaigns or SEO are successful. With the tracking sites feature you can view live traffic data through your Google Analytics and Clicky account, so you do not have to switch between several different accounts and you can see how easy it is to set up and use here: https://youtu.be/7NidoPvdG9M.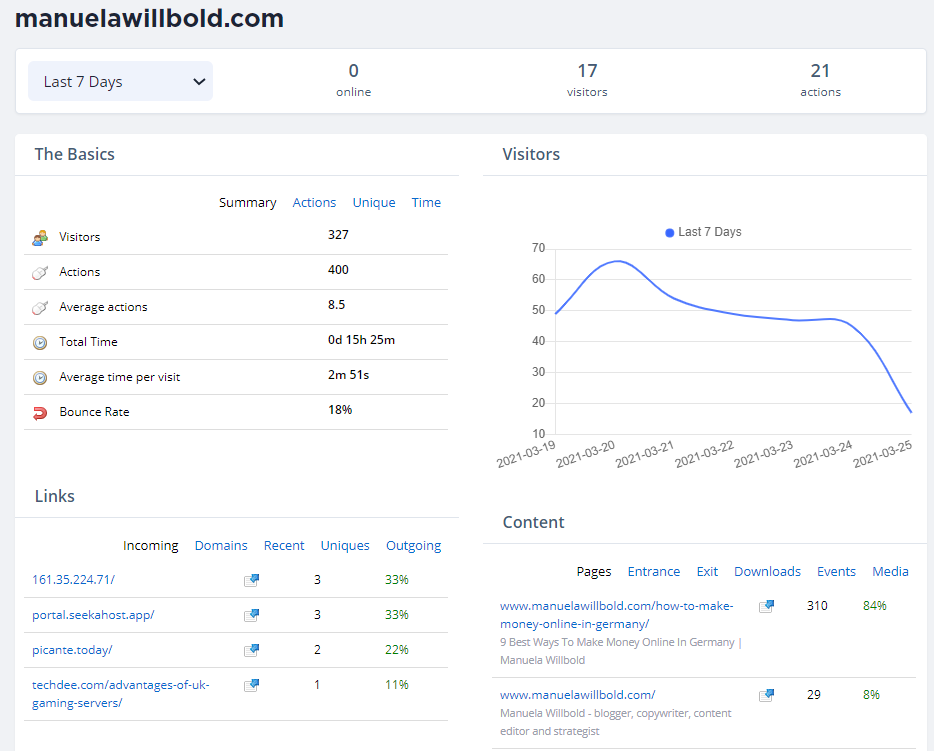 Conclusion: Starting a Blog with SeekaHost WordPress hosting & the SeekaPanel is the easiest and fastest option
I hope that by now you have understood the steps to successfully start a blog with the innovative SeekaPanel and why it will be a huge time saver. 
I think the SeekaPanel is competitively easy to use compared with cPanel or Plesk that offers more complex functionalities, which may suit web developers for example.
What makes SeekaPanel user-friendly is that it is WordPress optimized, hence there are no complexities while you get access to incredibly useful features such as the tracking sites. So, get started with the free trial to convince yourself. 
Happy WordPress blogging with SeekaHost WordPress hosting and the SeekaPanel.
Also Read: Specs of WordPress Development