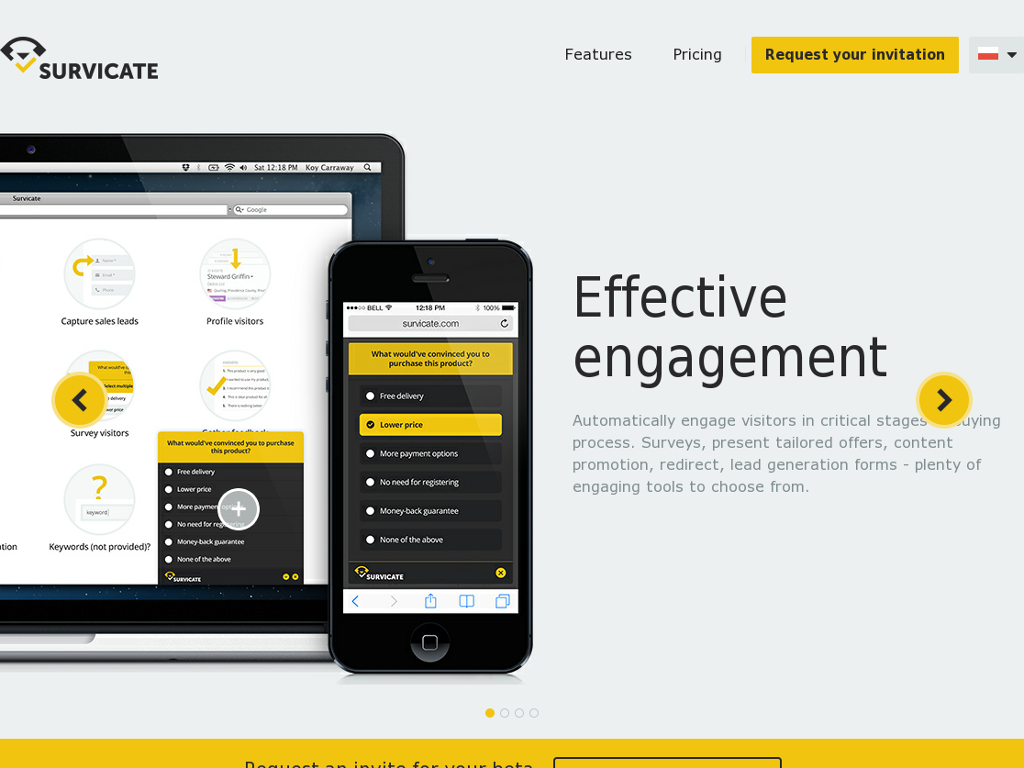 I'm always intrigued and willing to read more about of applications and platforms that can help understand and engage my visitors more. The newest startup on the block – Survicate – is looking to do exactly that; help engage and discover who your visitors really are.
The startup is coming from Poland, but the website is in full English and I'm pretty sure we can expect Survicate to operate globally once it is out of a private beta. You can already head over to the homepage and signup right now to be among the first couple of testers who will get to see the platform live.
The above snapshot shows the many features and tools that Survicate is looking to bring to the market. It's basically a platform that wants to combine a lot of your data in one place, and then try and put it together within one dashboard for easier viewing and understanding. It's not – of course – just about pulling data from sites like Google Analytics, it's a genuine platform for creating surveys to gather real data, as the startups name itself might suggest.
It's going to be very user friendly as we can see from the installation details above. I've snooped around the Survicata website and I was able to learn that the data is going to be collected from:
Survey Widgets
Visitor History
Purchases & Interactions
Other Online Resources (Analytics, etc,.)
I'm not sure if that will also include social media profiles, but we're definitely going to find out sooner or later. I'll be tweeting this out to the team at Survicata, so maybe they'll join us for discussion.
It appears the the team is also focusing on mobile surveys very heavily, and will provide signifact resources for collecting data from mobile users. We all know how big mobile is becoming, and more and more businesses are considering whether they should go mobile or not.
The Pitch?
The whole idea of course is to make it extremely easy and efficient to gather data bout your customers and regular visitors – in order to be able to give them the right products and pages to see. Is there anything like this on the market?