I remember when I didn't plan my content, or didn't have a sense of direction of where my content is headed to. It was a strange time, and ever since I started planning and organizing strategies for my content, I haven't been able to figure out one thing – how I did it without setting myself goals and planning my content ahead?
This blog post is going to feature a total of seven online platforms that offer collaboration tools for content creators, these are some common features:
Calendar based tools
Create project pages
Tract project performance
Schedule content across multiple channels
Distribute and analyze content
Content optimization and audit
I've to say that for many new bloggers, and even small businesses who're not managing thousands of requests per day, this tools might be of no use to them. These content collaboration tools are mostly premium platforms that serve professional brands and businesses that want to expand their content efforts.
They're mostly meant for groups and teams of people who work closely together to produce strategies for their content, and need a compact and reliable place to do it all from. I'm in no way affiliated with any of the platforms in this list. I will accept more suggestions in the comments, and I'll try and add them to the list as soon as I can.

The first platform on the list is Compendium, which was recently acquired by Oracle. Compendium allows you to plan, publish and even track your content, so that it's always performing at the maximum capacity. You can track each piece individually, and then build new pieces of content based on the statistics you've gathered.
http://www.youtube.com/watch?v=skauJ0LzStQ
Compendium will help you create and promote content that's not only engaging, but will also help you drive more sales. Big clients include companies like
ExactTarget
.

Divvy is a editorial calendar platform that has been designed to help content marketing specialists, producers and experts to create and produce effective content. Divvy takes away all of the hustle from having to plan and think how to produce the content, and offers tools do it for you in a seamless and quick way. You can manage, schedule, publish and even promote your content. Divvy is made for teams that need a simple platform for managing and editing content strategies, for a reasonable price.
http://www.youtube.com/watch?v=h8vhu2ILveM
If you're like me, you will often get inspired for something new, but you've already got plans in place, so that something new needs to sit somewhere until you can get to it, Divvy helps to solve this problem by offering a panel in the dashboard for saving all of your ideas, which you can access whenever you like.

This platform is really easy to use, and is perfect for smaller teams that work on a budget, even freelancers who work with multiple clients and only need one administrator account will find this useful. It's incredibly easy to understand and get used to, and will greatly increase the combined team effort when it comes to producing great content. You can see that in the video as well.
You're provided with great support, hourly backups of your content and the ability to export your content whenever you like. The yearly plan has an advantage of giving you two months for free, but subscription modes are also available.

This is absolutely the best choice if you want something free, secure and reliable all in one small package. It will come at the price that you've got to crate your own spreadsheets and files for your team to collaborate from. Google Drive offers a ton of ways for making collaboration work, by allowing to store and share files with your team members instantly.

Kapost is a platform built for content marketing experts that want to manage their efforts from a sophisticated and feature rich dashboard, that's also easy to use and understand. It's heavily focused around bringing marketing specialists the results they need, in order to drive more sales and have more happy customers.
http://www.youtube.com/watch?v=–9SGb44ahQ
The main areas that Kapost is focused on are:
Organization
Strategy
All-in-One
Marketing Automation
Analytics
Workflow
Distribution
You can read more about each here. Kapost is being used by some high quality clients and publishers all around the world, and it's definitely worth checking out if you manage a large-scale website that needs a platform for managing and operating its content on a professional level.

This is an amazing platform for companies that need a tool for managing their day to day workflow. from anywhere and on any type of device. SocialCast allows your company members to come together and work on projects, and anything else for that matter – in real time, with hardly any limitations on the format of the work that can be done within the dashboard.
I was gonna give you a simple demo video, but this one is a guide and takes you through the process of how SocialCast works. The team behind this platform are always updating their software and capabilities, so check out the recent
January update
to see what's new.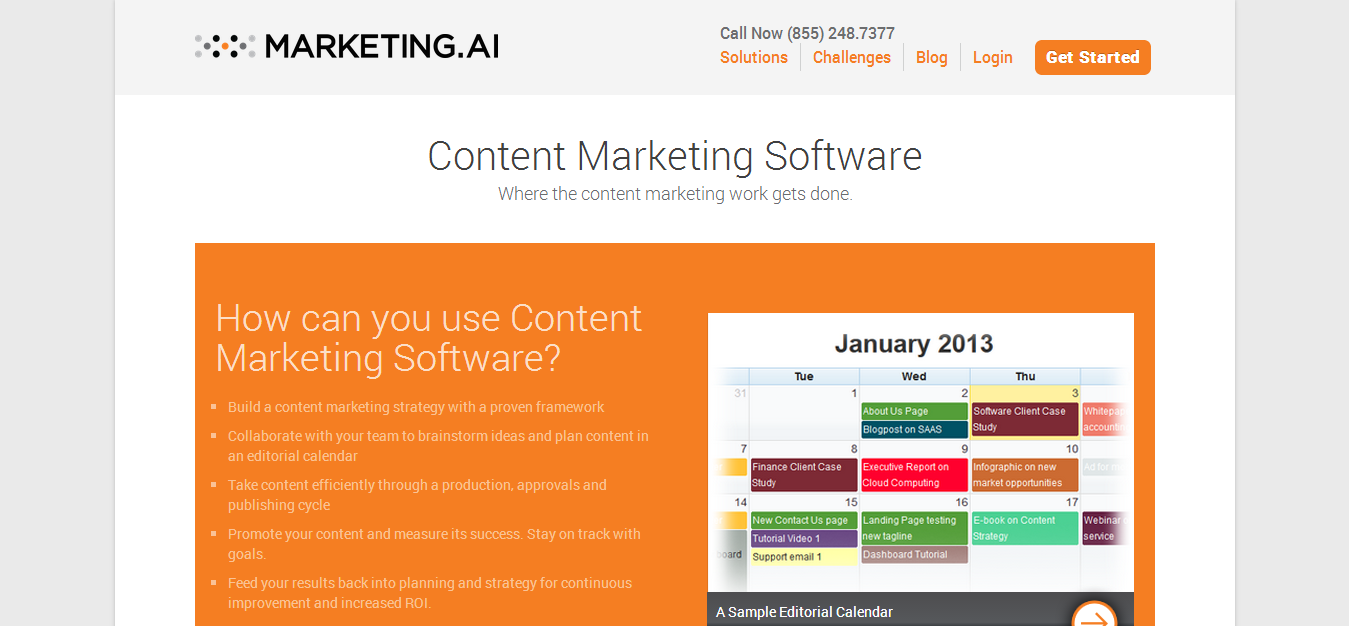 This is a content marketing framework that will help with creating specific strategies, allow you to collaborate with your team members with an easy to use dashboard. It will enable for marketing specialists and managers to review, edit and reorganize content so it's always at it's best quality. It offers integration with most of the well-known online platforms like WordPress, HubSpot and LinkedIn – among many others.
Planing Your Content Marketing Strategies With Your Team
I think this is more than enough platforms and frameworks to choose from. Almost all of them will allow you to test the software before you actually buy it, or consider doing so. There are also a few that are very beginner and freelance friendly that might help individuals enhance their content marketing efforts.
Are you using any of these tools from the list? Have they been helping you produce better content and increase sales ratio? I'm listening!
[ photo:
Incase
]