Website accessibility has been a topic that has been ignored more often than not. This is probably because of the misconceptions that prevail around the topic. 
No, website accessibility is not just for large organizations. And if you think that your business website's accessibility is on point, then think again.
A report by 3PlayMedia reveals that in the year 2019, one ADA lawsuit was filed every working hour!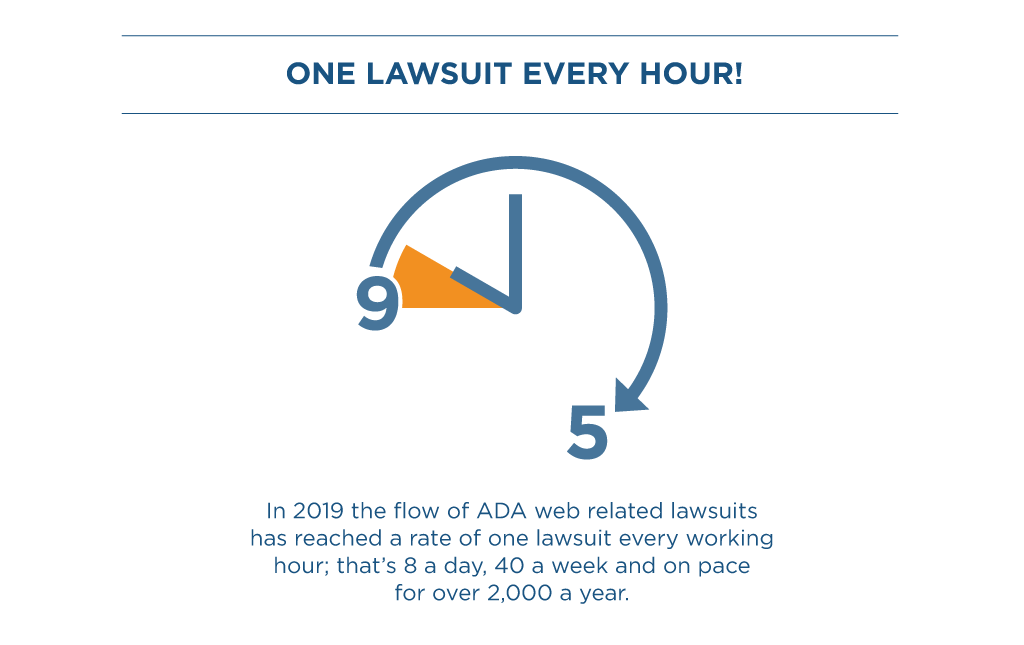 Ignoring your business website's accessibility is not the wisest thing to do. Not only does it affect the User Experience (UX) of your website, but it also puts you at the risk of expensive ADA lawsuits.
If you're wondering how you can ensure the accessibility of your site, you can use this guide as a reference. Let's dive deep into the strategies that can help you improve the accessibility of your business website.
What is Website Accessibility and What Does ADA Compliance Mean?
ADA stands for Americans with Disabilities Act that was signed in 1990. This act ensures that people with disabilities should have rights to access and civil rights. Website accessibility comes as a part of ADA compliance.
But what does accessibility mean for your business website? It means that people with disabilities such as visual impairments, cognitive disabilities, hearing impairments, psychological disabilities, etc., are able to access all the features and content of your website.
According to CDC, one in every four people in America are disabled in some way. Such people may often need help from assistive devices or applications to access your website. You must make sure that your business website is accessible by these devices or applications.
The Website Content Accessibility Guidelines give us an in-depth overview of how you can go about ensuring the accessibility of your business website and remain compliant with ADA at all times.
Steps to Improve the Accessibility of your Business Website
In this section, let's talk about the steps you can take to right now to start fixing your website accessibility.
1. Understand the WCAG
WCAG, as discussed in the previous section, are guidelines provided by the World Wide Web Consortium to help you understand the various factors that you need to consider while working on your website accessibility. 
WCAG is an in-depth document that clarifies all the misconceptions you might have about website accessibility. Many business owners think accessibility is only about adding image alt tags and bigger fonts. But there's much more to it.
As a first step, you and your employees can go through the guidelines to understand all about website accessibility. You will get some eye-opening information that will help you get through the process better.
Also Read: accessiBe – AI-powered web accessibility tool for all websites
2. Audit your Current Business Website for Accessibility Issues
Once you understand what website accessibility is all about, you can start with an audit of your current business website. You can hire a website accessibility specialist to go through your website manually. Or, you can also take the help of an audit tool.
This step will help you understand where you stand regarding your website's accessibility and the major concern areas. 
3. Work on your Business Website Accessibility
Once you're done with your accessibility audit, you can start implementing the strategies. Many business owners take the help of UI/UX designers to work on their website accessibility. Though this may seem like a budget-friendly solution, it may cost you later.
Just like other areas of business, accessibility also needs specialists to make sure that everything is on point. Even one small setback or mistake can cost you thousands of dollars. So, it is better to hire or outsource your website accessibility to specialists.
Here are a few pointers to consider when fixing your business website's accessibility:
i. Navigation
People with cognitive disabilities might find it difficult to go through any website's navigation which is one of the most important parts that will help the visitors go through your site. So, ensure that your elements such as breadcrumbs, sitemap, search bar, and descriptions help visitors with navigation.
ii. Forms
Filling forms may be one of the primary tasks that visitors have to perform on your website. You should ensure that your forms are easy to understand, readable, and descriptive for users with disabilities.
iii. Images
People with visual impairments understand your website's images and other visual elements with alt tags' help. The absence of alt tags or even alt tags that do not describe the actual image should be replaced with more descriptive ones.
iv. Font Size and Style
Controls to increase the font size and line spacing should be provided to ensure that people with visual disabilities are able to read your website content with ease.
v. Page Structure
Ensure that your web pages are structured well with the help of titles, headings, subheadings, paragraphs, bullet points, numbered lists, etc., to help users go through your pages using assistive devices.
vi. Keyboard and Mouse Usage
Individuals with motor or visual disabilities may not be able to use keyboards and mouses as we do. So you should take steps to reduce the amount of scrolling needed, add prominent mouse hover and keyboard focus functions, and make your forms accessible using keyboards as well.
vii. CAPTCHAs
CAPTCHAs can be extremely challenging for people with disabilities. Hence, you should try to avoid CAPTCHAs on your business website as much as possible. You can opt for other easier alternatives.
viii. Links
Links are another important element to focus on while working on your website's accessibility. Make sure that your website links are prominent and easily distinguishable. Add descriptive anchor texts for all the internal and external links on your website.
ix. Content
Lastly, your website content should also be easily understandable by your visitors. Adding technical jargon or complicated words will make it difficult for users with disabilities to understand your website content and reduce the UX. So, definitely work on your website's content.
4. Invest in an Automated Web Accessibility Solution
The problem with any manual process is the risk of manual errors creeping in, no matter how diligent you are with the process. The same goes for website accessibility as well. Manually auditing your website and fixing the issues may not be a long-term solution.
Moreover, you probably will keep adding new pages to your website. So, fixing accessibility for every new page and also maintaining it for the existing pages may not be the most feasible solution.
You can opt for an automated web accessibility solution. Such tools frequently audit your website for accessibility and automatically keep fixing them. So, you can rest assured that expensive ADA lawsuits aren't coming your way.
5. Encourage the Culture of Inclusivity in your Organization
Finally, as a leader, you must encourage a culture of inclusivity and accessibility in your organization. When you educate and encourage inclusivity, accessibility will seem like a part of the process and not like a pain point that you need to address.
Final Thoughts
Website accessibility, as fundamental as it may sound, is often ignored by many small and even large businesses. This is appalling considering the number of people with disabilities amongst us and the struggle they have to go through to access your website.
So, start implementing these steps right away if you've not done so already. You'll notice more visitors to your website, an increase in brand awareness, good PR, and an overall increase in the profitability of your business. 
Also Read: 5 Common Accessibility Mistakes Website Designers Must Avoid