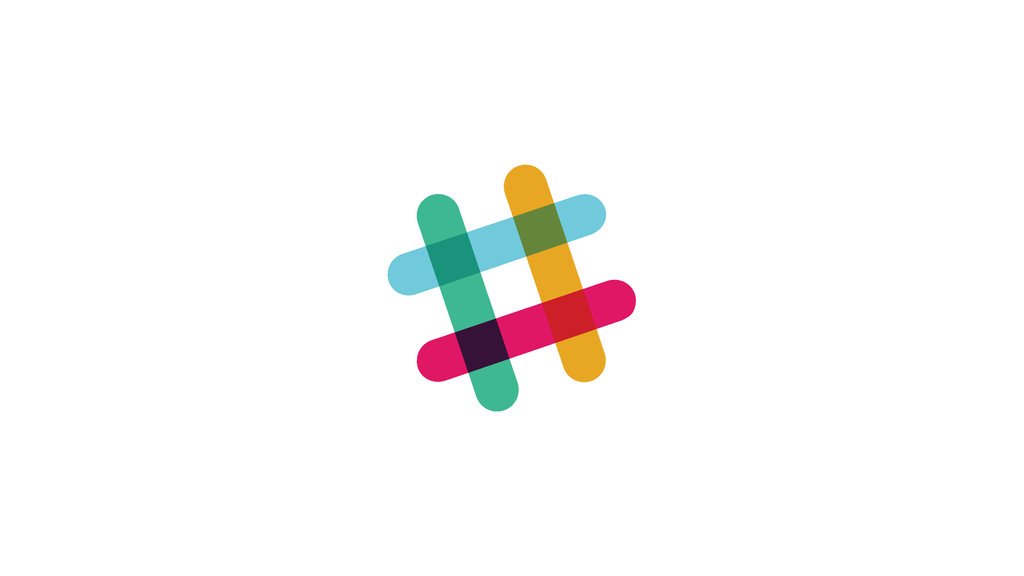 Slack is without question one of the most quickly evolving startups to enter the technology sector in the recent years, it's also one of the most community oriented startups, despite the fact that it mostly works as an closed medium for teams of people to communicate over. Communication in developer community is everything.
Being valued at $2.8B is not a small feat, and is something that every single startups dreams about of achieving when they enter the game, but really — how many of those startups get past even a tiny fraction of such revenue numbers? Andrew Wilkinson recently published a post on Medium; discussing the success of Slack, and what exactly is the secret ingredient behind such growth and community receptivity. You can do it too!
We've listed Slack as one of the best instant messaging apps for programmers, and we've also recently featured it in our post about the must have Apple Watch apps to install as a new owner of the newest Apple device. But, Slack has many other uses, hundreds if not thousands of them, and for that reason alone — a lot of people have taken it to create a side business based on the Slack platform. Lets have a look at some of them, perhaps you find something that can enrich your creative work experience.

Are you tired of your default Slack theme setup? Did you know that you can customize it to your own liking? Well, actually you don't have to, since someone else has already done it for you. Slack Themes is a great resource to quickly find a style that you feel comfortable having for at least some time. Dark over white and vice versa.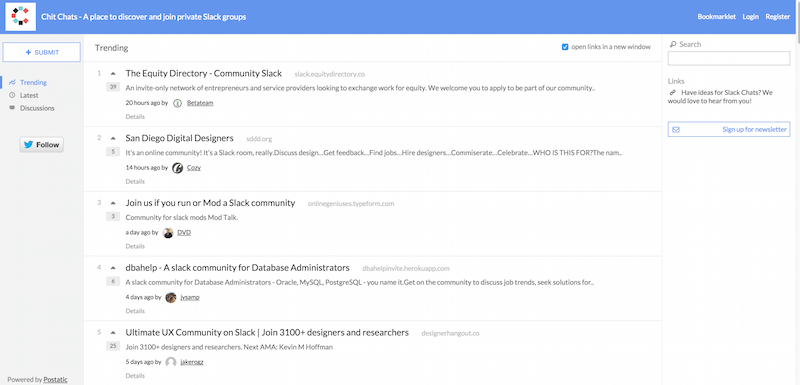 Slack can be more than just a pure work oriented chatting platform, it also offers public and private groups that you can take part in. Chit Chats website allows other Slack users to submit their groups for consideration by other Slack users, you never know where the next big idea is going to come from, possible from one of these communities.

Very similar to the website above, with the exception that these groups seem to be listed on closed basis, although is nicely listed by their appropriate categories. Again, if you're into Slack groups, it always helps to find out something new to be a part of.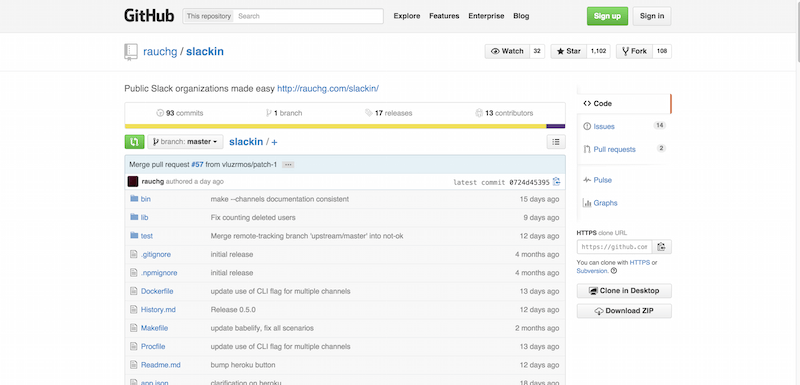 A little server that enables public access to a Slack server. Like Freenode, but on Slack.
It provides:
A landing page you can point users to fill in their emails and receive an invite (http://slack.yourdomain.com)
An <iframe> badge to embed on any website that shows connected users in realtime with socket.io.
A SVG badge that works well from static mediums (like GitHub README pages)
Read more about the motivations and history behind Slackin.

How many times have you seen the movie The Office? I'd say a few times, at the very least. I think across the developer community it is a fairly well received and popular movie. Slacker is just a tiny application that allows you to use some of your favorite movie and cartoon characters to reply to your peers on Slack, and also HipChat if you happen to use it. A bit of fun to the daily work routine is always welcome.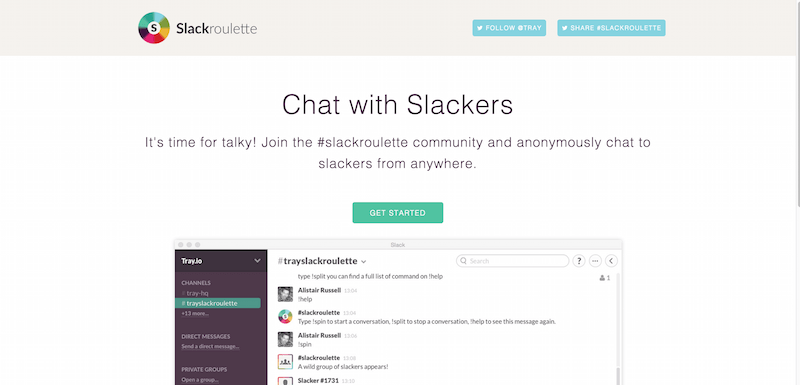 Luckily, the only penises you're going to see from this roulette are the ones created in ASCII. It's a fairly straightforward idea, you can use Slackroulette to randomly connect with other Slack users and have a chat, and then see what comes out of it. Chances are you both will already have the similar mind traits necessary for a good conversation.

Slack.Pipe allows you to create custom bots from any API. These bots will send you a customizable message in Slack when an event you choose is triggered.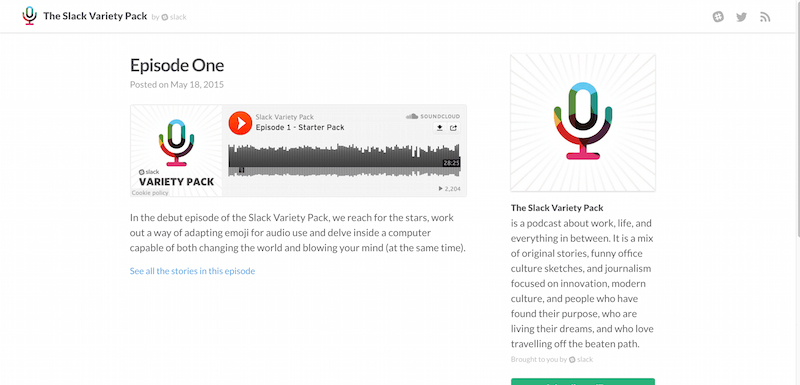 As it turns out, the people behind Slack want to evolve and be a bigger part of the community than they already are, and as of yesterday — the official Slack podcast was launched, with one episode already available to listen to. The podcast is basically about everything life, work and fun — should we expect interviews and other stuff in the future, only time will tell.

Are you highly conscious of your latest stats that your apps are outputting, do you always find yourself wanting to be above the bar and know all that is happening? Well, now you can use Slack and have some of that crucial data pushed to your chat straight from the steaming pipes! Great integration for anyone seeking to be aware of their latest performance of the product.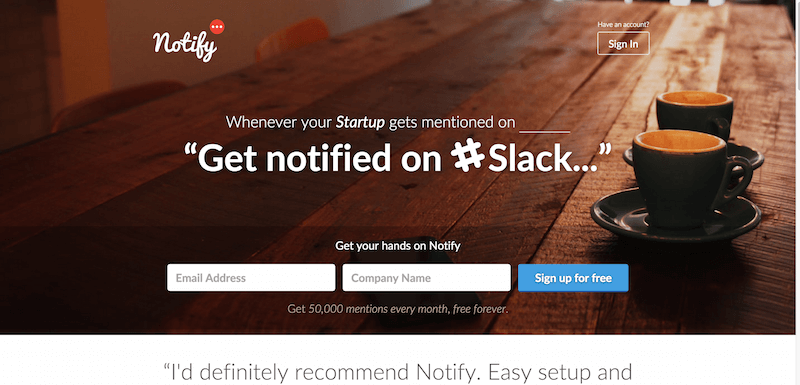 Whether your startup is mentioned in a Vine video, on YouTube, across Google+ or the more mainstream social networks, it doesn't matter; Notify can tailor all that data together for you, and let you know whenever someone new is writing, sharing or telling about your company online. It's such a seamless integration, it almost becomes essential to have it. Saves you money, and a lot of time as well.
Slack Apps & Products for an Optimized Experience
It has been fun putting these together, I've certainly come across some new exciting Slack apps and products to try out myself, but there is definitely a solid trend setting here — Slack is becoming more of a decentralized solution for doing all your work tasks in a single place, at least to a certain extent.