A few days ago I wrote an article that discussed how to earn more money online as a designer, it seems that a lot of people are agreeing with the points I listed here, and I think it also falls under the whole freelance category, so today we're looking at how to maintain our energy levels and how to stay productive even when work starts to pile up.
If we look at recent freelancer worker statistics, there is no shortage of people who prefer to work on their own terms, but working from home or from a cafe — it isn't always the most productive choice, and can quickly become somewhat of an obstacle to getting into the flow of work as you would by working for someone else, in an office.
Freelancing is a constant battle between your inner self and the fight to stick to your resolutions. No matter what you are doing — programming, writing, or anything else — you encounter resistance. Internally you might be tempted to watch TV, text a message, take a nap or any other thing besides what you should be doing. Trevor Dobrygoski
I'm going to list five easy to use and easy to apply tools that have helped myself, and countless others, to counter distraction, to limit confusion, and certainly to increase the amount of work that gets done. Due to the nature of the post, you're highly encouraged to share your own repertoire of tools in the comment section, and will do my best to update the post as frequently as possible.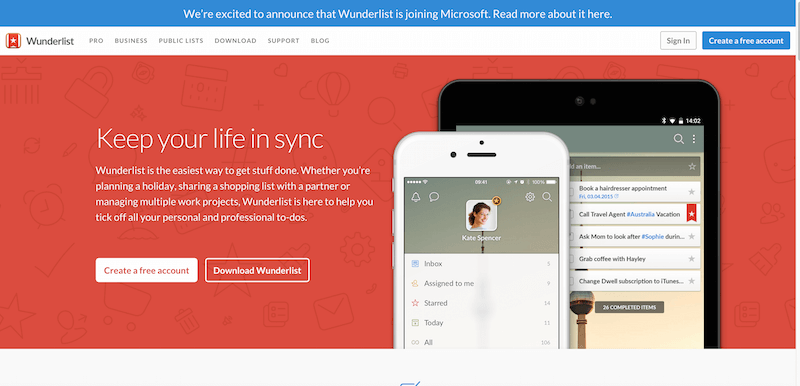 The recently acquired Wunderlist is arguably one of the nicest/best productivity and to-do list apps in the world, the community has grown exponentially over the years, and the interest of Microsoft to acquire this app goes to show the potential behind it. For a freelancer, it's important to have a reliable source of creating to-do lists and taking notes in similar fashion. Wunderlist works beautifully on both mobile and desktop computers, so it's easy to bring it with you anywhere.
Explore: 16 To-Do List Managers as Open-Source Web Apps

What is a to-do list if we can't find our focus to do things, right? focus booster was built with one purpose only, to help individuals overcome the constant distractions that a technological job can bring. Learn to stay focused by taking well-timed breaks, see where your time gets spent and how you could improve your overall performance, it's the best janitor-type application that can have for ourselves in order to keep us in check.

In freelance field, communication is everything, well — after we learn to focus properly that is. Skype is an amazing application that also works on mobile and desktop pc's, it is easy to bring it with you anywhere, and most of your clients will already have it installed. It allows video calls, sound calls, the transfer of files, and instant chat communication — everything you need to feel right there with the client. Besides, it's all free.
If you find yourself working strictly in the technological/developer fields, Slack is another solution to find work and potential clients from startups, online businesses and individual developers/designers.

As a freelancer, you want to keep your ideas fresh, and the mind clean and empty, to be ready for whatever comes next. Brainstorming is one of the best ways of unloading all that inspiration, creativity and knowledge that you've got hiding up there. We wrote of mind mapping tools in the past, and it turned out as successful roundup, so for today's choice of mind mapping / brainstorming tool we're going to chose XMind.
XMind is both a product and an open source project released on November, 2008. XMind's mission statement is to create, as a community, the leading international mind mapping and brainstorming software that will run on all major platforms and raise users' work efficiency. The XMind open source project is sponsored by XMind Ltd, which is the primary contributor of code to the project. Developers are welcome to work with the XMind project code to improve the overall product, develop new functions, or augment other software products.

And last but not least, we need a place where to store all of our data about our clients, our work and our inspiration, anything for that matter. Dropbox is brilliant cloud storage solution to keep your stuff secure, fast to access, and always at your disposal. Easy to organize, easy to use, fun to work with.
Conclusion: –
Staying busy and staying productive as a freelancer can prove to be quite a difficult thing to fulfill, this is why we need to make sure that we're always set and ready to go when the time comes to work with a new client, or on a new project. To have tools such as these at our disposal, means that we're able to keep up with the demand without wasting time elsewhere.