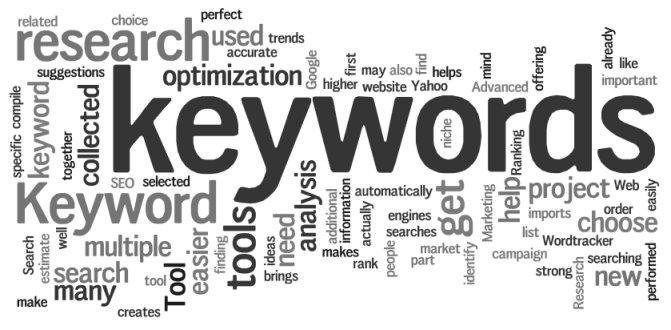 Keyword density is very easy to define, it's the term for how many numbers a given phrase – in this case, a keyword – appears on a single page. In the past, you would see a ton of webpages on the internet, stuffing the same keyword in any possible direction, in the hope of a better Google ranking. I'd like to have you watch this video first, to gain better understanding of the subject.
We can learn that it's not that difficult to understanding the basis of keyword density, and how it can affect us if we try to use it in the wrong way. I've played around with black-hat techniques in my time, and while they were letting me earn good money – I settled for white-hat, as I think that writing for the user – You – is much more easy and rewarding.
I think there are better ways to improve your websites traffic, instead of publishing one article with the same keyword appearing fifty times in a row, try publishing five articles; with the keyword appearing only ten times in each. I think you'll be able to see the difference in both rankings, and user engagement almost instantly.
It can save you a bit of time, to use a keyword density tool that's freely available on the web. I've put together a list of six keyword density tools that I think will be enough to last you for several years to come. They're nothing more than just simple scripts, checking how many times the given keyword is mentioned within a page. It can also be used to scout competitor pages, just a tiny tip.
Free Keyword Density Analyzer Tool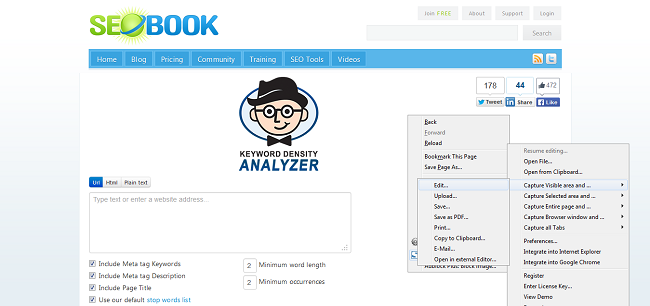 SEOBook is quite trusted around the web, and so you can definitely trust the results this tool will provide. There's a huge description for it, written below the tool – but I can tell you that it's completely useless, and you can just load up your pages and start checking them. I think the benefit of this tool is that it allows to copy paste simple HTML or TXT pages for checking.
Page Analyzer

This one's very sophisticated, and offers a wide variety of options that might be appealing to advanced SEO's. It's beginner friendly, so don't worry about having to undergo a learning curve. You can select the 'Report Options' to gain some extra functionality on the reports the tool is able to generate.
Keyword Density Tool

SEOCentro is hooking us up with a really use to use tool, that serves the perfect purpose. You can load up any page you like, and you'll get a nice output of the total number of keywords on the page, as well as how many times each one has been used. I really like the speed of this tool, it's fast and does the job well.
Read: Top 5 Tools to Find & Analyze The Best Twitter Hashtags
Advanced Keyword Density Analyzer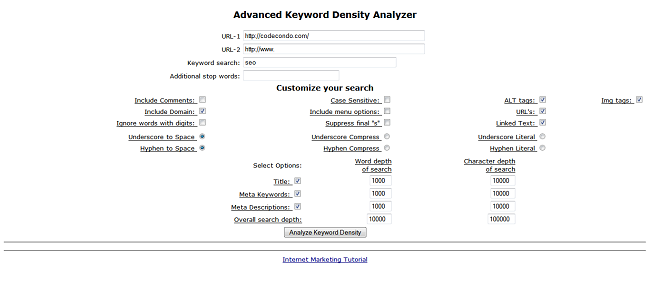 This one will probably take a while for beginners to understand, so I'd skip it if I wasn't sure how it all works. It does offer some great percentage reporting, that can be used for creating reports and similar type of documents. Worth looking into.
Keyword Density Checker – Keyword Cloud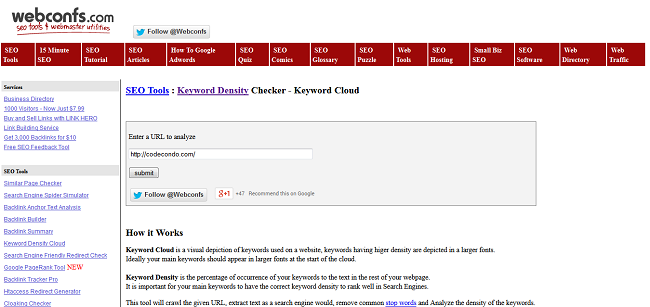 Great little tool, provides a simple function to scan a webpage and then returns all of the keywords on the page in a single cloud. I can actually imagine different uses for this one, but it's nonetheless useful and worth remembering in case any of the above tools go down.
SEO-Tool – Keyword Density Checker for WordPress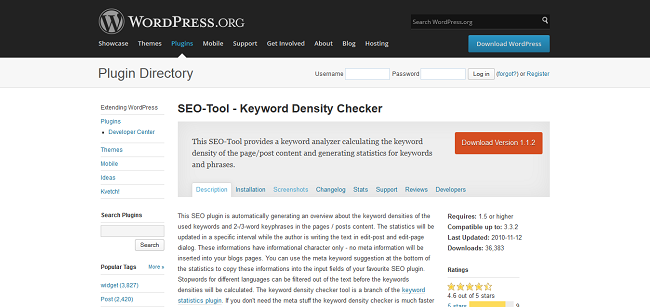 The last tool on our list is a WordPress plugin, extra helpful if you always want to be able to analyze your pages directly from your dashboard. It hasn't been updated in a long time, but it seems that it's working perfectly for the newer versions of WordPress, and I'm sure someone will make a new one in case this stops working.
Conclusion
I think that's a wrap for our list of tools, all of which are free and ready to use. I welcome more additions to this list, and especially those that provide extra functionality, and reporting styles. It's easier to just have everything available to us from within one place, than to shuffle through multiple sources all the time.
Are you a user of any of these tools in the list? I'd love to hear feedback.
photo by performancing