Whether you've moved to a new city to live in, or you've decided to travel around unexplored areas, it's always nice to know about the essential to-do stuff around the place you're located in. These days, we have the luxury of mobile phones and mobile applications that allow us to tap in an infinite potential of ideas and recommendations from both the people who live in those areas, and also the businesses that work in those areas.
You might have friends who are knowledgable, but chances are they're not always going to be around with you, and many places have some previously unknown and exciting areas that everyone should visit at least once. If you're unsure what to do near the place you're currently living in, the following apps (for both iOS and Android) are built specifically to help people find entertainment, food and excitement within a few taps on your touchscreen.
Apps for Android
First we're looking at apps for the Android operating system, if you're an owner of an Android smartphone, these are the apps you can install right away at zero cost. Please recommend the ones you are using yourself in the comments, thanks!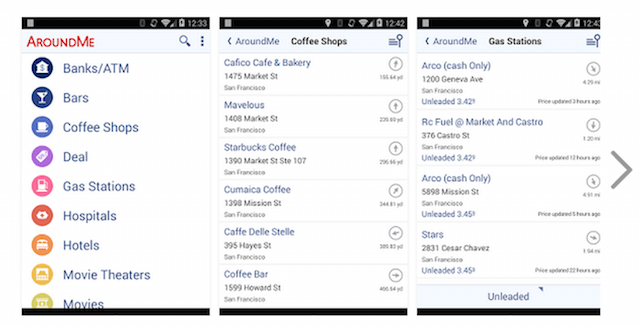 The AroundMe app is like having a personal city guide in your pocket, you can find things like the location of the bank, hospital and nearest supermarket within a few taps. If you're in the city for entertainment, you will also be able to find locations of the coolest bars, restaurants and theaters that should sufficiently cater to your entertainment requirements. Easy to use, and great reviews.

Places Near Me is a navigation tool designed for helping people when traveling around the world to different cities and towns. It's an easy to use app that will display the nearest places based on the category of choice, and the location you're currently in.
Some of the most exciting features are:
It's a worldwide application so you can use it wherever you like.
The quick search menus enables you to find restaurants, bars, ands hops within seconds.
Get directions through maps.
Business details for each specific location.
Save your favorite places in one page.
definitely a very insightful app that will leave you with plenty of stuff to do.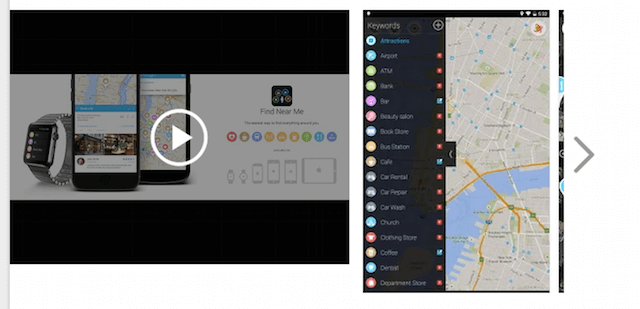 Find Near Me is most likely the most sophisticated of the apps on our list, not only can it search for all the things we've mentioned already in the above apps, it's optimized so that you can also find things like hair salons, wi-fi hotspots, dentist, car rentals, and even the nearest churches. It's very customizable and you can create a sort of a mini-map for each city and town you visit which makes for a great experience.

Everyone knows about Eventbrite, and if you don't — you've been missing out big time. Eventbrite is an events website that event creators can use to advertise and host events all around the world. By using the Eventbrite's application you're enabling yourself to gain access to the local shows and events and you can even purchase tickets straight from within the application. Check if there are festivals, conferences or concerts going on around your area, you can even search for events that are free to attend. All from within your exclusive app.
The list of features is simply too big to list here, but check out the official app page to see all the insanely useful features that you will gain access to after installing this bad boy.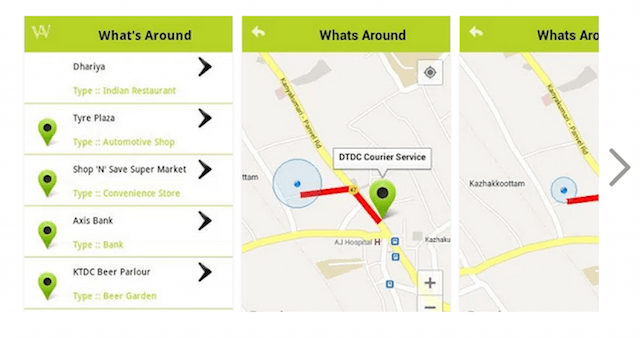 The What's Around Me is a simple app that helps you find things like local bus stations, train stations, and nearest refreshment stores to keep you dehydrated. Get easy directions from one location to the next.
Apps for iOS
If you are an Apple iPhone user, no need to worry — this mobile operating system has also got plenty of apps that serve the same purpose, not all are from the same provider, but some are. Lets take a look.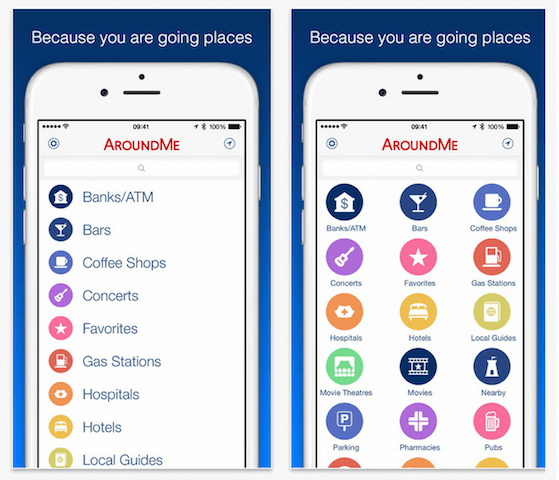 We've already got AroundMe for Android listed, so you can scroll back up to the top and check out what kind of features this location app provides. It has got more than 100,000 ratings on the Apple Store, so I'm pretty sure that this app kicks some serious butt!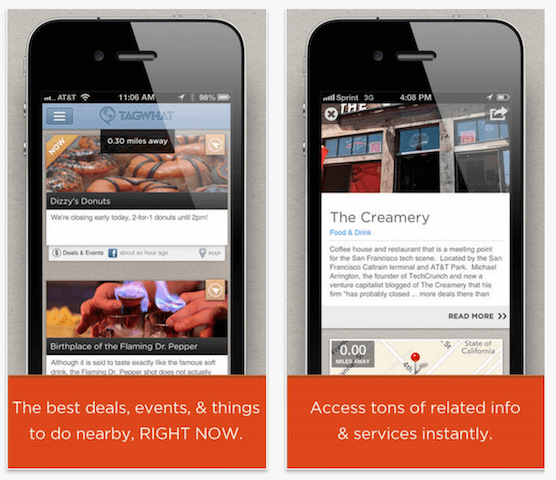 Tagwhat is a new and exciting location app that helps you find the absolute best places nearby. You can use it to locate deals, events or simply stuff to do. It lets you locate the nearest deals for restaurants, bars and supermarkets not only to give you the best options, but also to help you save money along the way. It will even alarm you when you're passing a famous movie action scene so that you can immerse yourself in the experience.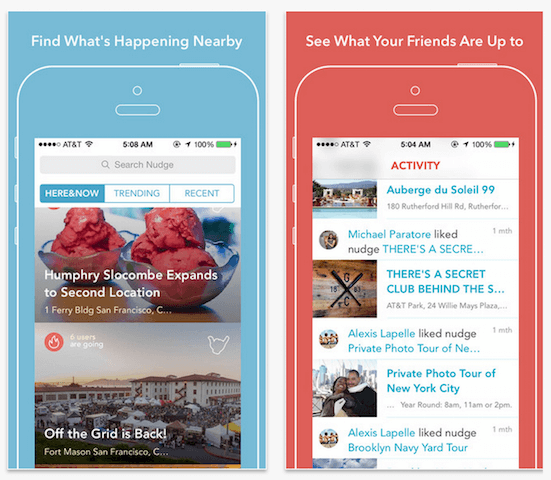 The only trouble with Nudge is that it doesn't really work all over the world, but it certainly is getting there. It's available in the US and the UK and more cities and countries are being added on frequent basis. Please check the official app description page to learn about the countries that you can use this app in. Nudge helps you find sporting activities such as swimming pools, and fitness classes, it helps you find stuff to do with the family, or with your wife — an art exhibition for example. Nudge definitely takes the approach of cool stuff to do, rather than just listing bars and restaurants.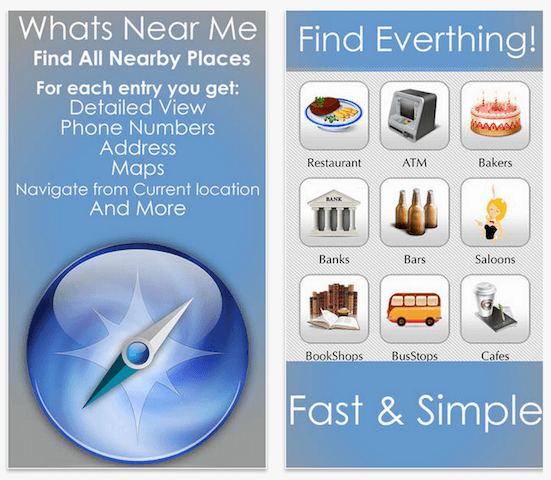 Nearby places – search , find and navigate to near places to me is a easy to use application which helps you find ATM's, Bank, Restaurants, Wi-Fi spots or virtually anything near you. The application uses the in-build GPS in the iPhone to find your current location and plots pointers as overlays on a map to show points of interest in the vicinity of your current location.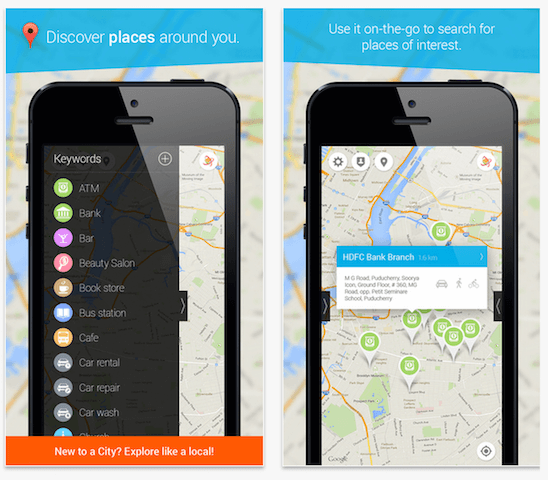 Find Near Me is also available for Android which we have already listed, so if you like what you see in the snapshot, scroll up a little and check out the features of this particular app.
We do hope that this list of apps will help you find the perfect list of things to do in your area, and we're keen to learn about the gadgets you use yourself to find cool stuff to do in local areas, either when visiting or traveling.