Drupal, despite being quite hard to learn and master is holding a solid %2ish market share as a back-end for all of the worlds websites. I still remember when back in 2006, people would complain how hard Drupal was and how stupid its syntax is, good times!
It goes without saying that the Drupal developer community is very active, there are 15,000 modules available at the Drupal module directory, and well over a 1,000 themes to choose from. It's no WordPress, but it definitely has it's own following – which can sustain itself.
But, that is not my main point. I'm here to point you in the right direction when it comes to finding your latest Drupal gig, or a full-time job if that is what you prefer.
I've written similar posts in the past, to help you find a development job quickly – from a trusted and reliable source.
Previous, Development Job Posts
In this post, I'll be taking a look at the top 7 source for finding both freelance, and full-time positions for Drupal developers.
Salary for Drupal Developers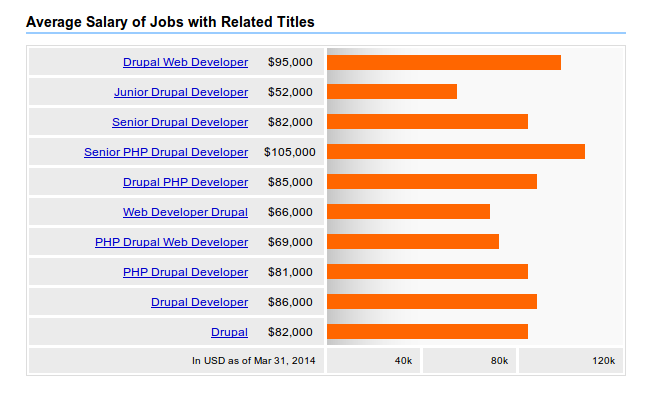 Not quite sure how much a full-time Drupal developer earns these days? Look no further than the above snapshot – which averages to about $85,000 per year. It's quite some money, especially when you understand that it's free to learn this content management system.
Ok, let's take a look at what job resources we can find.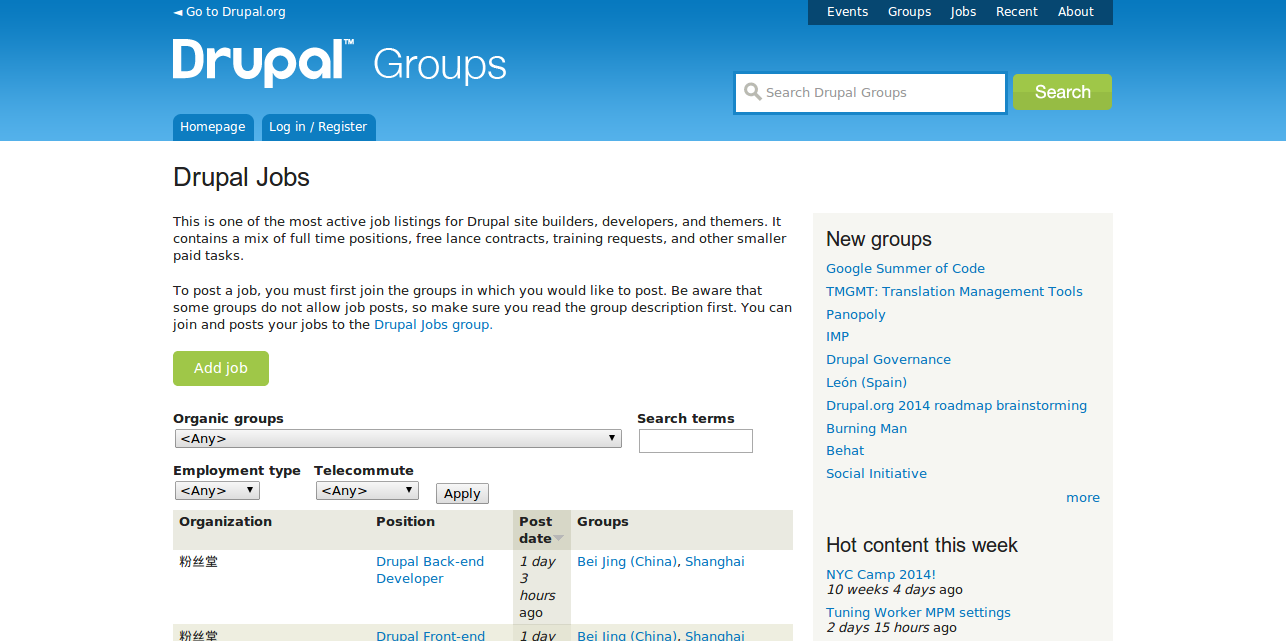 What better place to look for the next job for a system you know so well, than if not the official website of that very system? Drupal foundation hosts its own job board which is frequently updated with new job listings.
You'll find a lot of job types, like contract jobs, full-time positions and also part-time stuff. Most of the job descriptions will explain everything thoroughly, as to what the requirements, and what kind of a job type you're signing up for.
Feel adventurous? Take a shot at landing a job at Drupal itself!
Drupal Jobs at Indeed

This is the place to go-to whenever you're looking for a solid part-time / full-time position within your own area, as you can specify a lot of your own custom search settings to find a job that suits your needs.
Though, many of the jobs will require extra knowledge of other systems and platforms.
Drupal Jobs at DrupalSearch

It costs a decent amount of money for an employer to publish a job offering on this board, so it's definitely trustworthy, but I also happened to notice that a lot of the listing are being pulled from other websites – which I believe does make it much easier to find what you're looking for.
It offers a comprehensive search panel, which you can use to categorize your search results to find what you're looking for. Frequently updated.

Stack Overflow has it's own jobs board, offering high quality jobs from premium employers. It requires of you to have an account on Careers 2.0, so it's pretty much limited to those who use Stack Overflow on daily basis, to interact and collect points for good answers.

Monster has some really good job openings for Drupal developers, you will need an account in order to apply for the jobs, but it doesn't take too long to open one. I guess it's worth saying that Monster is meant for those who're serious about finding a full-time position.

Elance is pretty good to go-to as an alternative if you want to do some work from home, at your own comfort. It's totally possible to find multiple jobs at a time on this freelance job board, but you need to educate yourself about the common traits and how some jobs might end up losing you money, rather than making it.

The last job board on our list is another freelance listing site, there's usually a dozen of jobs available to bid on, and chances are you'll find work quickly. Know what you're worth and the right client will find you.
Conclusion: –
As we can see, there are plenty of opportunities available for Drupal developers, it's all a matter of personal preference and what works the best for you. I like working on my own projects, and making money through those – but I do like to work in an office as well, that enables me to learn a lot more about my job and the choices I make.
Hope this list has helped you in one way or another.