Knowing how to hashtag on Instagram can make or break your marketing strategy. If you use hashtags correctly, your posts will be seen by more people. This means more eyes and more engagement on your Instagram posts. The post with at least one hashtag gets 12.6% more engagement when compared to a post without a single hashtag. This only means that creating a hashtag strategy for your brand is worth it, especially if you're looking to grow your account. 
This guide will help you understand how to strategically choose the right hashtags to improve your engagement rate and build a growing community around your brand or business. 
Importance Of Instagram Hashtags
The hashtag, or pound symbol (#), has been used in a lot of ways on the web. But, the hashtag playing field has evolved dramatically and today, marketers should be aware of how critical and powerful hashtags are for social media strategies in pretty much all industries. Using hashtags strategically will motivate people to engage with your brand and content. They're a great way to get more reach and expand your Instagram audience. 
Hashtags help users categorize and organize content. More than that, they're one of the driving forces behind successful marketing campaigns today. Hashtagging is effective because categorized content becomes more discoverable. This is why a hashtagged post will get much more engagement than posts without hashtags. 
Instagram hashtags build a community online. When these are used, posts will appear on a page for a specific hashtag. If a hashtag is used on an Instagram Story, the story may be included in the relevant hashtag Story. People can also choose to follow certain hashtags depending on their interests or niche. This means that they'll be able to see your hashtagged post in their feeds even if they don't follow you (just yet).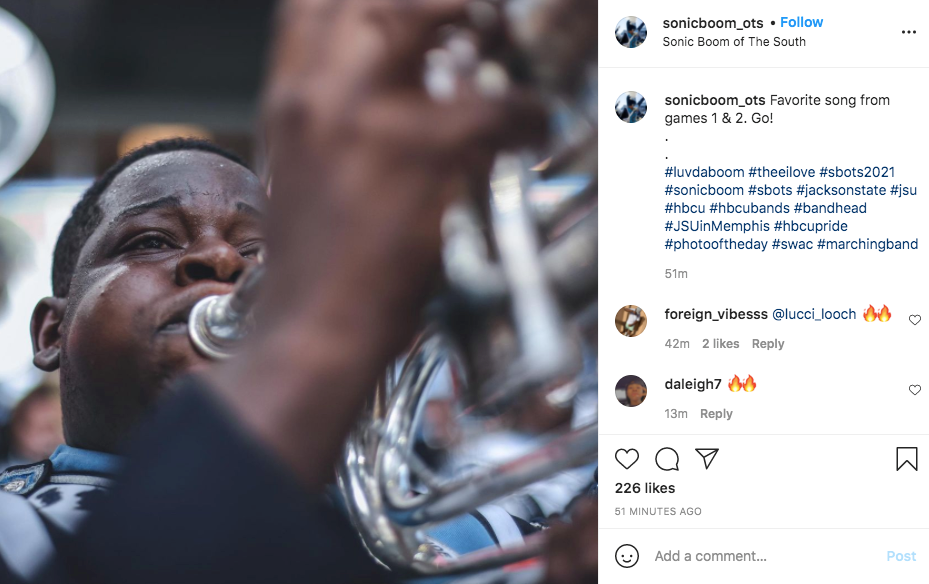 There are a lot of benefits when using hashtags strategically: 
Gets content in front of a bigger audience

Raise brand awareness

Targets a very specific target audience

Boosts SEO
Taking advantage of hot hashtag trends and topics gets your content forward. The name of the game is visibility in search results which is an excellent and essential Instagram SEO strategy. 
How To Find The Best Instagram Hashtags
Not all hashtags attract your target audience. To find the most effective Instagram hashtags for your brand, you need to become strategic. Here are some tips you can try when coming up with your hashtags.  
Do Research On Your Audience
If your target audience is using a specific hashtag, this may mean that other people like them are using the same. This is why to begin hashtag research, finding existing Instagram communities is a good way to expand your reach to these people who may be interested in your business. 
Begin with Instagram's search tool. It gives you additional information about which hashtags the people you follow use and care about. The search tool shows if anyone you follow also follows a specific hashtag.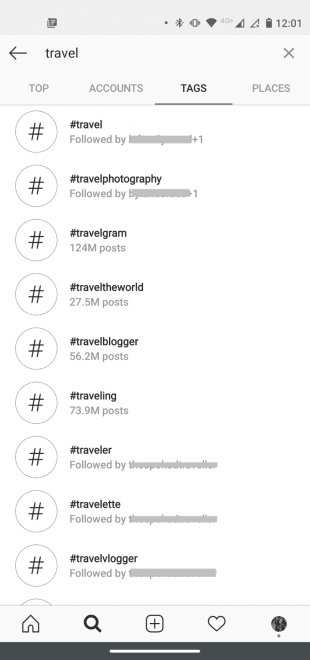 Find Related Hashtags Using A Hashtag Generator Tool 
Using a
hashtag generator
tool will simplify this process for you. Whether you're looking for trending hashtags, unique hashtags, or ideal hashtags for your industry, a hashtag generator will find the best options for you.
With just one click, you can automatically generate dozens of hashtags based on the hashtag you enter. When you use the hashtag generator, you can choose exactly which type of hashtags you'd like to get.
To see the most popular Instagram hashtags related to your search, click "top." The "random" option will give you unique and creative hashtags that you've never thought of before. Choose "best match" to see a variety of hashtags that are closely related to your original hashtag.
Use Niche Hashtags 
Now that you've done the groundwork on your keyword research, you can now look for niche hashtags. Niche hashtags attract users who are interested in your brand, products, or services. 
One great way is to use Instagram's Related Hashtags feature. Go to any hashtag page and notice that right above the "Top" and "Recent" tabs, a list shows up of related hashtags that you can scroll through by swiping left.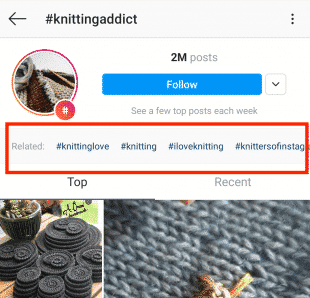 Doing this helps you find relevant hashtags to your niche. Using niche hashtags reaches a more target audience with lesser content to compete with in the first place. In addition, these hashtags are going to be the best ones to use for Instagram brands who want to connect with passionate and engaged communities. 
Check What hashtags Competitors Are Using
When you take a look at the hashtags your competitors use, you can get good clues about what's working for others in your niche or industry. When you know your competitors' hashtags, you can compare your social media strategies and fine-tune yours. 
You'll also be able to know what topics create more buzz, as well as what's viral in your industry. You can define the influencers your competitors are collaborating with. And of course, knowing your competitors' hashtags helps you come up with new ideas for your posts. 
Finally, a good strategy is to look for hashtags that have less than 500,000 posts. Using low-volume hashtags can help your brand stand out against less competition. 
Avoid Banned Instagram Hashtags
Due to the increase in false activity and fake accounts, Instagram fights back by banning certain hashtags. There are banned hashtags because they're usually used by spam accounts and bots in posting inappropriate content. 
Although some hashtags have temporary bans, others are permanent. So if you use banned hashtags, you may be putting your Instagram at risk and having your account temporarily shadowbanned or, worse, permanently removed. 
Before finalizing your list of hashtags, be sure that you aren't using banned Instagram hashtags unintentionally.
How To Use Instagram Hashtags: Best Practices
Whether you're getting started or boosting your impact, learning how to hashtag on Instagram raises your game on the platform. Here are some best practices on how to be an Instagram hashtag 
Use The Right-Sized Hashtags
Learning how to hashtag on Instagram also involves understanding that there are certain hashtag categories. Big hashtags have millions of posts and are often general hashtags. This means there's a lot of competition, so it's wiser not to use them too much. Simply use these to categorize your post and not use it as the main driver of engagement. 
Medium hashtags have around a million posts and are still general. Community hashtags have less than a million posts, and finally, micro-community (small) hashtags have less than 50,000 posts. If you use small hashtags, there's less competition and you have more chances to be found by people as they scroll through the hashtag page. 
The safest way to go is to go mid-level: use hashtags that aren't too small, nor too big. 
Use A Mix Of Short And Long Tail Hashtags
Short-tail hashtags are words or phrases with three words or less. Some examples are "coffee Monday" or "breakfast club." Short tail hashtags are like the first words that come to your mind when you're googling something. Although they have higher volume, they're high competition and the focus may be low. The chances of someone seeing your post are slim because so many people use it. 
Long-tail hashtags, on the other hand, include short tail keywords but are more specific words to follow, which is why they're usually more than three words. Long-tail hashtags are more targeted and not that broad. Even if you're not bringing in as much traffic as short tail hashtags, you bring in traffic because it's high focus and low in competition. You get more chances of attracting real and engaged followers 
A good strategy is to use a mix of short and long-tail hashtags in your posts so you get the best of both worlds. 
Keep A Hashtag List Saved
If you plan to use certain hashtags regularly, create and keep a list of your hashtags. You can save your list through the Notes or Memo app preloaded on mobile phones, or download apps like Evernote. Create a new note for different categories that are relevant to your hashtag combinations. A list of up to 30 hashtags will be a good number to work with. Before sharing your post, you can go over your note and copy the hashtags you handpicked. 
Another way to store your hashtags for later is through email. Email your lists of hashtags to yourself. Create and send yourself several emails with specific hashtag lists, then store these in a dedicated email folder. This way, you can cut and paste easily. 
Create A Branded Hashtag
The great thing about hashtagging is you're not restricted to create your own branded hashtags. A branded hashtag is unique to your company or brand when you use Instagram for business. It can be a tagline, your company name, or the name of your product, service, or campaign. 
You can create challenges based on a branded hashtag. One famous example is #IceBucketChallenge by ALS Association. Through that campaign, they raised awareness on ALS and rounded up around $115 million in donations dedicated to ALS research. 
Another idea is to build a giveaway around your branded hashtag. Since everyone loves getting free stuff, then why not engage your audience with a branded giveaway? There are endless creative opportunities to explore to let your brand shine and get high engagement rates in return.
Become An Instagram Hashtag Pro
Now that you know how to hashtag on Instagram, you'll be a pro in no time. Just remember that Instagram hashtags are free advertising. It leads you to potential customers and opens doors to building your tribe or community. So, if you want your audience to see more of your content, then up your Instagram hashtag game! 
Also Read: What To Do If You're Losing Followers On Instagram?