An invoice is a document which specifies the products, their quantities, and price agreed upon by seller and buyer during the deal. The terms and conditions are also specified on an invoice which can include, the maximum number of days in which a payment has to be cleared or sometimes a discount is also offered if amount is paid before due date. From the seller's perspective it is sales invoice and from buyer's perspective it is purchase invoice.
Whether you are a freelancer or having a big or small business, creating and sending invoice is an important aspect which can't be taken lightly. The more time you take to send an invoice the longer it takes you to get paid. These late payments pose serious threat to your business as cash flow is very important to survive in hard economic times.
Today there are many invoicing services available online, which eases your task by giving you predefined invoice templates where you can create your own professional invoice. Moreover, you don't need to worry about changing dates, entering the customer's information manually, send invoice by email etc. as all the stuff is managed by online invoicing services.
Here we bring you a list of top 11 online invoicing services.
First let us have a look at some free invoicing services
1) NutCache: Multilingual Invoice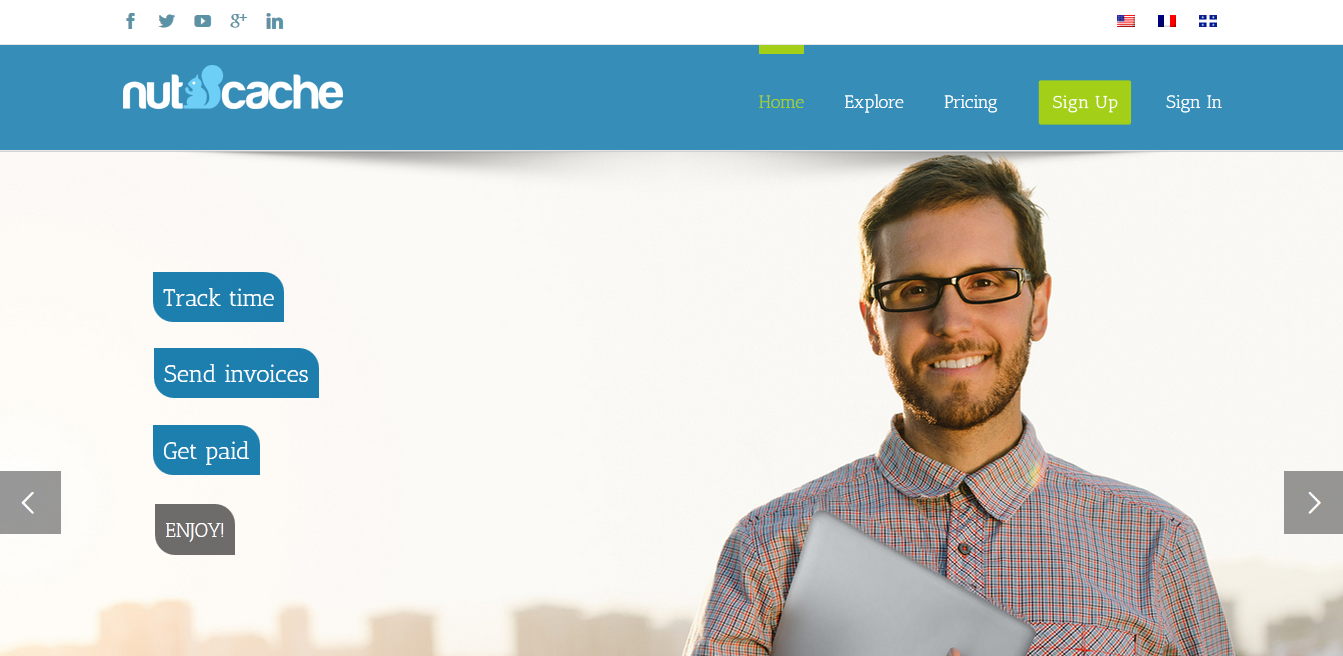 NutCache's collaborative features allows you to handle your project efficiently. Invoices can be generated and sent in client's language. You can analyze the invoice related reports and can accept payment through Authorize.net, PayPal and Stripe.
Also check: 10 Free Tools to Kickstart Your Entrepreneur Career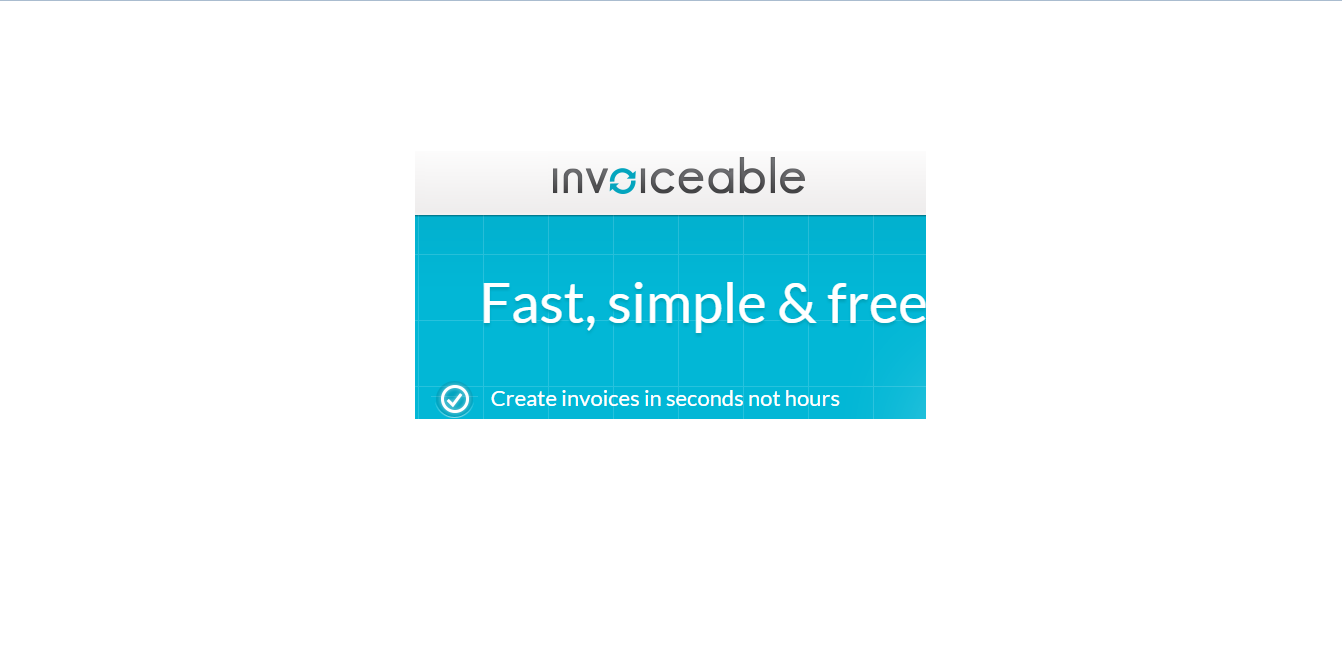 Invoiceable is a quick and easy invoicing system that allows you to create and send unlimited number of invoices. They use a trustworthy gateway and are secured by 256-bit SSL certificate from a renowned brand.
These invoicing services are free but with some limitations
3) Invoice Home: Beautiful Invoice Templates

Invoice Home excels in mainly two areas – there are over 300 varied, professionally designed invoice templates available, and the application is very fast and easy to understand. It will guide you naturally, without any need to study a manual, or watch how-to videos. Even as a first time user, you will have your first invoice ready in a literally a few minutes.
The interface is available in English, French, Spanish or German, with over 150 currencies and their symbols supported, and your clients can pay your invoices online with cards or PayPal.
Invoice Home is 100% free if you invoice up to $1000 / month (or other currency equivalent), with unlimited invoices for just $5 / month.
4) SimplyBill: Rich Feature Set

SimplyBill is a simple and easy to use invoice service which can track your client and can also send thank you note once the payment has been done. It also lets you search invoice history, create PDF, quotes and let them convert to invoices.
For free services, after 14 days of usage, user is limited to only 3 invoices per month.
5) InvoicePlace: Invoice for any Product

InvoicePlace offers you a range of options like creating invoices, quotes and receipt. It supports multiple currency invoicing and allow users to print invoice in PDF or MS-Word format. The client has an option to pay in installments as it also keeps records of partial payments.
For free services, users are restricted to 5 invoices per month.
Also Read: 8 Free Tools for Generating a Name for Your Business or Project
6) Invoicera: Detailed Invoice Reports

Invoicera facilitates us to manage invoices from any device. It has all the basic features like conversion to PDF, multiple language support etc. but the standout feature is the generation of detailed invoice report which helps us to analyze the billing client wise.
For free services, users are limited to 3 clients.
7) Due: Multiple Countries Invoicing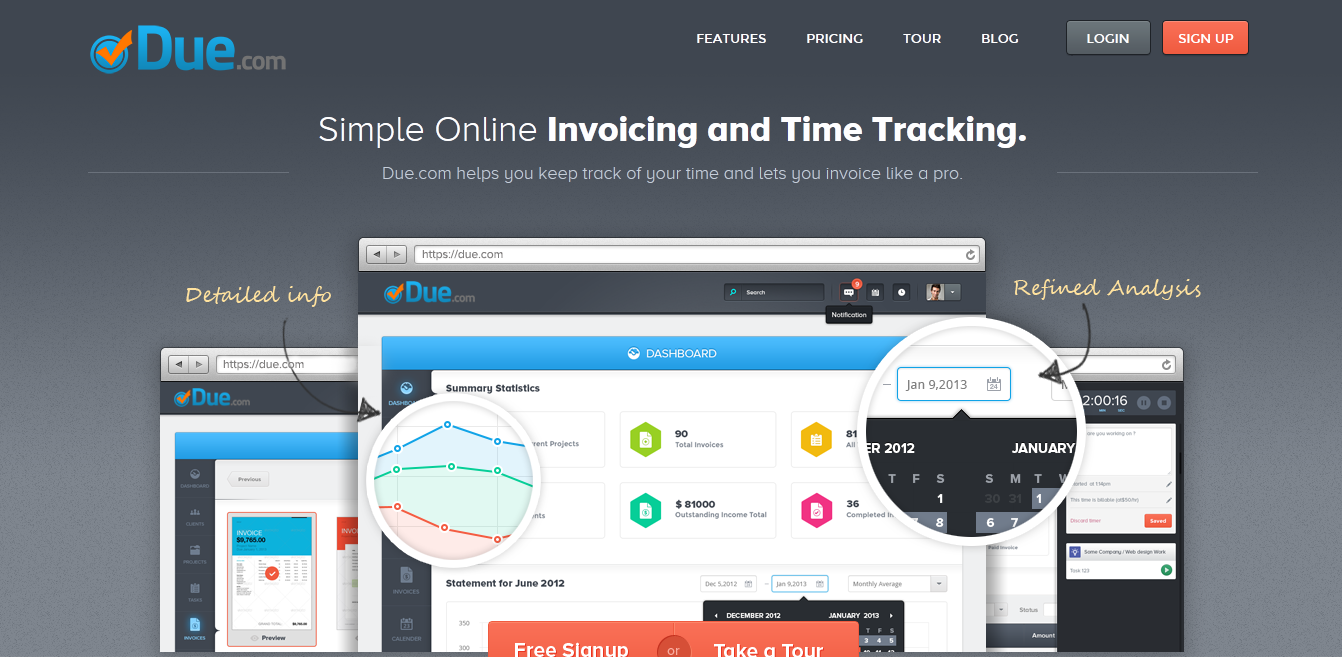 Due is an invoicing service that keeps track of the time based on projects, clients and tasks. It supports taxation of over 100 countries, so you just need to provide details of your country and let the service do rest of the thing for you.
For free services, users are restricted to 2 invoices per month.
Now take a look at some paid invoicing services
8) FreshBooks: Client Tracker

FreshBook simplifies your task by sending, creating and tracking professional looking invoices within a flash of time. You can also track when your client has viewed the invoice and can also send automatic reminders to the client in case of late payment.
Charges: $9.95/month onwards
Also See: 10 Email Marketing Apps for Creating Email Newsletters
9) PayPal: Multiple Payment Option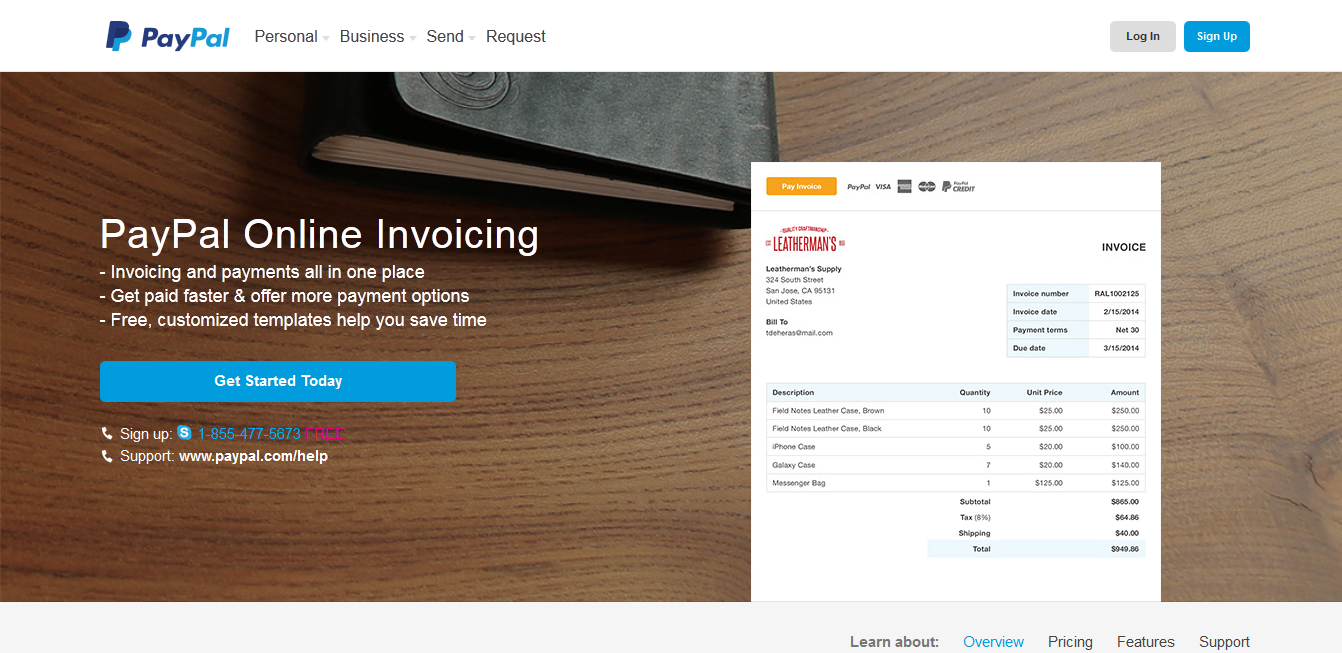 PayPal has a wide range of feature list which includes invoicing also. You just have to use free templates and customize your logo before sending invoice. It has built in option for various payment modes which makes collecting money a cake walk.
Charges: 2.9% or lower + $0.30 per transaction
10) Zoho: More than Invoicing

Zoho is a complete solution for growing business with almost every product in its bucket. It allows you to create and send artistic invoices by using a range of templates. It also analyses and generates report to give you an insight into your business.
Charges: $7/month onwards
Also See: 10 Facebook Tools for Business & Marketing
11) Harvest: Multi-Currency Invoice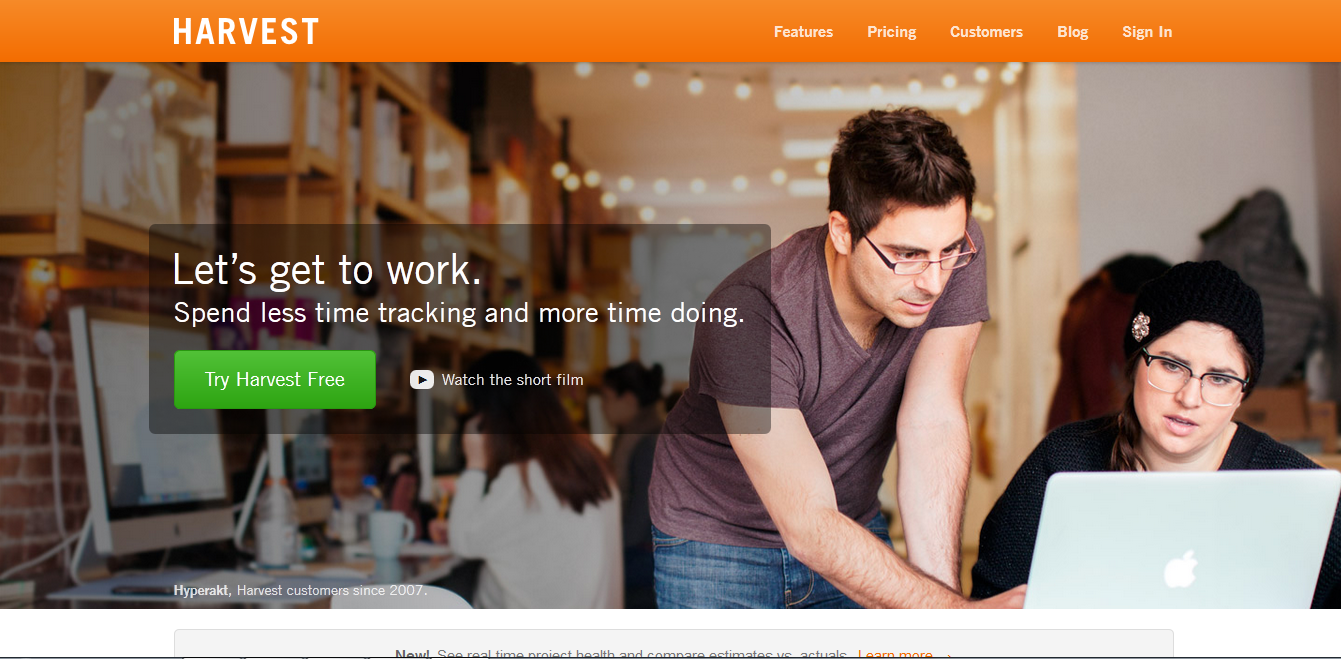 Harvest makes invoicing an easy and fast approach by creating invoice in minutes. It supports all basic features and has an option of payment through various gateway like PayPal and Stripe. Also, it supports invoicing in multiple currency which makes billing easy.
Charges: $12/month onwards.
There are thousands of invoicing services available in the market, the point is to choose the right service. By choosing a right service you can concentrate on growing business rather than managing billing.
So, here we have compiled a list of top 11 online services which you can choose from. All the services that we have included are available online which allows you flexibility of working from any part in the world. You can choose any of the invoicing service amongst them based on your budget and requirement. Feel free to leave a comment below to let us know if you know any other excellent invoice services.