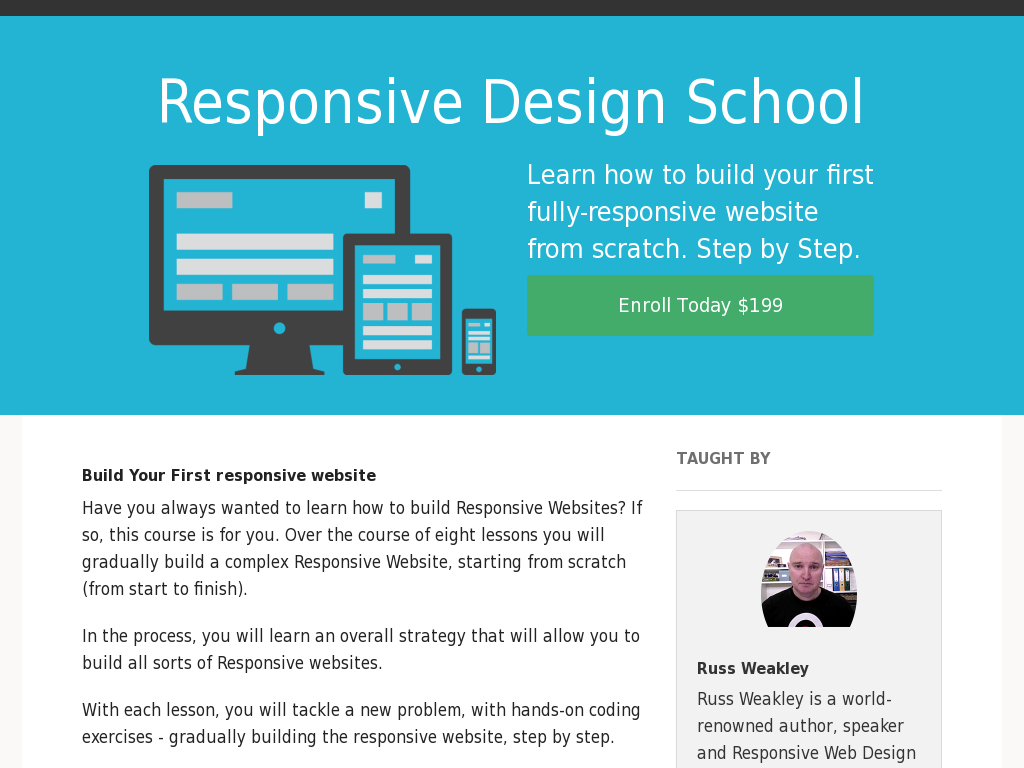 [box type="info" width="100%"] The Responsive Design School is an online education platform, where web designers, developers and beginners can learn how to build fully responsive websites, from scratch, without using frameworks like the twitter bootstrap, or Zurb Foundation.
Being able to hard-code responsive websites will enable you to build more robust responsive websites than the "frameworks" allow you to build. This will allow you to create awesome experiences for your users on mobile devices, and your new responsive design skills will make you more attractive to employers. [Source] [/box]
The Responsive Design School is a new startup by Russ Weakley, who is also an owner of WSG. We're seeing more and more responsive design tools come out to the market, and while [tooltip text="RDS" gravity="nw"]Responsive Design School[/tooltip] is not really a tool, it's still a product that wants to educate you about responsive web design.
We're seeing the influx of materials regarding responsiveness because of the mobile market is changing, and businesses are starting to take notes in order to move their business to mobile markets as soon as possible. You can learn why your business should go mobile from one of my recently posted infographics.
[tooltip text="RDS" gravity="nw"]Responsive Design School[/tooltip] is a course that will help you learn all of the tips and tricks of responsive design, and you only need to have the bare minimum knowledge of CSS to get going.
It's going to cost you roughly $199 to enroll to this course, but I think the content you're getting and the stuff you're going to learn is going to pay itself back pretty quickly. You could easily take the knowledge to go to website template sites like ThemeForest, and sell your newly found knowledge there.
You will learn the following from this responsive web design course:
Create your own responsive grid from scratch
Style layout components such as fixed headers and banner images
Build a responsive form
Solve responsive tables
Style a responsive navigation menu
… and more.
If you've been thinking about going mobile, this might be the course to partake in order to gain the necessary knowledge. I'm in no way affiliated with this product, only doing my part of the promotion!
I firmly believe we're going to see a community of sorts develop behind this course, and that will always help to manage and resolve questions when they arise.