A domain name is your unique identity on the online space. Without domains, there would be no websites or e-mail accounts. Today, almost a majority of freelancers, large enterprises, mid-size businesses, non-profit organizations, public administrations, small businesses and others own domains.

So, if you have your own domain name then you should definitely consider hosting your e-mail account on it. E-mail service is the most important service that we use today. Everyone has an e-mail account with popular internet service providers, such as gmail, yahoo and hotmail. Moreover, a lot of us use the services of more than one such service providers. The result is that we end up having several e-mail addresses with different names and it is a lot of hassle to remember and manage all of them. For instance, the scenario is somewhat like this: myname@xyz.com, my_name@abc.com and so on. Of course, there are some companies that allow a user to hold multiple e-mail accounts.

But, an email address on your own domain is a permanent address which stays independent of your Internet service provider. So, even if you want to change your service provider at any point of time, you can do so without having to change your e-mail address. So, you can get an e-mail account hosted on your domain which is free from ads and offering a professional identity.

For working professionals, social media managers and content marketers, an e-mail address with your own domain name looks more professional and offers multiple benefits. Today, almost all the internet services providers offer these services, such as domain registration, domain transfer, e-mail hosting, e-mail migration, storage capacity, e-mail management solutions, website building tools and so on.

Alright, so here, I am presenting you with a list of 8 places where you can host your e-mail account on your own domain name and get modern e-mail services, technical support and more benefits.
If you want to leverage the power of Google, then Google Apps for Work will be an ideal choice. A Google Apps account on your own domain costs $5 per month for single e-mail address. This plan provides all the features of Google Drive and Gmail as well as a robust storage capacity of 30 GB and technical support.
Zoho Mail offers professional e-mail hosting services for $2.5/month for per user with additional features and storage capacity. Zoho mail offers e-mail solutions integrated with CRM, drop box integration, custom URL, document management and other features.
Also See: 10 Email Marketing Apps for Creating Email Newsletters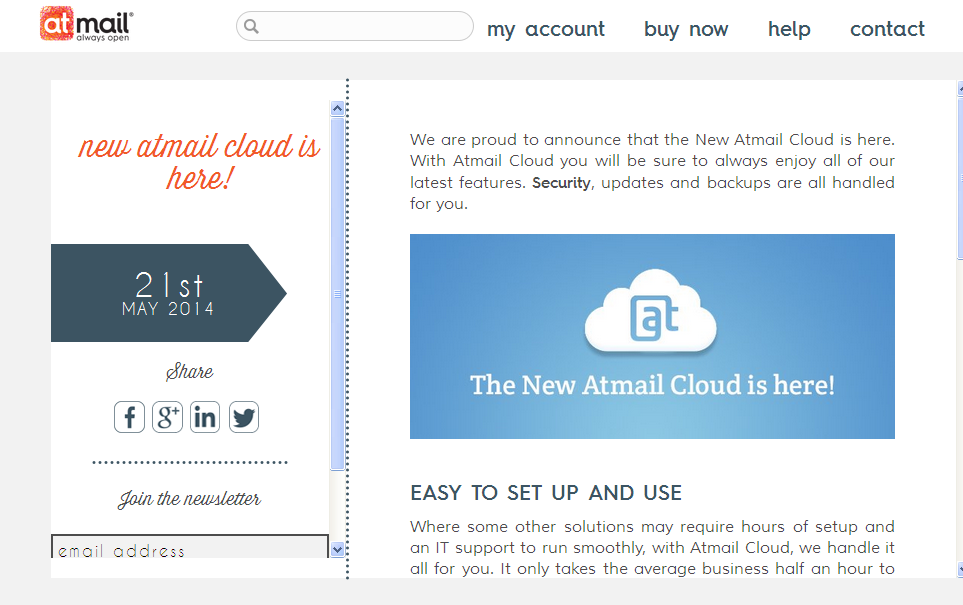 Atmail is a cloud-based e-mail solutions provider. The company offers e-mail hosting services at $79/month for 50 users and a storage capacity of 500 GB. If the number of users exceeds then it costs $2/month per user with a storage capacity of up to 10 GB. Atmail offers Outlook contacts and calendar synchronization as well as support for popular email clients via IMAP and POP.
FastMail is one of the leading e-mail hosting services providers in the industry. It offers e-mail hosting on own domains that costs between $40 and $120. It offers ample storage capacity, calendar, e-mail management tools, technical support and more.
Also Check: Top 12 Web Hosting Platforms for Developers

If you wish to take full potential of the Windows platform, then Microsoft's Office 365 Business Essentials plan can work well for you. For prices as cheap as $5/month for the basic plan and $12.50/month for the premium plan, you get access to its robust features. Some of which include Microsoft Outlook, Microsoft Exchange and Microsoft Office applications installed on multiple devices.
Hushmail offers cheap e-mail hosting plans on own domain names with as low as $5.24/month per user with a one-time $9.99 setup fee. It includes custom configuration options, 10 GB storage capacity, support for POP and IMAP protocols and more such benefits.
Also Read: 8 Free Tools for Generating a Name for Your Business or Project

Rackspace offers e-mail hosting on your own domain names for charges as low as $2/month per mailbox. You can access e-mails with Microsoft Outlook, mobile devices or webmail. Rackspace offers a 100% uptime guarantee, 24 x 7 technical support, e-mail migration services and more.
Pobox is an e-mail services provider offering professional and personal e-mail hosting services, e-mail migration services, domain registration and more. Pobox offers up to 50 GB storage capacity and POP/IMAP access depending upon the type of plans you choose.

Conclusion:
Some of these internet service providers offer plans for multiple users though you can vouch for Google and Microsoft plans for single users. If you do not own a domain name yet, then there are a lot of service providers on the list that can do the job for you. So, just go ahead and get your professional e-mail account hosted on your own domain right now.

You can write any feedback, comments or suggestions in the comments section below. Thank you.