We've just experienced a crash of guest blogging as we know it. This change is certainly going to have a huge impact on the way people share, find and operate with their content. It's a change that many webmasters, including myself, are really thankful for. It gives us the chance to showcase our best content, without trying to rank for it with astronomical amount of backlinks.
I've always believed in natural, one-way links that I've earned because of my dedication, not because of my greed.
To curate content, means to put everything in one tiny a compact list of content that is not only appealing to the eyes, but also informative and strictly stays on the topic. We've got plenty of content curation tools become available to us in the past couple of years.
Only a few have made it out the initial beginning phases, and are now serving millions of monthly readers.
The few of the tools I'm about to include in this list are completely free of charge, while others are strictly premium and require a subscription. The reason for that is because the paid ones are going to be tools that a business of more than a 1,000 customers should be using, as it will make it easy to curate popular and trending content from around the web.
Free Content Curation Tools
Basically, a way of putting together links from all around the web, in one neatly organized page. You're giving credit to all of the sources, and in exchange you can promote yourself and your social media status across these platforms. It's a great way to find content and share content. I'd stick with the free tools if you're not in it for the long-term.
Paid Content Curation Tools
This is essentially, automated software that will help you find relevant and converting content from across the web, then present it to you, and even share it on your social media platforms if you'd like it do so. There are slight variations that each of the companies on the list offer.
I wanted to clear and define the difference between the both.
That should be enough to grasp the concept, now we can dive into our list of tools!
You will love Listly if you love content, and simplicity combined. Listly is the perfect tool if you're looking to promote your brand, blog or business to more people. It allows you to create "lists" under which people can contribute their favorite content from all around the web, and you can do exactly the same thing.
The team behind Listly are really focusing on social and friends aspect of sharing online content, which I think is simply wonderful and thoughtful. You can signup for a premium version of Listly for $9.99/month – which could possible considered as a gesture of good will for the great service they offer.
The premium package includes:
Draft Mode for List
Highlight Items
Advanced Moderation
Premium Layouts
No Ads on your List
It's a list of additional features for bloggers who'd like to try and stand out a little more. I do think that the free version is completely satisfying.
Storify is a bit more serious, and perhaps more well-funded (acquired by Livefyre in September, 2013) that some other content curation tools out there, but it doesn't mean it's bad. In fact, I really like Storify and the whole design concept that the website has. I think it's very professional and appealing to all sorts of personalities – not just a specific one.
I haven't used Storify in a while, due to being too focused on promoting through other means, but I do like to occasionally drop by and read some great curated content.
The premium VIP version of Storify is meant for big publishers who want to personalize their own Storify page and the way content is being presented to the user, as well as features like:
Real-time updates
Custom story display
Enterprise-level support
Custom sources
Private stories
PDF Exports
SEO Compatibility
Editors
Google Analytics
It's a small company that captured the attention of many, in turn turning this company into one of the hottest content curation places on the web. Haven't experienced Storify? Check them out!
Looking for something more serious and advanced? Curata might be able to help you out! It's a company run by some pretty big people who've worked at Microsoft and Google before, so you can be sure the right methods of putting together content are going to be used.
Curata will put together the highest and best quality content to add to your already established content marketing strategy.
Just to give Curata that extra bit of credit, they offer a great section of resources for markters and webmasters to benefit from, completely free of charge. You'll be able to find eBooks, surveys and webinars in this section of the site.
Head over to the "Get a Demo" page to see how it works and perhaps even get a quote :)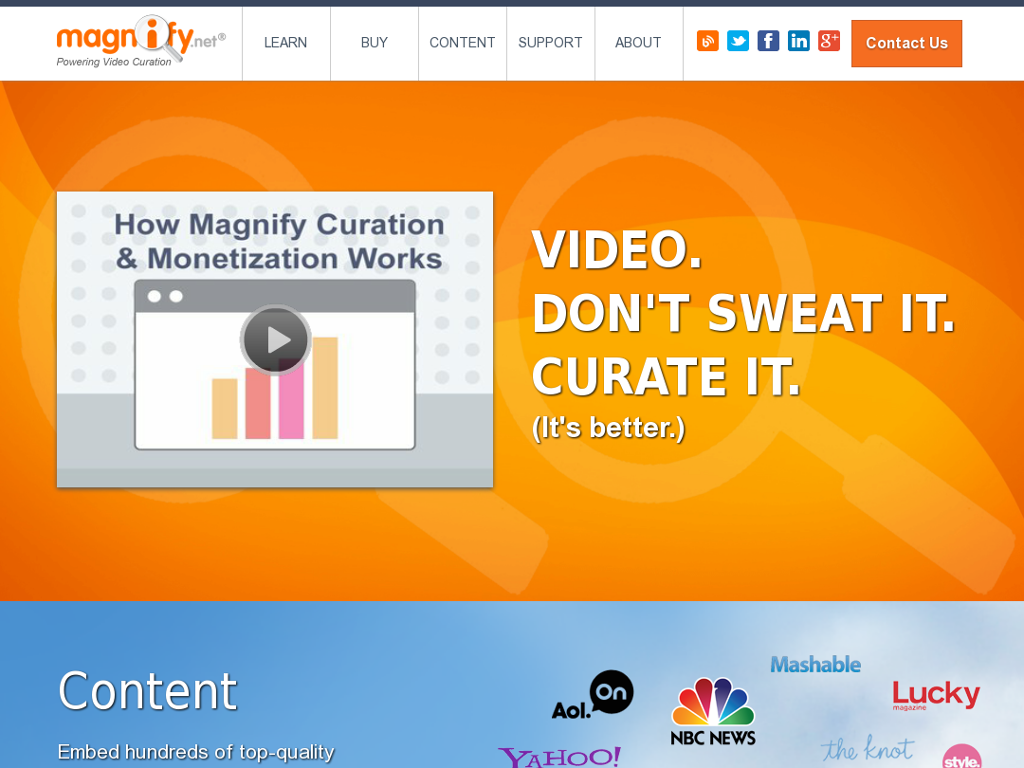 Magnify.net is the leading provider of cloud-based video curation solutions to the online publishing, brands, and ad networks. Magnify's solutions enable websites to curate, upload, and aggregate content. We're powered by the asset that your visitors value most, the knowledge and experience of your teams understanding and passion around your areas of expertise.
I couldn't have said it better than the team behind Magnify itself. It's one thing to have standard web content to curate, it's completely another dimension when you start to put together video content that is not only high quality, but also engaging and converting. The two things that your business needs to succeed.
Magnify pulls content from sources all over the world. To name a few big name you might know: TechCrunch, Mashable and Wired are all working together with Magnify to bring you the best curated video content you'll find on the web.
Head over to the "explore" page to see a few 5-10 minute long videos that will introduce you to the service.
Echo is a company that's being used by big brands like Forbes and Slate to put together a real-time content experience for their customers and visitors. You can expect to find solutions for creating content that's broader than your imagination. TV News, Social News, Sports News, etc,. etc,.
One of the most popular apps that Echo offers is Echo Conversations, it's a comment system that can really leverage your websites browsing experience based on what people love about your brand.
Echo Conversations increases user engagement and time spent on your website by enabling conversation to easily unfold in real-time without the user ever having to refresh the page. Easily manage posts using automatic filtering, advanced moderation tools and more.
Echo is a professional service, that I wouldn't recommend to a blog that serves only a 1,000 visitors per day. I think it's more appropriate for bigger brands who are ready and prepared to take on such services.
Last Words: –
I hope you saw the trend I was trying to create by starting with smaller tools, and ending with a premium full-scale service for big brands. I think it's important to have option variety to really see what your business might need at any given stage.
I've talked about similar topics before, and if you liked this post you might find posts such as free marketing tools, content analytics tools, Twitter follower tools and Twitter hashtags tools interesting as useful to your business, blog or startup!
I'll be more than happy to hear reviews about the tools I've listed in this post, and any additions and newcomers to the market are welcome to have their say in the comment box below :)