Infographics is a popular type of graphic art that is used for turning information into visual data. It has been proved that instead of text, human beings are more capable to grasp information when it is presented in the form of appealing and relevant visual images. You can also check "8 Reasons Why Visual Content is More Important Than Text" for more details. Infographics not only cater to information but also to artistic sensibilities. Human emotions and feelings can be portrayed more easily through Infographics. As a result, they are used in a variety of contexts, such as humor, emotion, social awareness and so on.
There are different types of Infographics, such as flowchart, timeline, versus Infographics, data visuals and more.
With the advent of advanced designing tools, the process of creating Infographics has become more exciting. Here I am presenting a list of useful online tools that will help you to ease your designing process to a great extent. Though they cannot be replaced with Adobe Photoshop, they can surely help you to craft basic Infographics easily. So, here is the list of 12 Online Tools for Creating Fascinating Infographics. Read On.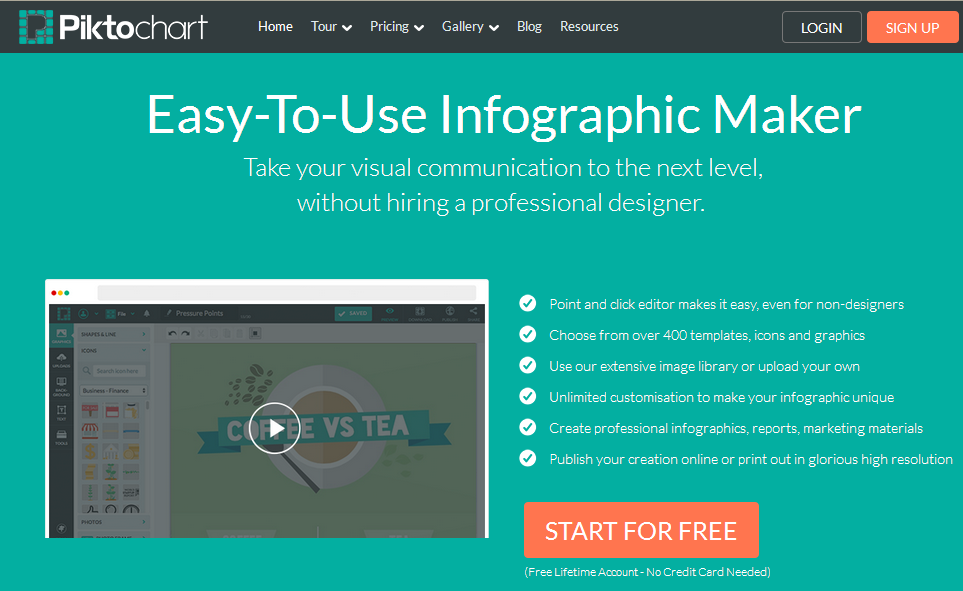 Piktochart is a popular website that lets you design professional Infographics for free. Its repository contains an impressive collection of images, templates, icons and graphics. Piktochart offers various options to share or publish your Infographics online, including Slideshare and Evernote.

Venngage lets you design a variety of infographics, which you can integrate into a business presentation, marketing material or an educational project. Additionally, it offers online collaboration and sharing services as well as a range of maps, charts, icons and templates.
Also Check: Who Are Graphic Designers – And What is it That They Do?

Infogr.am lets you create Infographics for your learning, business and marketing solutions. You can choose from over 30 different chart types and upload your own videos/images. You can embed your Infographics in blogs/websites and share privately/publicly online.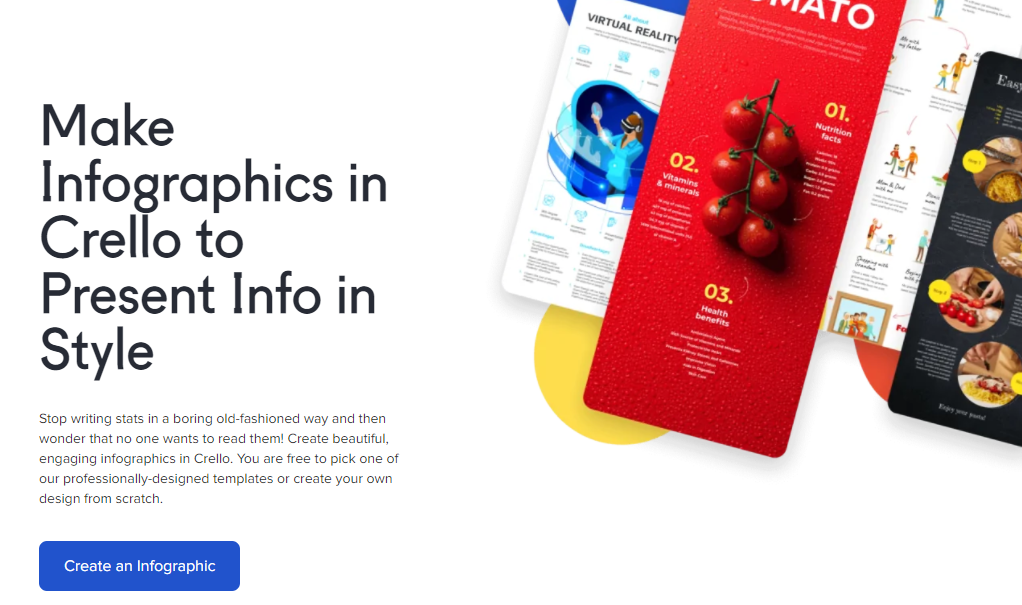 Crello is a free graphic online tool allowing you to create original infographics super fast and easily. Their drag and drop editor provides all the features for that: Simply choose an infographic format in Crello's library (they have all types of infographics in the pocket), pick a professional pre-designed template, and customize it to your mood or requirements via the artboard.

Visme is a cloud-based visual design tool that allows you to create beautiful infographics. Visme includes hundreds of stunning templates (free and premium) to quickly create designs from scratch. Other important features are a library of icons, images and fonts and the possibility of adding charts, maps and other forms of data visualizations.

If you want to create an Infographics that will never go unnoticed then try Easel.ly. The tool offers a diversified collection of icons, symbols, characters and other objects. These are based on relevant themes classified under categories, such as education, e-commerce, music, nature, science and so on.
Also See: 5 Tips for Designers Who Want to Earn More Money

Visualize.me is a popular Infographics resume making tool that lets you turn your mundane-looking resume into an interactive one. You can add experience timeline, treemaps and statistical pictograms into your resume to showcase your professional work experience and achievements in an engaging manner.

iCharts is a tool to present complex information through simple charts. The tool is used to demonstrate health indexes, trend practices, sales reports, financial analysis report and more. iCharts offers various features, such as cloud services, real-time data access and information comparison.
Also Read: 10 Web Design Trends for 2015
9. Dipity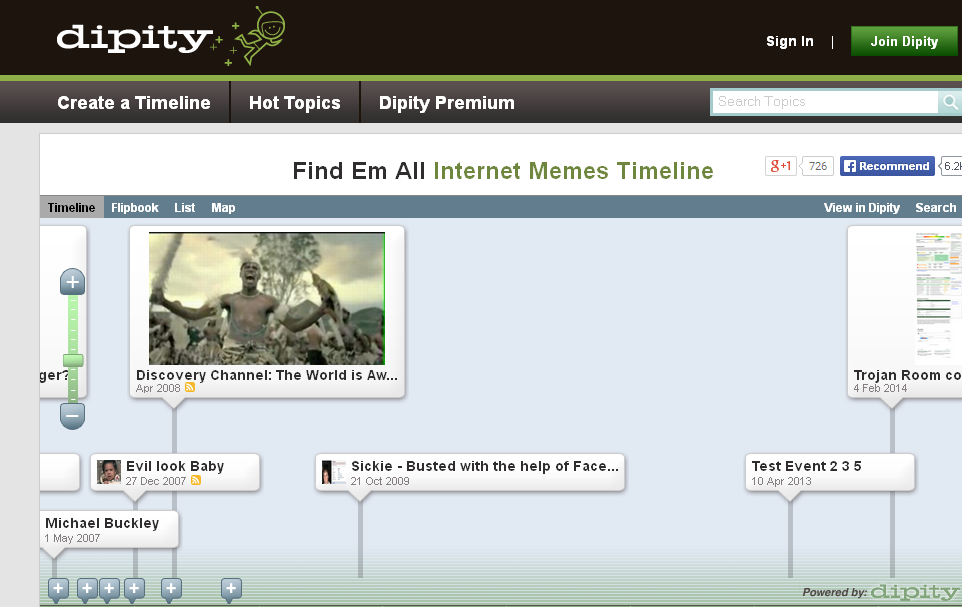 Dipity is a timeline website that organizes web content through time and date. With Dipity, you can generate a multimedia timeline Infographics for your blog or website using images, videos, audio, timestamps and more.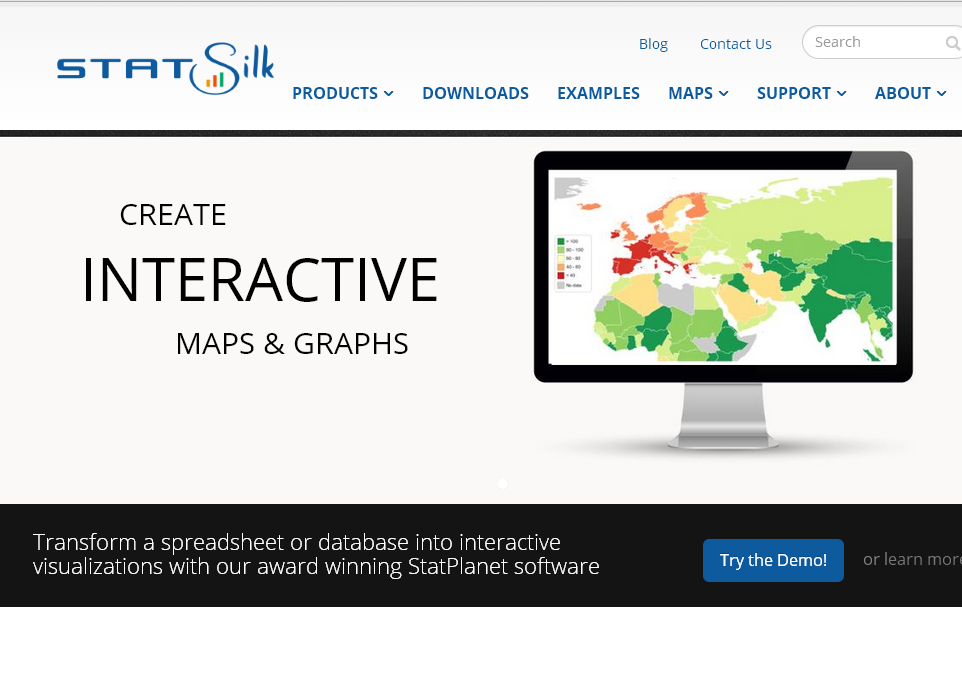 StatSilk is a powerful tool that transforms data on your spreadsheet into interactive charts, maps, time series, scatter plots, bar charts and graphs.  It offers unique features, such as zooming in to map areas, switching between different data sets and more.
Also Check: The 10 Best Free Photoshop Alternatives for Designers

Tagxedo is a tool that creates a word cloud for the text that you provide. You can also customize it with different font types, shapes, layouts and color combinations.

Infographics highly contribute to the learning solutions sector. Creately offers an online tool to create a variety of diagrams, such as a sequence diagram, database diagram, mind map, flow chart, network diagrams and more. It offers a collection of diagram templates, shape sets, real-time collaboration and more.
Also See: 10 Best Free Online Tools for Designing Fonts
The Bonus Ones, Just For You!

Visually is an online platform to create and share Infographics, presentations and more. It boasts of a thriving community of professional designers and animators. Using its real-time collaboration tools, you can work on creative projects with multiple designers, share and market your work, reach out to clients, draw inspiration and do much more.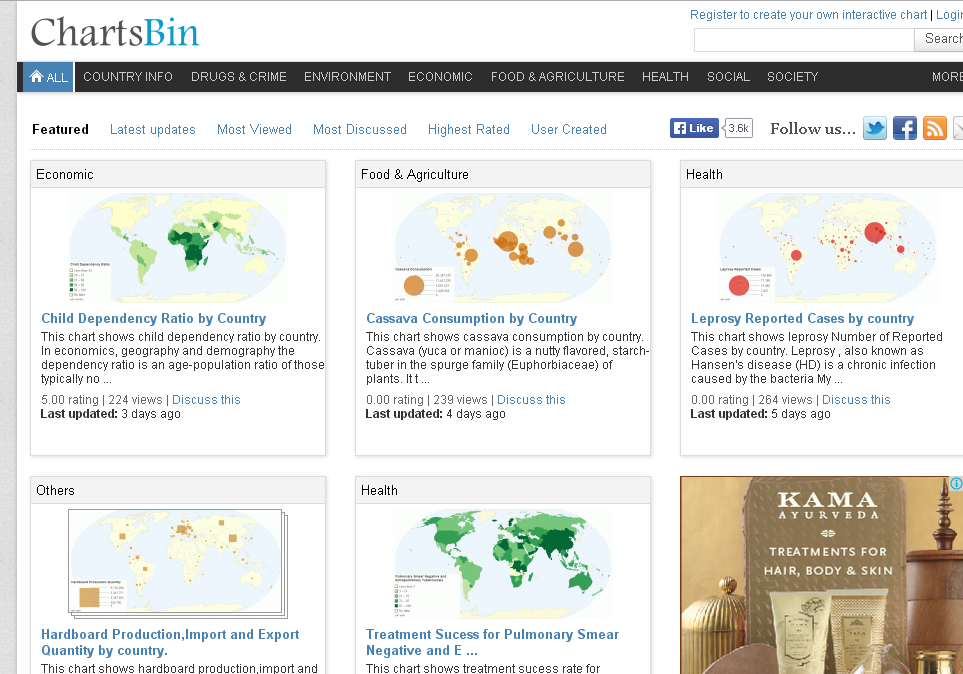 ChartsBin is an important data visualization tool to convey useful information by creating interactive maps. The maps can be embedded into social media profiles, websites and blogs.
Conclusion:
The graphic designing field is gaining more prominence due to the advent of technological tools that are being employed in the designing process. With a variety of applications, information graphics have become an important aspect of a designing process.
Moreover, Infographics are convenient to share than lengthy text notes. They also make a learning material or a creative project look more stunning. I have tried listing down a range of online tools that will surely come to your rescue while meeting tight deadlines. In case you have any knowledge of some more exciting Infographics tools then feel free to mention their names in the comments section. Till then, Good Luck!